Scouts Overcome Sluggish Start Behind Thomas's Stellar Debut To Overpower Mather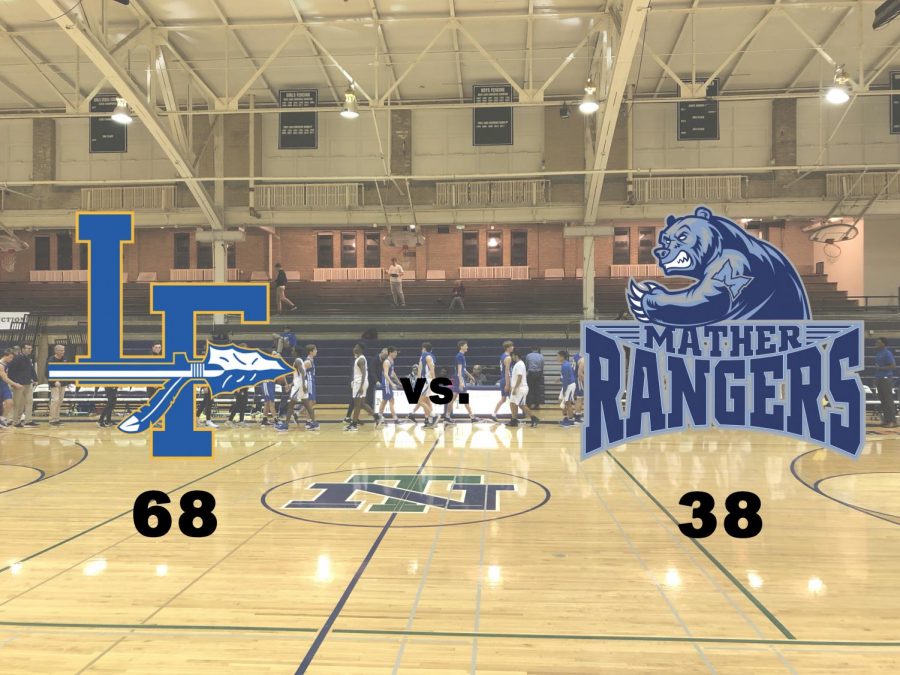 WINNETKA, Ill. — With time winding down on a lethargic and uneventful first quarter, the Scouts needed a spark to ignite their offense.
Asa Thomas gave them a splash.
Thomas, 0-for-2 at that point from beyond the arc, never paused to consider where he was standing ― five feet beyond the arc, closely guarded by a similarly lanky defender.
He just let one fly, effortlessly stroking a pirouetting shot bound for the bottom of the net. It's a shot you rarely hit in a game of H-O-R-S-E, let alone to beat the buzzer in your first high school basketball game.
Thomas simply turned and smiled at the Lake Forest fans, emphatically pumping his fist. 
"I'm just lucky that it went in," said the 6-foot-4 freshman guard. "It got the team going."
The three-pointer energized a sluggish Lake Forest offense, as the Scouts put up 20 points in the second quarter en route to a 68-38 blowout win over Mather High School on Monday night at New Trier High School.
The Scouts (1-0) were elevated by the strong play of their two underclassmen, Thomas and sophomore Cade Nowik, who scored a combined 31 points. Thomas led the team in scoring, finishing with 18 points on 7-of-15 shooting, including 4-of-9 from beyond the arc, alongside five assists, two rebounds, and a steal. Nowik, a mid-season Varsity call-up last year, recorded 13 points on 5-of-10 shooting with four assists, three rebounds, and two steals.
Behind a red-hot third quarter that saw the Scouts go on a 20-7 run, the Scouts notched 68 points, more than the team scored in any game last season.
But before the scoring barrage, it looked like there might be a scoreless first quarter; neither team scored for the first five minutes of the game before a Mather three-pointer broke the deadlock.
"We couldn't buy a bucket," said head coach Phil LaScala.
The Scouts looked paralyzed in their sets, hot potatoing the ball around the arc before settling for doomed three-pointers. The Scouts finally found their confidence in transition, and when the lay-ups started falling, the juices started flowing.
"I thought we did a great job defensively, to keep us in the game, and then we started getting rolling a little bit offensively," said LaScala. "Once one guy hit a shot I felt like it opened a lid off the hoop for us."
Just two weeks removed from tryouts, LaScala's squad looked well-acquainted, seldom turning the ball over as a result of miscommunication.
"They have some good chemistry together," LaScala affirmed. "One of the things I like about them is they play really hard, and they compete on every possession. When young kids do that, it's fun to watch.
Leading the charge on offense was senior point guard Grant Kaus, the only returning starter from last season. Kaus was perfect from the field, connecting on all four of his shots for nine points, along with a pair of assists and three steals. 
Mather, a CPS school on the north side of the city, held their own in the first half, but were unable to slow the Scouts once they integrated the rest of their role players. Juniors Gage Messner, Jack Malloy, and Josca Schabacker combined for 14 points.
The thirty-point victory was cause for celebration, as the Scouts got back on their horse to start the season.
It also left the Scouts sounding hoarse: LaScala, Schabacker, and sophomore guard Will Geary each returned to school on Tuesday barely able to speak after a boisterous night on the bench. 
But ask them how Thomas or Nowik performed, and they'd be able to croak out more than a few words of praise. 
The Scouts return for the second of three games at New Trier tonight against St. Ignatius.
About the Writer
Peter Elliott, Editor
Peter Elliott is a junior at Lake Forest High School. A contributor to The Forest Scout since his freshman year, he writes features and covers athletics...