ACT Changes May Lessen Stress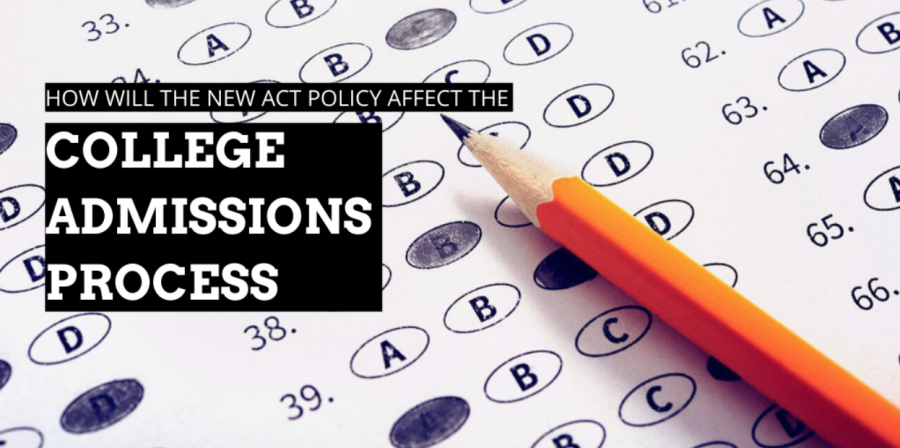 Taking the ACT means waking up at an excruciatingly early hour on a Saturday morning to intently sit at a desk for three hours in hopes of scoring high on the infamous standardized test, which can make or break a student's college admission.
But starting in September of 2020, this process may look a little different. The ACT will be going through three major changes in the upcoming months.
For one, students will be able to retake individual sections of ACT to improve their scores without the inconvenience of retaking the entire test. 
Second, the ACT will be available online on a national test date in a location other than the student's high school. Plus, scores will be available within two days.
And lastly, students can submit a superscore of their exam with any subsections retaken as their composite score (even if the school doesn't superscore.)
College counselor Brad Naughton explained that it is simply easier for a student to take one subtest in comparison to the entire exam. He also believes taking the test on a computer in a secluded space rather than a high school classroom could eliminate a major stressor for some students.
"My personal opinion, generally speaking, is anything that reduces stress around testing the better," he said.
Sophomore Carly Kisselle is optimistic about the changes.
"I think these changes are important because will allow me to improve on my weaker sections without having to focus on all four sections which will make it easier to get a better score," sophomore Carly Kisselle said, one of many students who will be taking the ACT following its policy change.
However, the downside of this major change is that depending on the cost of the subtest, the ACT as a whole could potentially become significantly more expensive than it has been in the past, which brings up the concern of possibly disproportionately benefiting students from wealthier backgrounds.
Senior Lauren Plante thinks the change might lead to a decreased chance of getting into some colleges, since getting higher scores will be easier. 
"I think it will be a lot less stressful, but at the same time it might lead to an inflation of scores, which could then lead to colleges not focusing as much on testing for prospective students," she said. "Personally, I think this will be positive for students but negative for colleges because they have to rework how to review their applications."
Naughton also wondered whether the changes might drive up the scores high enough where the entire ACT scale is no longer a sufficient enough measurement for admission, essentially defeating the point of the standardized test as a whole.
If this were to occur, it begs the question if it's even worth it for colleges to make students send their scores in the first place.
Recently, some schools, such as the University of Chicago, Wake Forest University, Bates College, and Denison University,  have made standardized tests optional for admission.

About the Writer
Katie Bondoc, Staff Writer
Katie Bondoc is a Senior at Lake Forest High School. She is on the Varsity Soccer team and the JV Cross Country team. She is also involved in National...