Squaring up for the Stage
She Kills Monsters cast learn stage combat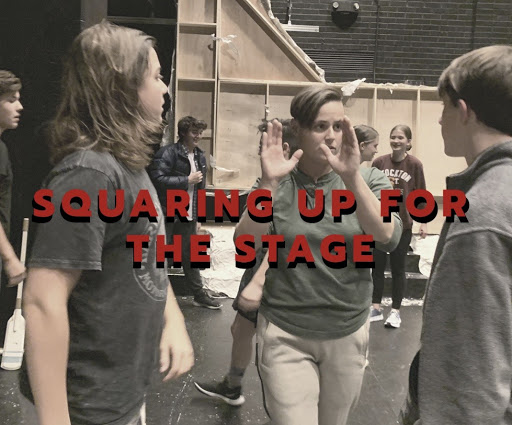 I arrived at the back doors of the David Miller Theatre shortly before 7 p.m. Knowing that rehearsals were well underway for this year's freshman/sophomore production of She Kills Monsters, I quietly made my way towards the theatre, determined to muffle any sounds that would distract the actors.
The second I slipped my body through the heavy double doors, I turned my head and witnessed an unruly sight: more than 20 freshmen and sophomores were aggressively throwing punches at each other while director John Wanninger simply watched it happen.
As I hobbled down the seemingly endless staircase leading to the stage, I gazed upon a sea of violence: students shoving each other, exchanging intimidating glances, and even tumbling to the ground. I recoiled in horror, thinking to myself, "Well, I know the students are supposed to be learning combat, but isn't it meant to be staged?
My thoughts were immediately interrupted by an authoritative  voice. "Hold," she commanded, and they did. The students promptly collected themselves up off of the floor, generously dealing out high fives and hugs to their partners that brutally beat them to a pulp seconds before.
This camaraderie, along with the paradoxical feeling of safety, perfectly represents the art of stage combat, said professional fight choreographer Polley Cooney.
"Consent is by far one of the most important elements of stage combat," she said. "Everyone's comfort level is going to be different when you start, and it will ultimately change day to day. As an actor, you need to make sure you communicate your level of comfortability with your scene partners and director in order to preserve that sense of security."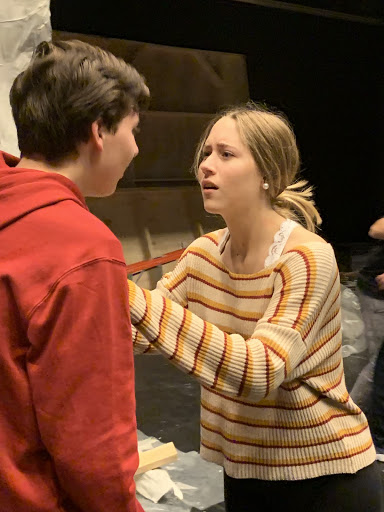 Cooney, who is currently certified in 12 different disciplines of combat, was brought in by Mr. Wanninger to create seamless, professional fight routines for the actors to execute during the show. Her passion for physical theatre blossomed in her high school years; as an actor as well as a lacrosse player, she searched for an outlet that allowed her to explore her physical capabilities and her desire to tell stories at the same time.
"I think the most fascinating aspect of stage combat is that it can draw in different types of actors, especially very physical actors who don't always feel like they can play Dorothy in the Wizard of Oz," Cooney said. "There are a slew of stories out there for people to tell, especially those who have an understanding of movement and motion."
Cooney spent the duration of her first rehearsal with the cast teaching basic movements, such as pushing, shoving, and falling, for the actors to experiment with in partnerships. Every so often, she paused the group and discussed technical tips to increase the fluidity of each motion, as well as to prevent the chance of injury.
Sophomore Amelia Myers said she was especially appreciative of the choreographer emphasis on communication and consent.
"Right off the bat, we established that we would care for one another and respect each other's boundaries; I think that really helped us build a sense of community which, in turn, allowed us to constantly have fun with each other throughout the process," Myers said.
Once the foundation of movement was established, Cooney introduced the element of storytelling. She asked the actors to "consider where they had come from previously" before performing the actions in the scene. As I took my seat in the audience, I witnessed nothing but joy on the faces of the students as they all settled into their characters and formed complex relationships with their scene partners.
Freshman Jack Taylor compared his experience working with Cooney to "a scene straight out of a superhero movie."
"It's going to change the way we all look at the different fight scenes in theatre and on camera," said Taylor. "I'll be able to watch those scenes with a different perspective now because I understand how much thought and effort is put into each moment of fight choreography."
Student director Pierce Docherty immediately spoke to Cooney's ability to create detailed choreography, despite having only received a concise amount of background information on the show.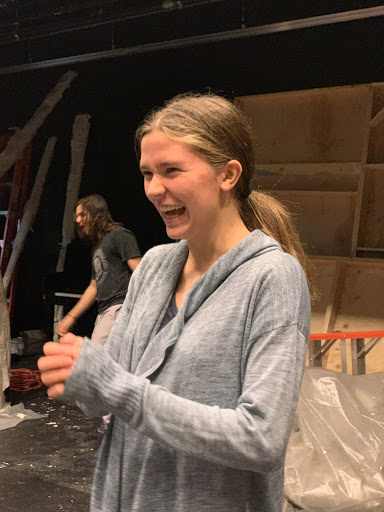 "All she knew going into it was the context of the fights, everything else she added was completely improvised," said Docherty. "It just goes to show how well she knows her stuff and how willing she is to adapt. It's been an absolute blast working with her to make these fights work."
For the past two weeks, Cooney has attended practically every rehearsal for the production, giving copious amounts of notes and suggestions to the fighters as they continue to grow over time. Docherty said that Cooney's commitment to the actors has "really solidified the element of professionalism that can be seen throughout the show."
"At the core of it, Polley is just an incredible teacher." he explained. "These actors have grown immensely over the course of their fight rehearsals, and it makes me that much prouder to be able to promote the show around school. Because of Polley, 'She Kills Monsters' is seriously going to be a show you won't want to miss."
She Kills Monsters will be performed in the David Miller Theatre on Thursday, Friday and Saturday at 7 p.m., as well as at 1pm on Saturday. Tickets are $6 online and can be bought using this link:
About the Contributor
Kailey Albus, Staff Writer
Kailey Albus is a junior at Lake Forest High School. She is an avid member of the theatre community and she actively participates in Foresters Singers....