What To Expect On Saturday: CFB Week 11 Preview
Unique Stories, Unique Places, Unique Moments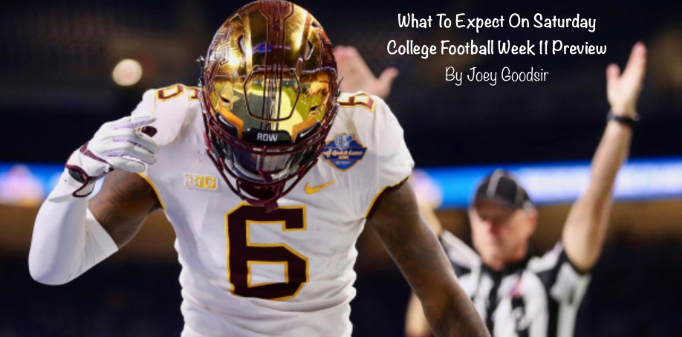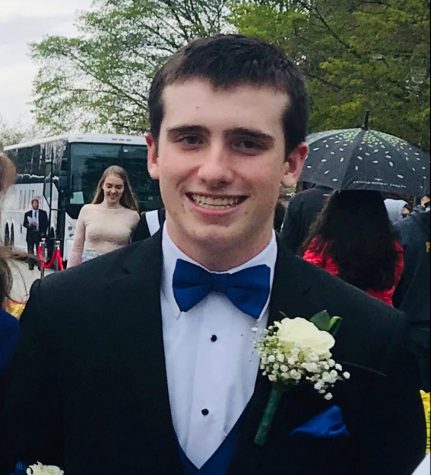 Now that we have settled into November, it's time to begin appreciating why this month is the best one in the College Football season. 
The big time matchups in big time atmospheres are palpable, with the most unpredictability on the table despite the fact that we know more about these teams than ever. The difference, of course, is that all those teams who haven't "played anybody" will now play someone this month…unless you're Clemson.
Before we dive into last week's action, the two huge off-the-field headlines are available for you here and here.
Now it's time to go back…
About Last Week
I went 6-2, making my overall record 83-25 (76.85%).
To start the day, Wake Forest was able to handle things significantly more easily than expected. It will be interesting to see what happens when they go to Clemson next week.
The afternoon game was a Cocktail Party that lived up to the high expectations. The de-facto SEC East Championship game was a hard fought shootout that gave the Georgia Bulldogs the huge win their resume needed.
And once darkness settled in last Saturday, Memphis proved that they are a very exciting team for a casual fan to watch. The Night Game of the Week was the predicted high-scoring shootout thriller, with the Tigers ultimately finishing on top.
Also, the first rankings by the College Football Playoff Selection Committee were released Tuesday, so let the debating begin: 
Ohio State

LSU

Alabama

Penn State

Clemson

Georgia

Oregon

Utah

Oklahoma

Florida

Auburn

Baylor

Wisconsin

Michigan

Notre Dame

Kansas State

Minnesota

Iowa

Wake Forest

Cincinatti

Memphis

Boise State

Oklahoma State

Navy

SMU
This will be quite the week of College Football, so let's not waste any more time and get right into the previews…
Noon Game of The Week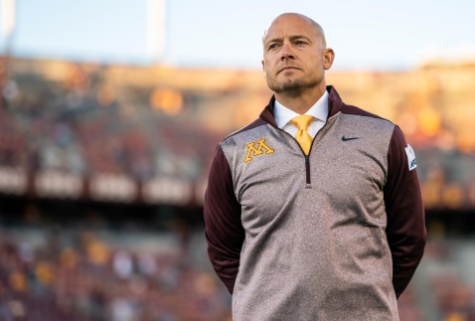 #4 Penn State @ #17 Minnesota
When: 11:00 CT
TV: ABC
Rain (Above 40%)? Nope. Just cooold.
Where: TCF Bank Stadium (Minneapolis, MN)
Series History: PSU leads 9-5 (Last Time: PSU won 29-26 in 2016)
Two weeks ago, Minnesota head coach PJ Fleck stood behind the press conference podium following a blowout win over Maryland, giving the world his case for College GameDay to come to town for the Golden Gophers' huge matchup with the Nittany Lions of Penn State.
Since then, the national CFB world has responded with nothing but disrespect. GameDay is going to boring Tuscaloosa for a game that we've seen featured on the show more than enough times. Instead of fun mentions in the CFP conversation, the team faced deportation to the bottom 10 on Tuesday.
Meanwhile, the entire state is losing their minds over this game, preparing for what should be a primetime-like home field advantage despite the "big noon" FOX start.
This one is gonna be a close Big Ten grinder. I think Penn State still has yet to prove themselves, and Minnesota will take advantage of the Lions' insecurities.
Penn State's talent (especially K.J. Hamler) will ultimately win them the game, but it will not be the comfortable win people expect.
I like the unique story PJ Fleck described though, so I hope I am wrong about that last part.
Penn State Wins, 24-17
Who's Your Pick for Noon Game Of The Week: Week 11?
#4 Penn State (0%, 0 Votes)
#17 Minnesota (0%, 0 Votes)
Total Voters: 0

Loading ...
Other Noon Games of Note
11:00 CT:
#12 Baylor @ TCU (FS1)
Afternoon Game of The Week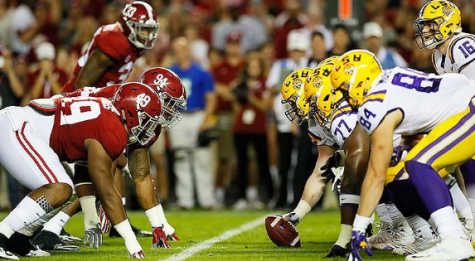 #2 LSU @ #3 Alabama
When: 2:30 CT 
TV: CBS
Rain (Above 40%)? Nope.
Where: Bryant-Denny Stadium (Tuscaloosa, AL)
Series History: Bama leads 53-5-25 (Last Time: Bama won 29-0 in 2018)
Well, the only good reason GameDay went to this one is because of implications. The rankings the committee gave these two teams makes this matchup a playoff semifinal had the season ended this week. It's no secret that the result here will dictate a lot of other results in the future.
Alabama is Alabama, but they have yet to show that against a big team. In terms of quality wins, they have no more of a playoff argument than Minnesota, with the only Power 5 team with a winning record featured on their record being Texas A&M. Tua Tagovailoa looks like he will be ready, but far from 100 percent.
LSU faces the blessing and curse of being the more proven team. They have shown their worthiness of a top 4 ranking which is great, but they have certainly gotten some energy spent on those big matchups earlier this year – This is the third time the Tigers have been featured on GameDay (again: they should be in Minneapolis this week).
It isn't entirely unreasonable for me to have this hot take, so I'm going to use it: Bama is unproven and will be exposed in front of their home crowd.
Ok, maybe it's a little unreasonable…
LSU Wins, 38-21
Who's Your Pick for Afternoon Game Of The Week: Week 11?
#2 LSU (0%, 0 Votes)
#3 Alabama (0%, 0 Votes)
Total Voters: 0

Loading ...
Other Afternoon Games of Note
2:30 CT:
#16 Kansas State @ Texas (ESPN)
USC @ Arizona State (ABC)
3:00 CT:
#18 Iowa @ #13 Wisconsin (FOX)
Night Game of The Week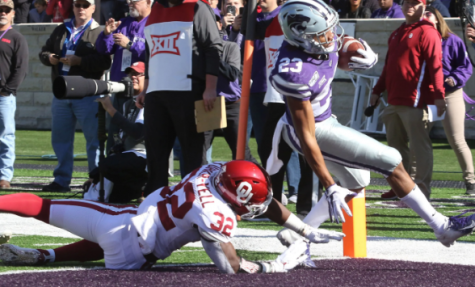 Iowa State @ #9 Oklahoma
When: 7:00 CT
TV: FOX
Rain (Above 40%)? Nope.
Where: Memorial Stadium (Norman, OK)
Series History: OU leads 75-2-6 (Last Time: OU won 37-27 in 2018)
In a tight and wild CFP race, the Oklahoma Sooners find themselves in the dust…
It's going to take a while for Oklahoma to build up some wins and get their loss against Kansas State out of our short term memory.
They have to start somewhere, and this week they host a team that has found comfortable consistency under Matt Campbell, a coach that will certainly be name-dropped numerous times throughout this coaching carousel season. This program is nothing to look over, as they have consistently pulled a big upset once every year. Oklahoma isn't immune to those.
This game will be all about Oklahoma's ability to stop a dual threat quarterback and handle a solid defense.
An upset isn't impossible, but due to Kansas State beating the Cyclones to the upset punch, it won't happen as the Sooners will stay locked in.

Oklahoma Wins, 35-24
Who's Your Pick for Night Game Of The Week: Week 11?
Iowa State (0%, 0 Votes)
#9 Oklahoma (0%, 0 Votes)
Total Voters: 0

Loading ...
Other Night Games of Note
6:00 CT:
Missouri @ #6 Georgia (ESPN)
Late Game of The Week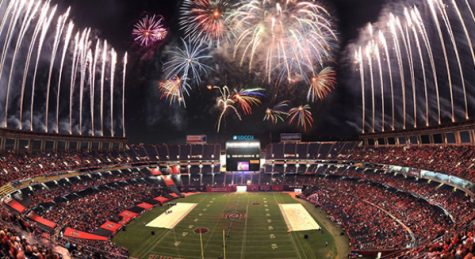 Nevada @ San Diego State
When: 9:30 CT
TV: ESPN2
Rain (Above 40%)? Nope. November gets rid of the rain!
Where: SDCCU Stadium (San Diego, CA)
Series History: SDSU leads 7-4 (Last Time: Nevada won 28-24 in 2018)
It's never a bad thing when the late game introduces us to some new teams. This week, we head out to San Diego, as the SDSU Aztecs host the Nevada Wolfpack.
Not to kill any excitement, but San Diego State prefers "manball" – establishing a run offense and pounding the other team on defense. This is obviously not what you turn on your TV to see at this time of day. It's not a noon start, it's a 9:30.
Nevada is a little more active, but they have been plagued with quarterback problems and inconsistencies ever since their encouraging win over Purdue in Week 1.
This game will depend on the Wolfpack's ability to finally "settle in" on offense – something that has no indication of happening. Meanwhile, their defense will be weak enough to allow the Aztecs to trudge forward, and win comfortably – keeping the Mountain West division race away from chaos.
San Diego State Wins, 31-21
Who's Your Pick for Late Game Of The Week: Week 11?
Nevada (0%, 0 Votes)
San Diego State (0%, 0 Votes)
Total Voters: 0

Loading ...
Enjoy your Saturday, everyone!
About the Contributor
Joey Goodsir, Editor-In-Chief
Although Joey is astounded it is his senior year, he is excited to be writing and editing at The Forest Scout for a second year - this time as an Editor-in-Chief....