Advice to Freshmen from Seniors
The advice we wish we had when we were younger.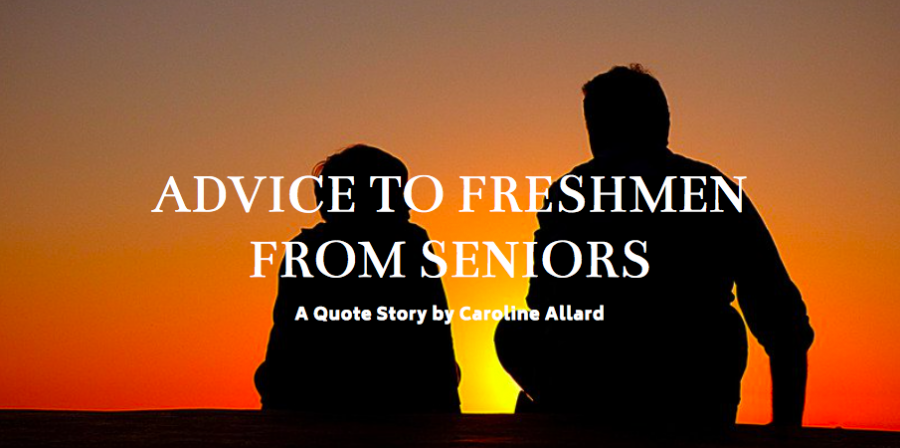 Now that it's November, freshmen are settling into the high school and seniors are submitting their college applications. One thing some seniors are realizing though, is that they wish they could go back in time and give their younger selves some valuable advice.
After trudging through three years of high school, seniors have figured out high school for the most part. Everything they wish they did when they were younger can help the current freshmen learn from their mistakes. 
Without further ado, freshmen, here is your advice:
* * *
"Don't stress yourself out to get perfect grades just because your parents want you to." — Jack Heydorn
"Make better relationships with your teachers. You enjoy the class way more when you do." — Charlotte Yehle
"Get more involved in clubs." — Katie Bondoc
"Don't be afraid to do spirit week or participate in school spirit. I regret not being as involved and caring so much about what people think." — Olivia Headley
"Just have fun. Care less." — Margaret Matson
"People don't care what you do." — Lauren Plante
"Chill out." — Maggie Bires
"Go to more sporting events because they're fun. I waited too long to do it." — Andy Brown
"Start off strong freshman year. Take advantage of your resources." — Anthony Ranallo
"Don't care what other people think, just do what you want." — Ava Manelis
"The friends you have right now aren't going to be the ones you have senior year. Everyone changes, even yourself." — Lucas Redding
"Don't try as hard as you think you should." — Connor Higgins
"Don't be afraid to make mistakes. You're going to make a lot of them." — Haley Banta
* * *
Personally, If I were to give my freshman self a word of advice, I would say that popularity doesn't exist in high school. Groups will intermingle and 'status' isn't a thing. Lose the ego and be kind to all different kinds of people. And above all else, stay true to yourself.
Although this advice seem generic, it can be easy to forget along the way. The senior class has made it to the last stretch of high school, and we wish we had our current knowledge to guide us along the way.
Hopefully you got something out of these wise words. Good luck to all freshmen on their journey through high school and always remember to just have fun!
About the Writer
Caroline Allard, Staff Writer
Caroline Allard is a senior at Lake Forest High School. She spends most of her time practicing with the Varsity Dance Team. Her favorite subject is business,...