What To Expect On Saturday: CFB Week 10 Preview
Although this week resembles a short calm before one of College Football's next big storms (four of the top five have byes), it's hard not to marvel at how far into the season we really are.
I mean, seriously — look outside.
It's Halloween weekend yet the aesthetics of end-of-season November landscapes have started early, a simple reminder of the always-proven cliche of the game: anything can happen.
Last week, it did.
About Last Week
I went 4-2, which makes me 77-23 overall (77%).
It didn't take long for big matchups to kick off last week, and it started in a rainy Ohio Stadium, with the mighty-but-exposed Wisconsin Badgers coming into town. Just watch the tape:
Yeah. They are kinda good.
The two words you heard and saw all over social media in Week 9:

1. Chase

2. Young

The @OhioStateFB star's 4-sack day solidified his @HeismanTrophy candidacy. pic.twitter.com/Uaz4hlKBpb

— Big Ten Network (@BigTenNetwork) October 27, 2019
He's kinda good too.
Believe it or not, that wasn't the biggest Noon Game news of the day. It came out of Manhatten, Kansas of all places…
It seems like 2019 College Football will not be defined by unscathed teams. We're gonna see teams beat up on each other. There will be some great debates when the CFP committee enters the conversation.
The afternoon's SEC shuffle brought tigers and…tigers to the spotlight. Death Valley got to see another win for LSU, who seem to be gearing up for their game of the season against the Crimson Tide of Alabama. Their chances after this one look solid too:
The night game brought a monsoon, and also the statement win that Jim Harbaugh was looking for. His criticisms for being unable to win big, top ten rivalry games will be quieted for the (albeit short) moment. As for Notre Dame, their playoff chances are all but over, and they will have to wait until 2033 until they can get revenge over the Wolverines. We will all be way out of college by then!
The day closed out with some PAC12 after dark, featuring Oregon's rematch with the Washington State Cougars. Oregon got the job done and Justin Herbert is still quite good, but it was quite the thriller to make it happen.
On to the reason why you are here: the previews. Seniors, EA college apps are in – it's time to relax and watch some College Football!
Noon Game of The Week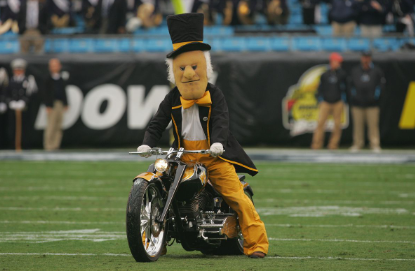 NC State @ #23 Wake Forest
When: 11:00 CT
TV: ESPN
Rain (Above 40%)?
Where: BB&T Field (Winston-Salem, NC)
Series History: NC State leads 66-6-40 (Last Time: WF won 27-23 in 2018)
I wanted to take the opportunity to cover 2019 L̶a̶k̶e̶ Wake Forest Football at least once this season, and here it is to start the tenth Saturday. 
Wake Forest Football is historically a very bad football program, securely holding the worst win percentage of all Power 5 teams. They have had steady progress under the Dave Clawson regime, but nothing close to notable on a national scale (even more so on The Forest Scout).
Then, this season came. The Deamon Deacons are nearly unscathed through ten weeks, with only one loss to Louisville, but wins over big names like Florida State and Boston College (Ignore context, have a little fun).
NC State is coming off a bye week following their 45-24 loss to that Boston College team. They are not impressive, but a relieving performance from freshman Devin Leary definitely was, bringing some life to Wolfpack fans. 
This game will depend on Leary's ability to keep the high level performance, but also on the Wolfpack's ability to play a complete, mistake free game. It is certainly possible, but far less certain to predict given the blowout loss two weeks ago.
Wake Forest will roll on, continuing to tailgate the undefeated Clemson Tigers in the ACC East.
My gosh, this conference is horrific. All I care is that a team that rhymes with the home team wins the night before…
Wake Forest Wins, 34-27
Who's Your Pick for Noon Game Of The Week: Week 10?
NC State (0%, 0 Votes)
#23 Wake Forest (0%, 0 Votes)
Total Voters: 0

Loading ...
Other Noon Games of Note
1:30 CT:
Virginia Tech @ #16 Notre Dame (NBC)
Afternoon Game of The Week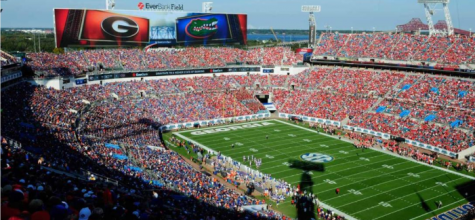 #8 Georgia vs. #6 Florida
When: 2:30 CT
TV: CBS
Rain (Above 40%)?
Where: TIAA Bank Field (Jacksonville, FL)
Series History: UGA leads 51-2-43 (Last Time: UGA won 36-17 in 2018)
People have complained about a lackluster slate all week, but you can't complain when you have a neutral site tradition known as the "World's Largest Cocktail Party," and both teams involved are ranked.
Georgia needs a statement win on their resume, and they need it badly. With the upset loss at home to a South Carolina team that lost a game to Tennesse last week (!), and their one big win negated with a Michigan trouncing of Notre Dame serving as unwelcome results in addition to their ugly win against Kentucky prior to their bye, the Bulldogs will need to show they deserve to be invited into the big playoff debate next week.
Florida, on the other hand, just can't stop playing big games. I barely want to cover them because there isn't much else to say anymore. Here are the results from their October schedule:
Win over #11 Auburn, 24-13
Win over South Carolina, 38-27
Last week was a well-deserved bye for the Gators, and they will continue to fight in Jacksonville with major SEC East stakes on the line.
This will be a close one, and the bye weeks will allow for Georgia's talent to prove advantageous in this game. They have the experience in both this game and big games, and it will serve them well in this matchup. If Florida proves me wrong here, however, they will now have major standing in any "show me" argument.
Stay glued to the TV for a thriller.
Georgia Wins, 40-34
Who's Your Pick for Afternoon Game Of The Week: Week 10?
#8 Georgia (0%, 0 Votes)
#6 Florida (0%, 0 Votes)
Total Voters: 0

Loading ...
Other Afternoon Games of Note
2:30 CT:
Miami @ Florida State (ABC)
#22 Kansas State @ Kansas (FS1)
3:00 CT:
#9 Utah @ Washington (FOX)
Night Game of The Week
#15 SMU @ #24 Memphis
When: 6:30 CT
TV: ABC
Rain (Above 40%)?
Where: Liberty Bowl Memorial Stadium (Memphis, TN)
Series History: Memphis leads 8-0-3 (Last Time: Memphis won 28-18 in 2018)
ESPN's 2019 feel-good story will be in full force this week, as College GameDay travels to Memphis to see SMU for only the second time in show history. 
For today's CFB History lesson, let's keep things simple: SMU had a lot of big boosters who not only gave their players boatloads of money in the late 70s and 80s, but did a horrific job at hiding it. The program became the only one to be issued a "death penalty" by the NCAA, resulting in no football in 1987, and sanctions that resulted in seemingly eternal rebuilding (there is a good documentary about this if you want to know more).
They are now undefeated, and ranked for the first time since that era. Upon decades of being stuck in the CFB basement, there is some excitement to be had in Dallas.
The Mustangs face a ranked Memphis Tigers team (why are there so many Tigers in College Football?) that stands on big wins over Ole Miss and UCLA. They boast a productive offense that wins games by getting a big cushion of points on the board.
Expect this cushion to happen, but not until the second half. Until then, it will be an offensive shootout.
Unfortunately, ESPN's cinderella story will come to a halt to close another day of CFB.
Memphis Wins, 45-37
Who's Your Pick for Night Game Of The Week: Week 10?
#15 SMU (0%, 0 Votes)
#24 Memphis (0%, 0 Votes)
Total Voters: 0

Loading ...
Other Night Games of Note
7:00 CT:
#7 Oregon @ USC (FOX)
The first rankings from the College Football Playoff Selection Committee will debut on Tuesday, Nov 5. Get ready, the debates are coming!
Until then…
Enjoy your Saturday, everyone!
About the Contributor
Joey Goodsir, Editor-In-Chief
Although Joey is astounded it is his senior year, he is excited to be writing and editing at The Forest Scout for a second year - this time as an Editor-in-Chief....