New Assistant Athletic Director Mr. Daniel Vosnos brings spirit and athletics to LFHS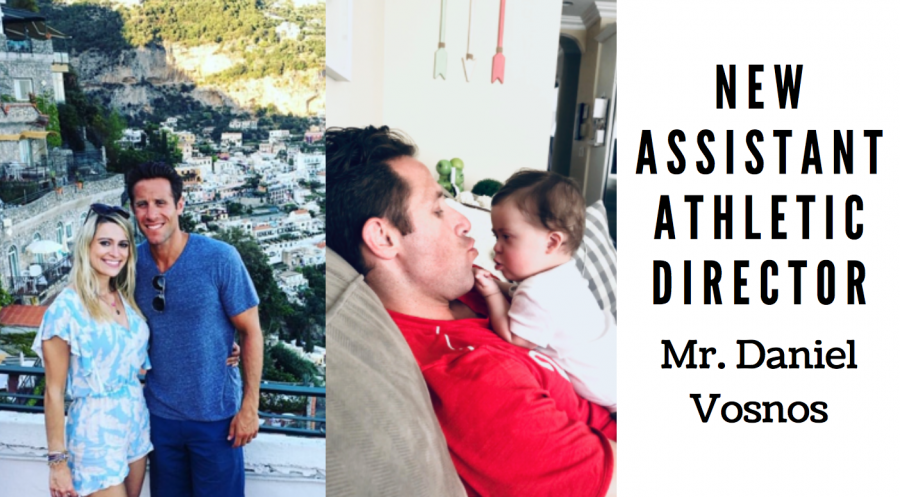 Recently hired Assistant Athletic Director Mr. Daniel Vosnos is excited to shake up the LFHS athletic department. 
One of Mr. Vosnos' biggest goals as the new Athletic Director at LFHS is to be a great support figure for all Scout coaches and athletes, all while boosting the overall school spirit in sports that are historically less attended.
"I really want to see a transition in school spirit with other sports," Vosnos said. "Whether it be lacrosse games, field hockey games, or tennis matches, it's important that we start to get more people at more sports."
Mr. Vosnos has no shortage of experience when it comes to taking on this new role.
The former three-sport athlete at Glenbrook South High School has worked as Head Athletic Director at Evanston, Homewood Flossmoor, and Jacobs high schools in the last 17 years.
"Mr. Vosnos comes to Lake Forest High School with a very strong background in high school athletic management," said Head Athletic Director Mr. Tim Burkhalter. "He brings a great deal of knowledge, expertise, and energy to our program and we are thrilled to have him join the Scouts."
He feels that his life-long passion for sports is what drives him to be there to support our current student-athletes growth and development. 
LFHS Principal and longtime friend Dr. Chala Holland has known Mr. Vosnos since college, and worked with him at Evanston High School. 
"Although he has spent his career in athletics, he understands academics, he understands the whole student, and understands and values the many life-readiness skills that athletics teaches and instills within student-athletes," said Dr. Holland. "I believe he will greatly contribute to the department by adding a renewed energy, new ideas, and a student-centered focus to everything he does."
Outside of LFHS, Mr. Vosnos is an avid Northwestern Football fan and loves supporting the Wildcats every Saturday in the fall. He also loves spending time with his 9-month old son, Ellis. 
As well as sports and his kid, traveling to unique places is very important to Mr. Vosnos outside of work.

Athletics are obviously a huge part of Mr. Vosnos' daily life inside and out of his new position as Assistant AD for the Scouts. 
He said he is, "ecstatic, to say the least, to continue working with our student-athletes and coaches to make our Athletic Department one of the many things that makes Lake Forest High School so special."
About the Writer
Matthew Garrigan, Staff Writer
Matthew Garrigan is a senior at Lake Forest High School. He is a member of the varsity football team and a two-time captain of the lacrosse team. Outside...