A Coffee Shop Worth Talking About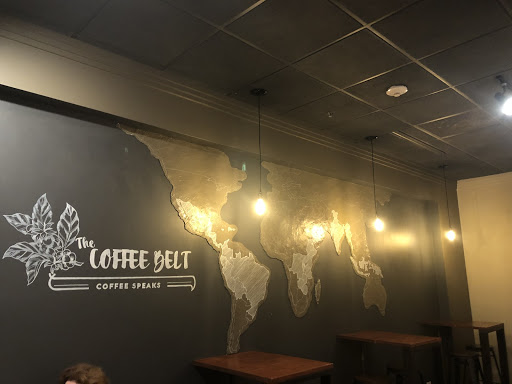 In Highland Park, there is no shortage of trendy places, including Walker Brothers, Dairy Queen, Uncle Dan's, Blue Mercury, and the popular boutique Rock n' Rags. But alongside the well-known stores, there is one near-perfect place that no one seems to know: Coffee Speaks.
The coffee shop is hidden within the Port Clinton Square behind Dairy Queen. The coffee shop has a very distinct quiet and peaceful atmosphere.
For a little over a year now, it's been my go-to place to study. Ever since I first stepped into the little coffee shop, I hopelessly fell in love with it. First, you notice the wooden floors and countertops accompanied by metallic chairs. The cafe is very cozy and lit up by the drooping light bulbs situated above each table throughout the cafe.
Coffee Speaks opened up in Highland Park in 2017, with every single piece of furniture handmade by the owners. From the wooden countertops to the map of the global Coffee Belt found in the back of the cafe. The map is painted in gold with white shading around the countries that contrast against the black chalkboard background; it's very pleasing to the eye.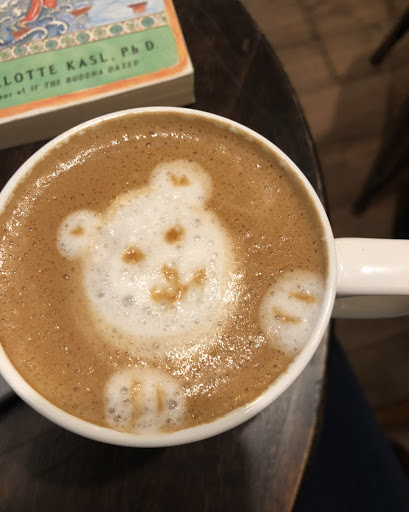 After admiring the coffee shop's calm and quiet atmosphere, you will be greeted by the most positive and bubbly baristas around. The menu has a great array of treats from coffee to lattes to teas to pastries to sandwiches. Along with the cafe's seasonal menu — right now it is the fall menu, which includes Pumpkin Spice Latte — the cafe has a few signature drinks including the Lavender Latte and the Galaxy Iced Tea, along with their hand-made, customer favorite Scooped-Scones that come in a variety of flavors including matcha tea with chocolate chips.
If you are hungry, I strongly recommend trying the paninis; they are truly amazing. If you are not in the mood for a sandwich, the cafe just added toasts to their menu, including Nutella toast.
As you wait for your drink, you may strike up a conversation with one of the baristas, who always, without fail, have a smile on their face. Once you get your drink, most likely if you get a hot latte, you may receive a little foam bear on top of your drink. Whenever I get some latte art on my drinks, I get extremely giddy. I always end up having to take a picture of the latte, which you would know if you follow me on any social media platform because I am guaranteed to post a picture of my latte.
The serenity of Coffee Speaks makes it the ideal place to study and get work done. The coffee shop always remains remotely quiet, with dedicated students working away and the occasional quiet bantering between two friends.
If you end up going to study at Coffee Speaks, just know: you may never want to go to any other cafe again. There really is no other place so serene and welcoming.
About the Writer
Carley Walker, Editor-in-Chief
Carley Walker is a senior at Lake Forest High School. Outside of school, you can find her rowing on the Chicago River for her team Chicago Rowing Foundation...