Friday Night Feels: Absolute Bedlam
Lake Forest 28, Stevenson 27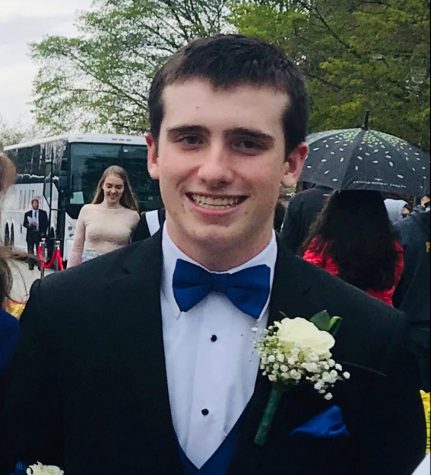 It's hard to find words, so I have very few of them.
With Stevenson leading 27-7 late in the third quarter, this is far from what anyone had in mind. Most of the crowd at Varsity Field had exited early, citing the cold temps and high point deficit as their rationale.
Those of us who stayed were trying to soak in one (seemingly) last Scouts Football game on the year. For the seniors, it seemed like this would be the end, and the goal was to make it memorable. 
Distracted by each other, we had no idea that the focus would come back to the field in jubilant fashion. The Scouts quietly kept it a game.
Two touchdowns by Mac Uihlein and a quick turnover set up a moment that will be remembered by "those who stayed" forever.
Hoskins hits Kai Kroeger for 59 yd TD, Scouts lead 28-27 w 2 min left

— Jon J. Kerr (@scoutsfootball1) October 26, 2019
Just like that, I found myself sprinting full speed to the south endzone, fellow students blasting through my tiny-but-nostalgic alto saxophone as they ran by.
Up until this point, LFHS football in 2019 seemed to be defined by an inability to "pull it all together." Between persistant offensive struggles and identity-searching, a major injury, and an inability to get some momentum in a big-time game at Varsity Field.
With one last bit of execution, and a kneeing out of the clock – the Scouts finally "pulled it all together," in what could very well be the wildest win in program history. 
It was emotional, and it was pure, beautiful chaos-of-a-celebration that makes high school football awesome. Not the worst way to close things out for the seniors, amirite?
Of course, the biggest thing is that the result forces Scouts Football as a whole to not "close things out" just yet. With their tenth straight playoff berth, it is time to see what the Scouts can do in a postseason where anything could happen.
Until next time (thanks to this legendary night)…
Go Scouts, Beat Belvidere North!

POSTGAME STUFF ELSEWHERE:
Jon J. Kerr's scoutfootball.com Postgame Interviews: Aberle, Garrigan&Morrison&Clarke&Williams&Altounian, Graham. Film Review.
TFS Beat Writer Connor Clark's big recap will be available soon.
WHERE TO WATCH I.C.Y.M.I.:
Catch the impeccable duo of Connor Clark and AJ Shaw on the call for possibly the last time, courtesy of LFHS New Media.
As a bonus, here were NBC Sports Chicago's "High School Lites!"