Halloween Costume Ideas 2019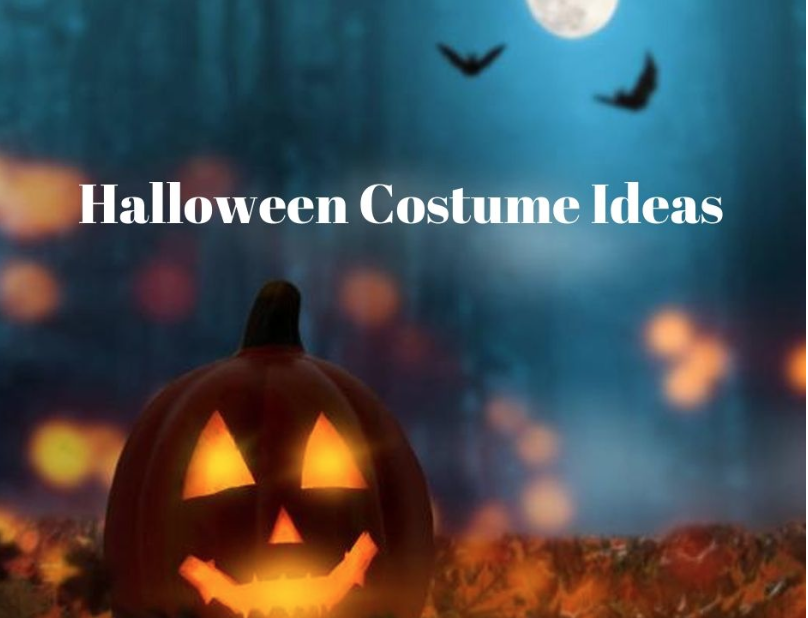 Do you need some ideas for halloween costumes with your friends? Here are 10 easy and great ideas to do by yourself or with a group of friends!
Animal Print
Each year, there has been a recurring theme of snakeskin and cheetah print outfits. So this year, you and your friends could dress up as a group as part of the "jungle." There are plenty of different animal prints that you could dress up in that would make a cute variation of a jungle theme! Some ideas to do jungle would be wearing a snake print/cheetah shirt with black jeans or flip it and wear a skirt of the print with a simple top.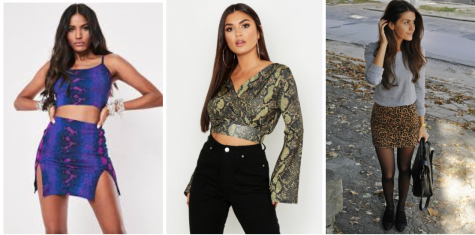 2. Vampires
Being a vampire is a super easy costume you can put together by wearing black jeans or a black skirt with a black top or bodysuit, and putting on some fake blood.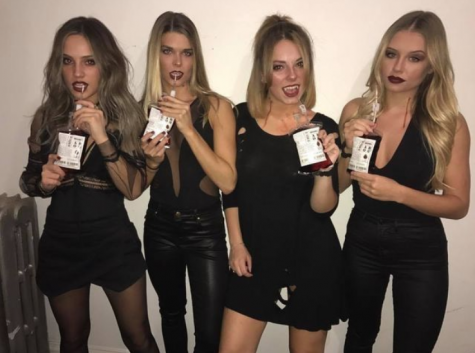 3. TV Shows/Movie characters
Another idea is to dress up as characters from a tv show or movie, such as Grey's Anatomy, Vampire Diaries, Mean Girls, or Clueless. This would be a very creative and fun costume to do with a large group of friends, or even just a couple of people.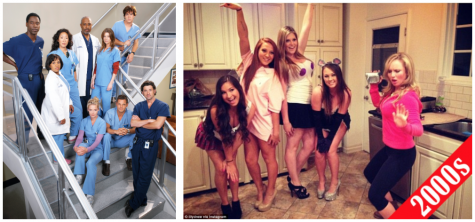 4. The Seven Dwarves
Being the seven dwarves is a fun costume to do with your friends! If you have a group of seven or less, this would be a great and easy idea to put into play. You can look up online what dwarves there are, and then DIY your costume with a shirt and hat. Pinterest has some cute ideas for this costume, as shown below!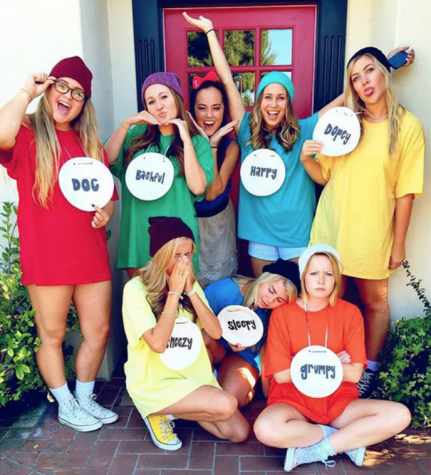 5. Frat Boys
Being a frat boy is a super easy costume to put together. You can steal your dad's shirt and add shorts and a baseball hat, and be considered a frat boy! You could also wear Sperrys or Birkenstocks with Nike socks.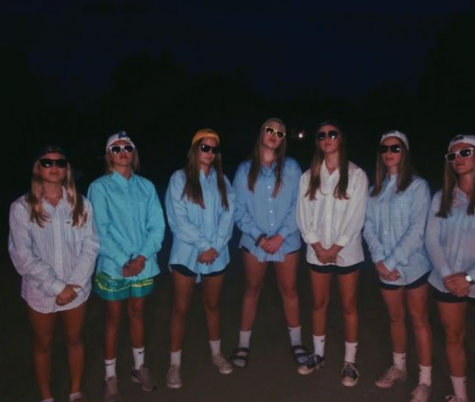 6. Devils vs. Angels
A classic rivalry of devils vs angels could be the perfect idea for your friend group. Split your group in half and be half devils, half angels! For a devil, find something red to wear and pair it with horns and a tail. If your the angel, wear white and a halo.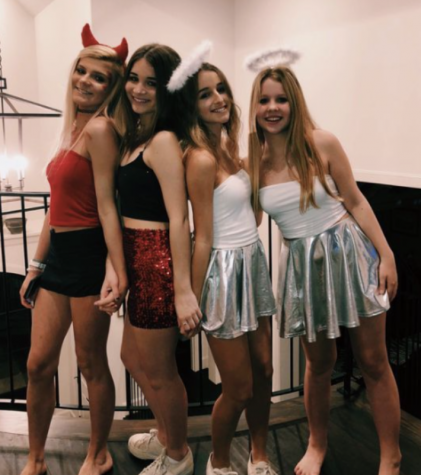 7. Princesses 
As a child, I'm sure there were many years that you were your favorite Disney princess for Halloween, but if not, who says your too old for that now! With so many different princesses out there, each of your friends could choose one to go as. Princesses include Jasmine, Cinderella, Aurora, Snow White, Belle, Ariel, Rapunzel, Mulan, and more.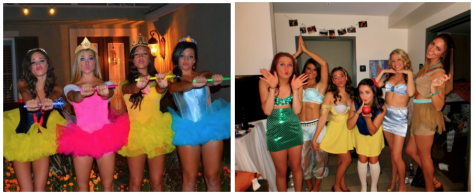 8. Rock Stars 
This is a super easy and simple costume to put together last minute. All you need is a band tee, fishnet tights, black shoes, and some black lipstick. Though you may be throwing this together last minute, I can promise you that it will look cool!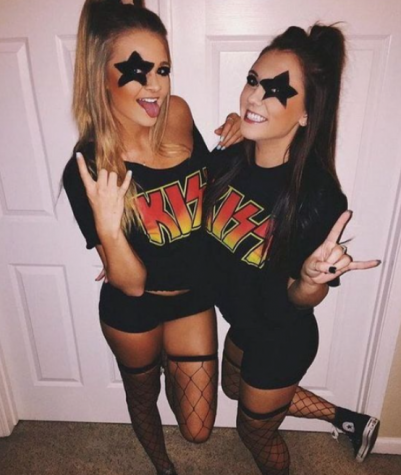 9. Spice Girls 
This popular 90's girl band could be the perfect costume for your friend group. There is Sporty Spice, Ginger Spice, Posh Spice, Baby Spice, and Scary Spice to choose from. This is simple enough that I'm sure you can find clothes laying around your house to use for whatever spice you may be going as.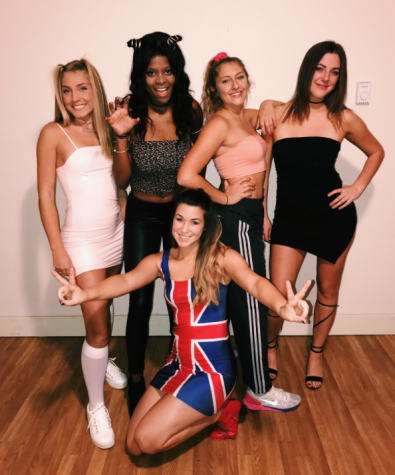 10. Aliens
Aliens have become a popular costume choice for high schoolers in recent years. It is a simple yet cute costume for you to put together. Get something with a galaxy pattern or something metallic to pair with antennas. And don't forget your space buns!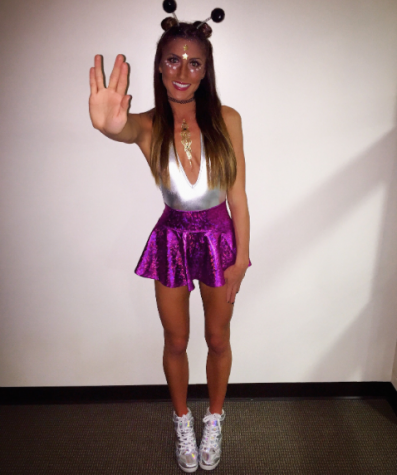 These are just a couple of ideas to get you thinking about Halloween and what you might want to be, but we hope it helped you get some ideas for your own costume!
About the Writers
Marley Heitman, Staff Writer
Marley Heitman is a senior at Lake Forest High School. She plays on the Varsity Field Hockey and Lacrosse team. Her favorite subject is English. She enjoys...
Julia Knipfer, Staff Writer
Julia Knipfer is a senior at Lake Forest High School. Her favorite subject is science. Outside of school she spends most of her time at dance but when...