Recapping the JV Tennis Team's Successful Season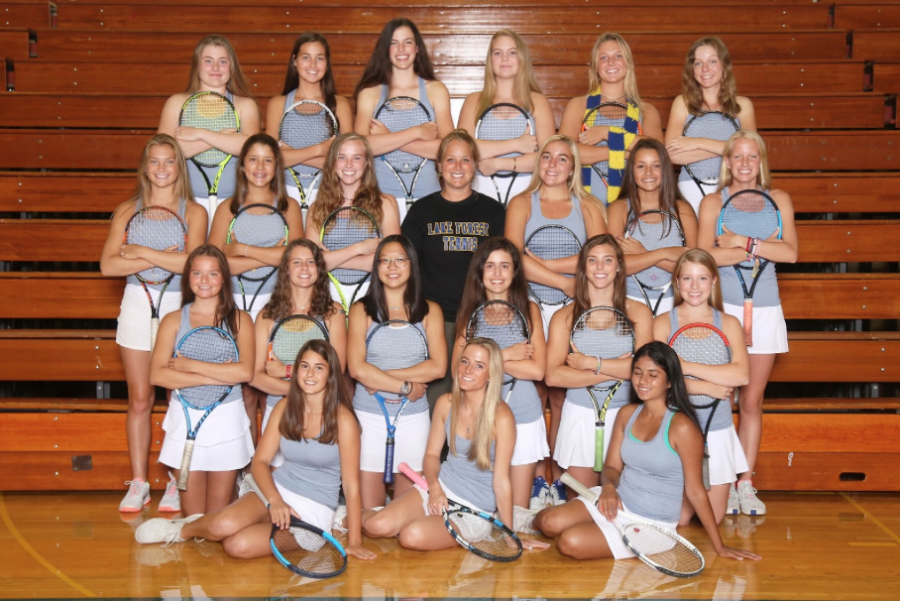 The JV Tennis team's season came to an end Saturday, as they placed second in the North Suburban Conference meet, a great result that reflected the team's hard work all season long.
This season, the tennis team volunteered at Feed My Starving Children and House of Peace, participated in the Play for Jack memorial fundraiser in honor of Jack Adams, enjoyed team bonding at bowling and egg toss, and had many tradition team dinners at places like Tsukasa and Culver's on top of all the time they spent on the court together.
Three-year member of the team, junior Avery Robb, can attest to the great season that the team had this year.
"I would say this year was the best year yet because of how much our team bonded," she said. "It was an unforgettable season." 
Robb is hoping to be a senior captain next year and lead the team to getting first in conference, which the team has accomplished in years past. 
This year, many of the players said that this was the closest they have ever been as a team. By doing things like giving back to the community and just hanging out, the members said they had so much fun.
Many of the team members said that although they did not go undefeated ― losing narrowly to Deerfield and Stevenson ― they had an overall positive outlook on the season.
Senior captain Caroline Murphy reflected on how this season was the best one yet, and how she's lucky that her last season on the team was so amazing.
"This season was definitely one to remember, especially because for me it was the last of everything; I can't seem to wrap my head around the fact that it is over," she said. "Senior night was a very emotional night as everyone was going around sharing stories about the past years about us five seniors, and slowly but surely the tears start streaming down on everyone's faces." 
Murphy has been part of the JV tennis team all four years, and thinks of it as one of the best aspects of her high school experience.
Clearly, this season for the JV tennis team is one that will linger in their hearts forever. 
The team is looking forward to supporting the varsity team on Friday, October 18th, for the sectional meet at Highland Park High School.
About the Writer
Marley Heitman, Staff Writer
Marley Heitman is a senior at Lake Forest High School. She plays on the Varsity Field Hockey and Lacrosse team. Her favorite subject is English. She enjoys...