Outfit of the Week featuring Alexa Schweitzer
This week we have freshman Alexa Schweitzer for outfit of the week! Alexa is rocking an army green one-shoulder top from Garage Clothing and seamlessly pairs it with simple high-waisted jeans also from Garage to keep this outfit looking trendy.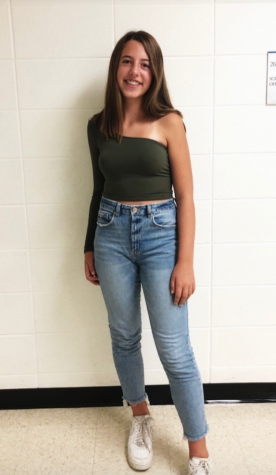 This look is great because the contrast in colors is the perfect transition outfit for the season and still stays right on-trend while maintaining a sophisticated edge.
Where do you go for fashion inspiration?
 "For fashion inspiration, I usually look at Pinterest or what models are wearing when I'm online shopping."
If you had to choose one trend as your favorite, what would it be and why?
"My favorite trend has to be wide-leg pants/cargo pants or one-shoulder tops. I feel like both are just really flattering. They are comfortable and cute."
How do you use fashion to express yourself?
"My style changes a lot. It depends on what I feel is good for that specific day. One day I could have edgy chic, but another would be girly. I don't really fit into one style category."
Stay stylish, LFHS!!