Real World Comes to YAF Event
Fox News television personality Rachel Campos-Duffy spoke to a crowd of over 125 people Tuesday night in the Raymond Moore Auditorium, after being invited by Lake Forest High School's chapter of Young Americans for Freedom.
Mrs Campos-Duffy, a partner of YAF,  spoke about the culture of self-censorship that she believes surrounds young conservatives and the influence of popular culture on politics.
She praised the community members who showed up for supporting LFHS's YAF chapter, which she referred to as "countercultural."
Mrs Campos-Duffy and her husband, former U.S. Representative Sean Duffy (R-WI), welcomed their ninth child, Valentina, last week. Valentina was born with a heart condition a month early, which led Mr Duffy to announce his resignation from Congress on Sept 23 in order to be able to spend more time with his family. While Mrs Campos-Duffy acknowledged that the birth of Valentina provided her with a good excuse to cancel the event, she said that she was simply too excited to forgo the opportunity to visit LFHS's YAF chapter because being around young people "recharges" her.
Mr and Mrs Campos-Duffy initially met as cast members of the MTV series "The Real World," and they explained how they believe that their television experience helped improve their public personae.
"Culture leads politics," she said. "When it comes to politics, messenger and style actually matter." She recognized former president Barack Obama for being a "master" of harnessing the power of popular culture to improve his standing with the electorate.
Mrs Campos-Duffy's speech was aided by a slideshow presentation, which she used to display to the audience examples of Barack and Michelle Obama's and President Trump's appearances on the media landscape. She emphasized that social media has "transformed the way political candidates communicate with voters."
Mrs Campos-Duffy concluded her speech by emphasizing that young people are the "culture makers" and applauding the community members in attendance for standing behind their beliefs. She then introduced her husband, Sean, to provide his input on questions ranging from her pro-life stance to the accusations of the YAF organization being a white nationalist group.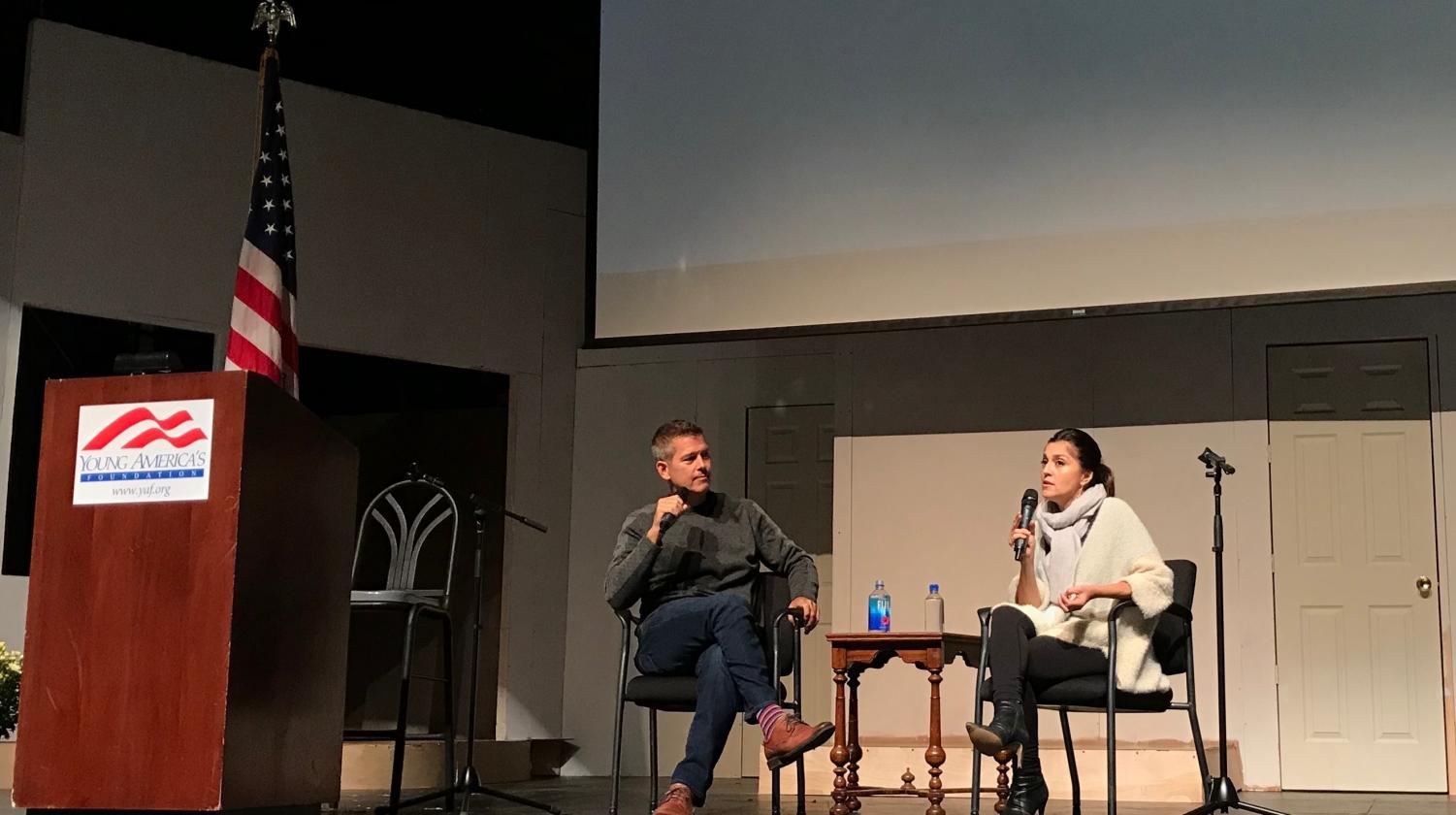 Along with the guest speaker, YAF collected donations to support a homeless shelter in Waukegan.
The chapter co-founders — junior Alisa Giannelli and seniors Grace Gescheidle and Julia Hender — said they were very pleased with the event.
"With a great turnout at just the first event, it can only grow from here," Hender said in regards to future YAF events.
The chapter co-founders said they had gone to a YAF conference in June and had been very impressed after hearing Mrs Campos-Duffy speak, thus prompting the motivation to bring her to LFHS.
Gescheidle said that the goal is to host more events in the future, and that Tuesday evening was just the beginning.
About the Writer
Ryan Peters, Editor
Ryan Peters enjoys playing darts and cornhole, doing crossword puzzles, sitting outside, and listening to 93XRT.