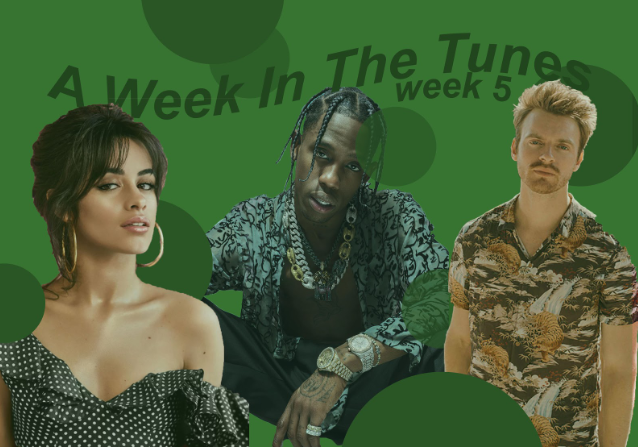 A Week In The Tunes: Week 5
October 10, 2019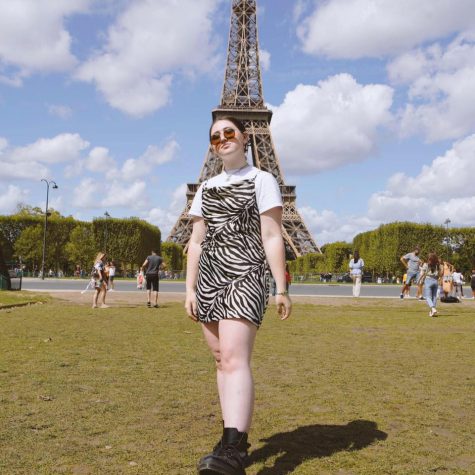 If there wasn't enough to love about Fridays, the end of the week always means new music. Here is a look at five standout projects released this past week, and five previews of projects to look forward to for Friday and next week. To keep up with the latest tracks, make sure to follow the A Week In The Tunes Spotify playlist, updated weekly.
What's New: October 4-10
Travis Scott — "Highest in the Room" (single)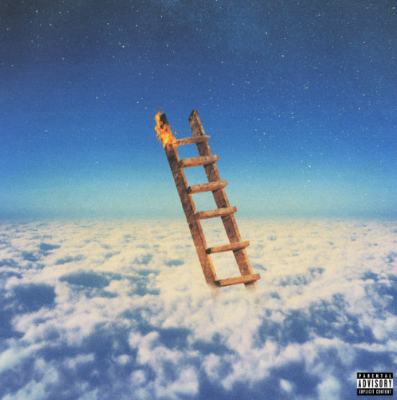 Following his monumental project ASTROWORLD, his work on NOT ALL HEROES WEAR CAPES, and a recent netflix documentary, Travis Scott is back with a new single "HIGHEST IN THE ROOM." Scott is easily recognized for his known talent in hook writing, and it is clearly showcased on this new single. "HIGHEST IN THE ROOM" should sound incredibly familiar to long time fans of the Houston rapper; featuring the musicality that has made him the genre-transcending hip hop figure he is now. With cadence identifiable with Chicago and Atlanta, Scott did what he does best: trap bounce, cryptic lyrics, repetitive melodies, and stadium-ready beat switch-ups. This new project is a solid track put out by Scott and is definitely worth your listen.
Camila Cabello — "Cry For Me" (single)
In an upbeat heartbreak, chart-topping pop artist Camila Cabello did not expect for her Ex to move on as quickly as they did, as shown on her new single, "Cry For Me." Nonetheless, Cabello made a stellar pop track out of the experience, relating to fans worldwide. With a co-write credit from One Republic's Ryan Tedder, renowned pop writer behind some of the biggest chart topping hits, the pop-machine single "Cry For Me" is almost predestined to be a radio smash. That being said, it is not to be downplayed that with raw, scratchy vocals and a clipped, processed guitar, the track features a heavy rock influence. If you're in need of a more powerful heartbreak bop, make sure to give "Cry For Me" a listen.
FINNEAS — Blood Harmony — "Lost My Mind"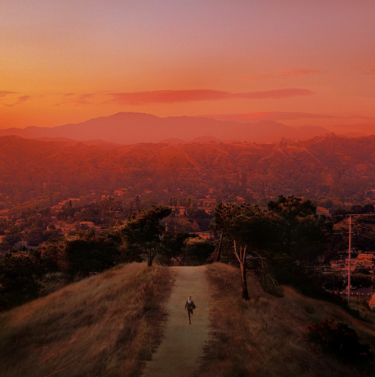 Previewed last week, Finneas O'Connell did not disappoint with his new Blood Harmony EP, and the singer-songwriter's cinematic track "Lost My Mind" is definitely a stand out off the project. Opened in an incredibly raw piano ballad featuring beautifully impactful chords, O'Connell sets the tone for the vulnerable track. The first chorus builds up to a second verse featuring a compressed, muffled drum that pulses through the track and builds up even more momentum and cinematic impact leading to the bridge and second chorus breakdown. The project's cover art encapsulates the energy coming out of the EP perfectly, and overall is a stand out release this month. Make sure to give the project a full listen.
Surfaces — "Good Day" (single)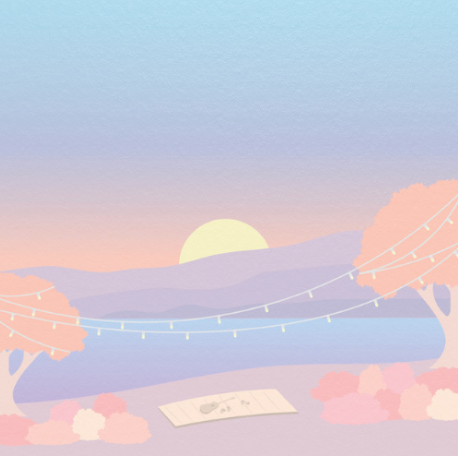 R&B soul duo Surfaces is back with a new, bedroom pop single, "Good Day." Featuring bouncy guitar pickups, simple drum instrumentals, and upbeat synths, the two Texas boys added another solid track to their discography this week. The genre-bending, feel-good tunes have been compared to the likes of Rex Orange County, and their summer-sound spreads positivity wherever it is played. "Good Day" is a great soundtrack to simple moments, and is for sure worth a few plays. Currently on tour, the duo will be playing in Chicago on January 10, so make sure to check them out for a show filled with good vibes.
Ama Lou — "Northside" (single)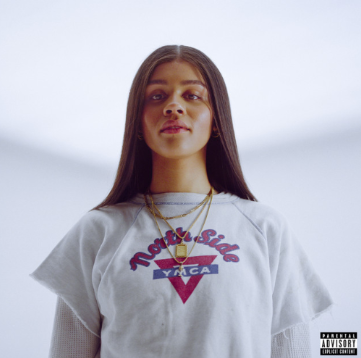 Following her Lollapalooza performance this August, British indie artist Ama Lou is back with a new single — "Northside" — getting fans and music lovers excited for her new sound. The undoubted talent showcases hip hop and R&B influences in her discography, and nothing is different with this new track. Lou is an all-around creative artist, releasing a short film written, directed, and starred in by herself accompanying her debut 3 track EP DDD. Released only last week, "Northside" is currently sitting at her second most popular song on her Spotify discography, and is bound to be a long-lasting bop. The syncopated percussion, layers upon layers of instrumental work, and smooth voice Lou has provided fans with on this single is proof to her undeniable talent that is sure to gain her more recognition in the coming years. Look out for more music from Lou and be sure to give her most recent single, and the rest of her discography a listen.
Other releases this week include projects from Dan + Shay with Justin Bieber, Ali Gatie, Laub, Niall Horan, Surfaces, King Princess, Jessie Reyez, Angel Olsen, and Juice WRLD.
Next Week: October 11 – 17
88 Rising — Head in the Clouds II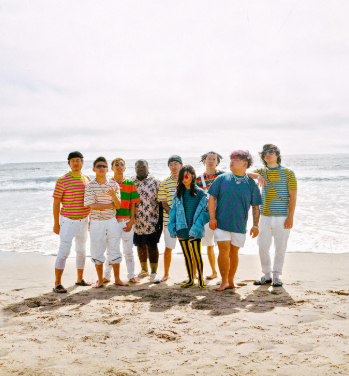 Following their debut record Head in the Clouds, in pure BROCKHAMPTON fashion, hip hop collective 88 Rising will be releasing their sequel record, Head in the Clouds II this Friday. The group has been making waves in the industry with both solo and group projects, as well as bringing underrepresented cultures and artists to a big stage with their second Head in the Clouds music and art festival in Los Angeles. 88 Rising's 17 track debut features a wide range of musicality that appeals to a large hip hop, rap, and overall culture loving fanbase. Be sure to give the project a listen in preparation for their highly anticipated sophomore release. You can also see more of their work in solo projects by stand outs Joji and Rich Brian. 
Blood Orange (Devonté Hynes) — Fields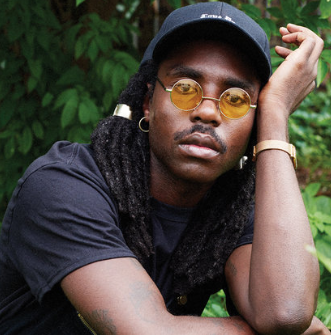 Currently opening up for Tyler, The Creator on his IGOR TOUR, Blood Orange, also known as Devonté Hynes, is said to release a more classical project, Fields, this Friday. Hynes has been heavily involved in the music industry, making appearances on records as a featured artist as well as being involved in the production side of many records you might be familiar with; working as a singer, songwriter, record producer and Director. Hynes has credits on work with Solange Knowles, Kylie Minogue, Carly Rae Jepsen, and Mariah Carey, to name a few. Impressiley, Fields will be Hynes' second project released in 2019, directly following his critically acclaimed Angel's Pulse album. The singer-songwriter with R&B and hip hop influence has made his own, genre-bending, new age R&B lane with his musicality and production, and there is no doubt he will do it again this Friday. Fields will be his sixth large solo project, and if it is anything like past projects it will definitely be worth a listen. In an interview with the New York Times last year, producer and writer Fred Macpherson described Blood Orange's work perfectly, saying it has "always made sense in the indie world… Now that's what pop music sounds like." Even when he is writing for someone else, it could just as well be a Blood Orange song, and that testimate is sure to live on with this new project on Friday.
Role Model — "Hello" (single)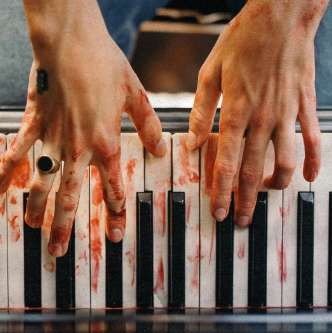 While he might not be well known yet, painfully relatable singer-songwriter Tucker Pillsbury, more commonly known by his juxtaposing name Role Model, is on the one-to-watch radar. Pillsbury will be releasing a new single, "Hello," next week, and from what is seen from his current discography, it is sure to be another honest representation of the artist. Role Model performed at Lollapalooza's BMI stage this past August, and will be making his Chicago return on Nov. 19, with his Far From Perfect tour. Among the likes of Omar Apollo and Boy Pablo, Pillsbury is a rising star in the bedroom pop genre currently taking over teenage playlists. With only a few singles and a four track EP titled ARIZONA IN THE SUMMER, he wittily pairs dreamy bedroom production with diary-style lyrics that allow him to discuss the painfully relevant and relatable topics of depression, failed relationships, and loneliness. Impressively, however, he manages to do so with a warm, summer tone. While his current tracklist might be short, Role Model is planning new releases soon so make sure to check him out.
Harry Hudson — "Meant To Love" (single)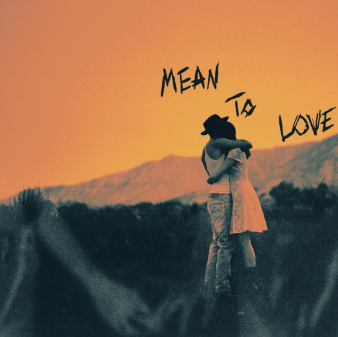 Los Angeles native Harry Hudson was reviewed only a few weeks ago on A Week In The Tunes with his dreamy heartbreak single "Pendulum," and he is already teasing a new single to be released this Friday. Hudson has said "Meant To Love" is one of his favourite tracks he has worked on, and based off what we heard from "Pendulum" a few weeks ago, it would be hard to imagine this new track disappointing. The title hints at further relationship reflection heard on the past few projects he has released, but moving on from the relationship mentioned in "Just Slide" and "Pendulum" leads to believe this is a new era for Hudson; with more new music following "Meant To Love" on the horizon. His impressive and unique tone making him the genre-bending artist has become known for is a reason in itself to check out his discography prior to this new release.
Devon Welsh — True Love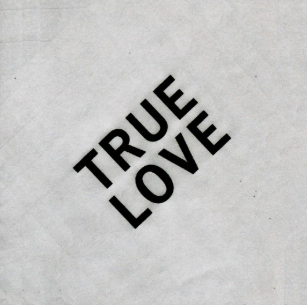 With fall starting to really kick in, the crisp air melancholy requires some cinematic, acoustic tracks to drive around to. Devon Welsh has a discography full of weightles, hair raisingly sincere, vocal pop that sounds distinctly human and incredibly relatable. His second solo album, True Love, is being released this Friday, exploring the universal theme of the project's title. It is being self-released under his "label" You Are Accepted, and while Welsh had the help of a few friends, the record was made mostly on his own. On Instagram, he disclosed that the subject matter of the project is "many (about) different aspects of love – some good, some not so good." Give his cinematic soundtrack a listen on all streaming platforms in preparation for this new record, as his music is definitely worth your ear.
Check back in to TFS next week for more reviews, and previews, of new music worth your ear!