What To Expect On Saturday: CFB Week 6 Preview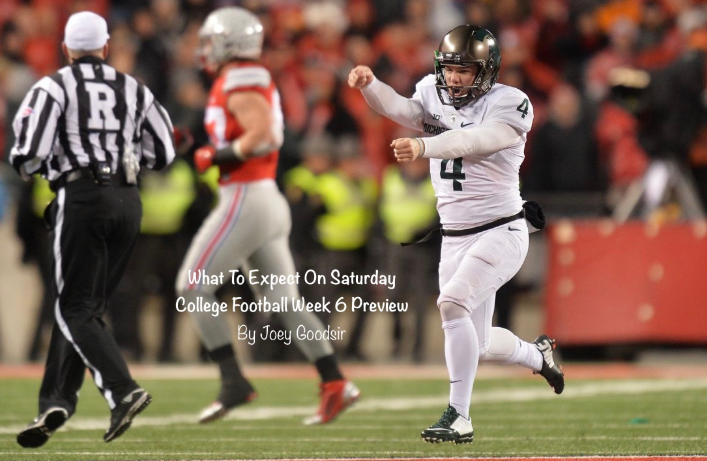 Welcome to October.
The identities and team narratives have been set, and now it's time for them to go to battle. If you're looking for solid games between common foes in true football weather, this is your time. While this upcoming slate isn't loaded, it consists of headlining games that will be plentiful in entertainment. 
Before we go forward, let's go back…
About Last Week
Last week's preview was hands-down the most accurate one yet. I went 7-0, which puts me at 49-15 overall (76.6%). More notably, all of the score predictions were in close range with the results that came out of last Saturday.
At noon, Texas Tech didn't score as much as I expected. Oklahoma got the amount of points I thought would give them the win though. Their offense over these last few years has been truly unreal.
During the afternoon, Virginia took a hopeful lead early: 
When Virginia is beating Notre Dame pic.twitter.com/jVlO8Ed2NT

— Aldo Raine saying "Nunzio" (@thejasonkirk) September 28, 2019
But it didn't hold up for long, as Notre Dame put the game away by the end. Within the Irish's next stretch of games, we will find out if they will remain a strong talking point in the playoff conversation. 
I thought the Night Game of the Week would be a blowout, but I wasn't expecting to see this much of a difference in quality of play. Ohio State dominated, but Nebraska also looked especially bad. It looks like Husker fans will have to wait just a little longer for Scott Frost to complete a rebuild.
And then late, Utah took care of business at home against Wazzu, with FS1 providing hilariously awful camera coverage due to the scapegoat of weather.
Probably the biggest game to note outside of the ones I previewed was Clemson's closer-than-expected finish with Mack Brown's North Carolina team. Many are citing a lackluster 2-point conversion playcall for UNC as the factor that cost the Tar Heels the upset. Regardless, it added some drama, and yes, chaos to what was originally supposed to be a conference season cakewalk for the Tigers. 
We will have to examine how Clemson rebounds going forward. But first, let's get right into previewing the exciting Saturday ahead of us…
Noon Game of The Week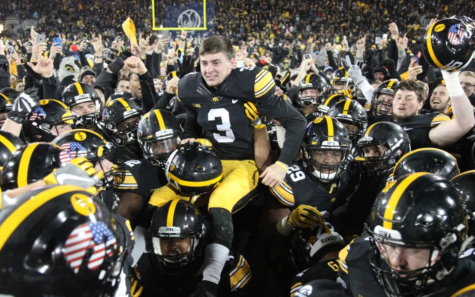 #14 Iowa @ #19 Michigan
When:
11:00 CT
TV: FOX
Rain (Above 40%)? Yes. (65% chance per weather.com)
Where: Michigan Stadium (Ann Arbor, MI) (Thankfully)
Series History: UM leads 41-4-15 (Last Time: Iowa won 14-13 in 2016)
I've finally found a reason to dislike Michigan playing noon games.
I used to enjoy getting the game I have emotional investment in out of the way so I can enjoy the rest of what the day has to offer. Now it's not worth it. Why? Because I'm sick of having to cover this team on here over and over. It is still October, and I have no idea what this team is. 
So THAT happened two weeks ago, assuring my most extreme negative expectations of this season. Last week, the team finally covers a spread (nearly doubling it), while shutting the other team out. What happened? Has the turnaround begun? Should I become vulnerable and start expecting anything more than the worst?
The problem is that other team was Rutgers, and they just fired their head coach after three seasons of being one of the worst programs in the sport. I still do not understand their role in the Big Ten. The point is though, you can't draw anything conclusive from Michigan considering the matchup.
This is why this homecoming matchup on Saturday is the most important one of the season. Lose? Burn everything. Win? Maybe we can slowly start believing as the team walks into a gauntlet of big games later in the year.
The Wolverines face Iowa, the closest thing you will get to another Wisconsin as far as football identity is concerned. The Hawkeyes will try to establish their rugged will, only adjusting if necessary. They seek steady production on offense and lead with hard nosed defense. Kirk Ferentz and this team knows how to do this and beat Michigan, as they have done it before (most notably in 2016, one of a string of Iowa upsets possibly implicated by Kinnick Stadium voodoo).  
The key will be in the trenches when Michigan has the ball, and Michigan will need all the improvement they can get out of the offensive line. Iowa has proven to have a more sound offense this year than expected, so more points than the typical Iowa-y final score (i.e. 18-17) is possible. Both teams played Middle Tennessee State, and Iowa scored slightly more, if that means anything. 
Iowa is a team that will wake Michigan up in the morning, just like Wisconsin did. It will just be a matter of whether Michigan gets out of bed or not. Until I see it, I'm unfortunately not too hopeful. At least the home field advantage will help. 
I'm tired of writing about them and just want to see what happens at this point.
NFL Preview writer Michael Raupp's Unbiased Pick
Michigan has to play three of their next four games against top 25 opponents. It all starts this weekend at the Big House against Iowa, however, the fourteenth-ranked Hawkeyes look to bury their inter-divisional rival. Although they are on the road, Iowa looks poised to continue their hot streak of winning five of the last six meetings against Michigan. Both sides of the ball looked ready to go in a tune up game last week versus Middle Tennessee, and will continue their hot streak in Ann Arbor on Saturday. Michigan's struggles come big games continues.
Iowa Wins, 24-14
Who's Your Pick for Noon Game of the Week: Week 6?
#14 Iowa (50%, 2 Votes)
#19 Michigan (50%, 2 Votes)
Total Voters: 4

Loading ...
Other Noon Games of Note
11:00 CT:
Purdue @ #12 Penn State (ESPN)
#21 Oklahoma State @ Texas Tech (FS1)
Slippery Rock @ Mercyhurst (ESPN3)
Afternoon Game of The Week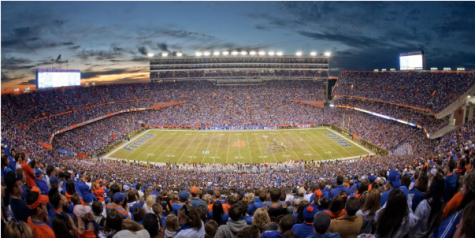 #7 Auburn @ #10 Florida
When: 2:30 CT
TV: CBS
Rain (Above 40%)? Probably not considering Florida.
Where: Ben Hill Griffin Stadium (Gainesville, FL)
Series History: AU leads 43-2-38 (Last Time: AU won 17-6)
It is time to start really paying attention to Auburn Football.
The Tigers opened the season in the spotlight, and upset an Oregon team that was receiving lots of hype. They then proceeded to take care of business once SEC play started, beating Texas A&M on the road and more recently stomping Mississippi State in a more-dominant-than-expected fashion.
Now, Auburn faces an interesting opponent in Florida. It's on the road, and College  GameDay is pulling in for the first time in seven years. The Gators have nothing but wins as well, but not necessarily the marquee opponents to make note of. They are coming off of a classic SEC non-conference late September tilt with Towson (exhilarating, I know).
This game is going to be about Florida's defense. All other sides of the ball on both teams are solid. If the Gators' defensive unit can show up, this will be one of the best games thus far this year, but if not, Auburn will march on.
Unfortunately, until I see it, I'm not completely bought into Florida. The most exposure to them I got was their Week 0 affair with Miami, and they did not look as advertised. Until they prove otherwise (this is a great opportunity) I'm gonna stick with my less-than-great perspective on this team. 
It will be close, it will be fun, but it will be simple.
Auburn Wins, 34-20
Who's Your Pick for Afternoon Game of the Week: Week 6?
#7 Auburn (100%, 2 Votes)
#10 Florida (0%, 0 Votes)
Total Voters: 2

Loading ...
Other Afternoon Games of Note
2:30 CT:
#11 Texas @ West Virginia (ABC)
Night Game of The Week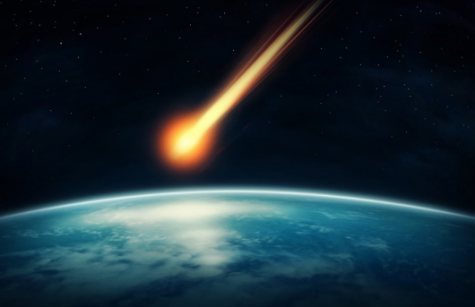 #25 Michigan State @ #4 Ohio State
When: 6:30 CT
TV: ABC
Rain (Above 40%)? No (per weather.com).
Where: Ohio Stadium (Columbus, OH)
Series History: OSU leads 32-15 (Last Time: OSU won 26-6 in East Lansing)
As discussed above, Ohio State somehow did even more than what was highly expected of them in their blowout win over Nebraska.
Michigan State, on the other hand, didn't have it so easy. They went to Bloomington and got exactly the game you can expect when you go into Indiana as a major favorite. It was chaos, the game was a drive away from being lost, but somehow the Spartans won and everything is fine. We do have to wonder when Indiana will finally upset a big team, as it's like the world's longest game of hot potato. 
All things mentioned about the Buckeyes last week remain true. Justin Fields looks good. Defense looks good. It's full steam ahead.
The only thing that is different now is the team on the other side — more specifically the defense. Michigan State boasts one of the best defenses in the country, and will be a really crucial benchmark for the OSU offense. 
This solid of a offense/defense matchup makes me look at the opposite sides of the ball, and it shows that the Michigan State offense will be the key factor in this game. 
Last year, MSU's offense was lacking (to put things generously). But even in this year's early season heartbreak against Arizona State, the offense has looked significantly more promising. Now that they will finally be facing a consistantly good opponent, it will be easier to gain perspective of what has changed.
In my opinion, a gruff Big Ten final score will not help as far as that perspective is concerned unfortunately. 
Things stay dangerous, but the Bucks secure it later on.
And as usual (the cover photo suggests it), windmill time:
Ohio State's Raekwon McMillan and Jayln Holmes show off their windmills, mimicking Michigan State's kicker's infamous celebration #OSUvsMSU pic.twitter.com/QkBIY2bAnZ

— Lantern TV (@LanternTV) November 19, 2016
Ohio State Wins, 34-14
Who's Your Pick for Night Game of the Week: Week 6?
#4 Ohio State (100%, 3 Votes)
#25 Michigan State (0%, 0 Votes)
Total Voters: 3

Loading ...
Other Night Games of Note
7:00 CT:
Cal @ #13 Oregon (FOX)
Late Game of The Week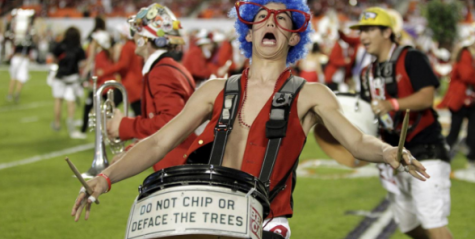 #15 Washington @ Stanford
When: 9:30 CT
TV: ESPN
Rain (Above 40%)? Nope. (per weather.com)
Where: Stanford Stadium (Stanford, CA)
Series History: UW leads 43-4-42 (Last Time: UW won 27-23)
Stanford's season has not panned out thus far.
With three straight losses (including one to UCF) following their opener against Northwestern, it is hard to see the Cardinal competing with the top of the PAC 12.
Washington is in that top part of the PAC 12 currently, with wins over USC and BYU. They have a loss to Cal however, which perfectly defines the weirdness of the conference currently.
I'm expecting things to revert back to the mean as Washington continues the momentum and takes care of business against the Cardinal, continuing to show a solid run offense and a leading defense.
Weirder things have happened on late night football this year though.
Washington Wins, 47-17
Who's Your Pick for Late Game of the Week: Week 6?
#15 Washington (100%, 1 Votes)
Stanford (0%, 0 Votes)
Total Voters: 1

Loading ...
Enjoy your first October Saturday, everyone!
About the Contributor
Joey Goodsir, Editor-In-Chief
Although Joey is astounded it is his senior year, he is excited to be writing and editing at The Forest Scout for a second year - this time as an Editor-in-Chief....