Forest Bluff Montessori Students 'Different' Transition to LFHS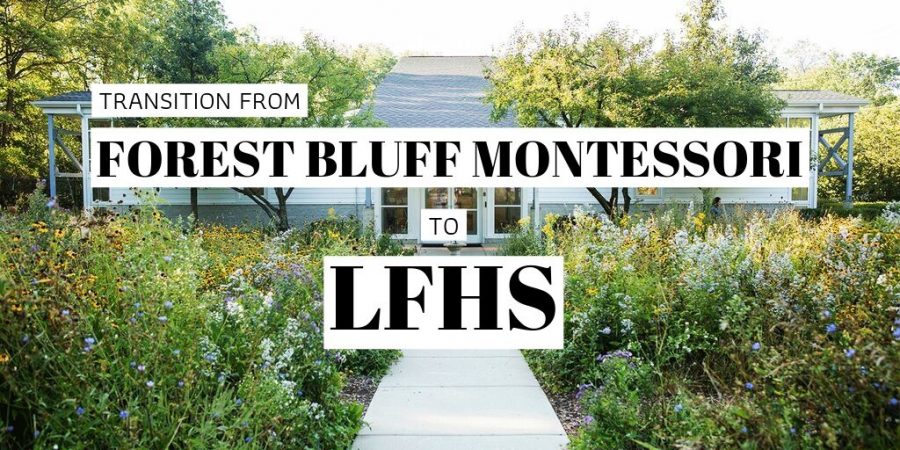 Sitting off of Scranton Avenue, Forest Bluff Montessori uses collaborative work and hand-on-learning to challenge students to become independent learners. But for a few graduates, the real challenge comes when they transition to LFHS.
"I remember on the first day of Bio my teacher handed me a Scantron, and I didn't even know how to fill it out," Senior Kate Wildman said.
Montessori-style schools have a very different academic approach compared to high school. There are no exams or homework. Instead of grade levels, their classes are organized by the age of the students (i.e.  one class would consist of ages nine to 12.)
"The academic transition was definitely challenging in some ways coming from no homework or tests," freshman Caroline Donnelley, who recently graduated from Forest Bluff, said. "However I've gotten used to the workload after a few weeks."
Montessori students from Forest Bluff make up a very small percentage of the incoming freshman that filter into LFHS. These students have a very different experience entering the high school than a student coming from Deer Path Middle School, which makes up the largest percentage of students coming into the freshman class.
Senior Salma Alsikafi was one of only three students from Montessori  as an incoming freshman back in 2016.
"I came in not knowing many people," she said. "But I tried out for tennis in the fall and made friends through my team and then their friends became my friends."
Her brother, freshman Kareem Alsikafi, is just starting his transition to high school. He is one of four Montessori students that entered this current year as a freshman.
"I didn't know anyone, really, just a few people, but I made a lot more friends," he said. "Soccer definitely helped. Then once I knew a few people, they knew a lot of other people, and then I got to know them and it just started branching out."
Wildman likewise found that joining a sport was helpful in meeting new people.
"Socially, high school was definitely tough at first because I hadn't had to make new friends for like 10 years," Wildman said. "But I joined cross country which helped a lot and eventually I found my group."
Kareem Alsikafi has one last piece of advice to hand down to his younger sister, who will be going through the same transition next year.
"I would say to do a sport in the fall," Alsikafi said. "Also I would encourage her to make friends in every one of her classes because then you can work on homework together and talk during class which can build relationships."
About the Writer
Katie Bondoc, Staff Writer
Katie Bondoc is a Senior at Lake Forest High School. She is on the Varsity Soccer team and the JV Cross Country team. She is also involved in National...