School Administration's Decision to Protect Municipal Neutrality Causes Controversy to Take Root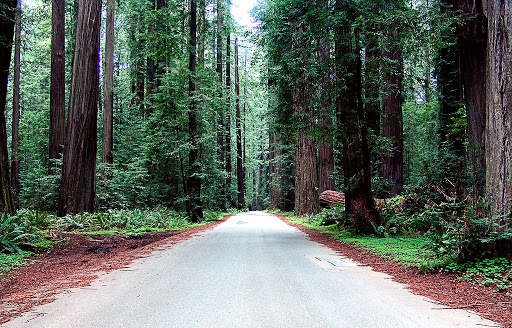 The following article is a satire. All cited content and material has been dramatized for authorial effect. No trees were harmed in the creation of this piece; however, many feelings were hurt online. 
LAKE FOREST—On the 32nd anniversary of Mr. T's infamous "Lake Forest Chainsaw Massacre," the high school's Lake Foresters Unite club paid homage to the 100 trees that were mercilessly mowed down by the 80s icon.
The tribute consisted of planting 100 coastal redwoods that had been transplanted from Muir Woods along the Robert McClory Bike Path off the Denali Thoroughfare. The trees, ranging from 175 to 275 feet in height, are each marked with the club's signature "LF" in yellow spray paint.
The club had initially planned to plant the redwoods on the school's iconic front lawn. The school administration, however, denied the club's proposal, citing a need to protect "municipal neutrality" on campus. 
"We can't show any public support for only one of the communities that District 115 represents. The 'LF' on the trees would greatly offend our students and their families from the community of Lake Bluff and the unincorporated areas of Knollwood, Shore Acres, and Arden Shores North and South," said a school official. 
The decision ignited a heated Facebook debate between parents and community members. 
"Why on earth would this school not allow such a heartfelt tribute on school property?" demanded an irate parent from Lake Forest who identified themself by the username "Wrestlemanialover100." 
"Well, did you even consider the fact that the trees would block the view of the school? And I mean I don't want my kids going to a school that blatantly disregards and neglects a large portion of its students," countered a Lake Bluffer.
"Are you serious? Why would I consider the opposing viewpoint? I'm from Lake Forest, not Lake Bluff, you maniac! How about you consider the fact that this school rejected a touching tribute?" the Lake Forester retorted. 
"I don't care how touching a tribute it is! If it is supported by any community other than my own, then I will NEVER so much as CONSIDER giving it my approval," wrote back the Lake Bluff parent.
The community Facebook group continued to play host to a fiery battle between good and evil until the trees rotted out just four days after planting because their root systems were incompatible with the terrain of the Robert McClory bike path. The chats quieted immediately thereafter as community members are now searching for other hot topics to argue about with no plans to change their minds at any time.
About the Contributor
Ryan Peters, Editor
Ryan Peters enjoys playing darts and cornhole, doing crossword puzzles, sitting outside, and listening to 93XRT.