American Sign Language Provides an Alternative for Students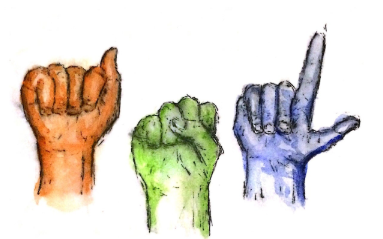 Imagine this: you are a student who is having trouble in a foreign language. You don't want to drop the class because having language credits will help you graduate. If only there were another option for students who don't pick up foreign languages easily.
American Sign Language is another option for students that struggle with learning foreign languages and have speech fluency issues. It is also an essential skill in many careers — education, health, government, therapy, and recreation to name a few.
Amy Kurth, a speech pathologist at Deer Path Middle School, said that ASL does not only help the deaf or hard of hearing.
"As a speech pathologist, I have seen the advantages of utilizing and teaching ASL across many populations beyond the deaf and hard of hearing," Ms Kurth said. "Students with mild to severe stuttering can benefit from ASL as an alternative world language because it minimizes time pressure, reduces the verbal demands of other foreign languages offered in today's schools, builds vocabulary and enhances social interaction for students."
According to the National Association of the Deaf, American Sign Language counts as a foreign language credit in high school in Illinois. Nationally, ASL is used by approximately 500,000 Americans, making it the fourth most used language in the country. Why, then, don't more students get the opportunity to use it as a foreign language credit? 
There are a few high schools in the area that offer ASL as a language credit — two of them being Glenbrook North and Glenbrook South. 
"
I feel that the most important thing is the exposure, and to [allow students to] see something from a different perspective."
— ALS teacher Rosemarie Carsello, Glenbrook South
According to The Oracle, the student newspaper for Glenbrook South, the ASL course was created in 1998 and has been thriving ever since. GBS even has a day called "Silent Day" where students in the program can only use sign and are not allowed to verbalize for one day. Why then, can't LFHS follow their lead and take initiative to bring these classes into our school?
According to World Language Department Chair Rachel Abel, there is actually a reason behind why we don't have ASL at our high school.
"The district has committed to reviewing all course offerings to ensure that they meet our mission and vision," Mrs Abel said. "Rather than continuing to add courses, we must ensure that current courses provide all LFHS students access to a guaranteed and viable curriculum."
Some have additional reasoning for why they believe this course is not available at LFHS.
"I think it has not been offered because the demand isn't high enough," French teacher Laura Sperling said.
Some argue that the language is an incredibly vital part of including different people, and that it can also help many students in their future career paths. 
Rosemarie Carsello, an ASL teacher at GBS, has that perception.
"I feel that the most important thing is the exposure, and to [allow students to] see something from a different perspective," Ms. Carsello said. "We grew up as hearing people, so unless you're given those opportunities to think about what it would be like to be a deaf person in a situation, you most likely wouldn't."
It is clear that all students need to do going forward is make the demand for ASL higher. If that happens, than maybe someday future students will be able to learn sign language at LFHS.