Scouts Football: Senior Night Feature, Letters to our Freshman Selves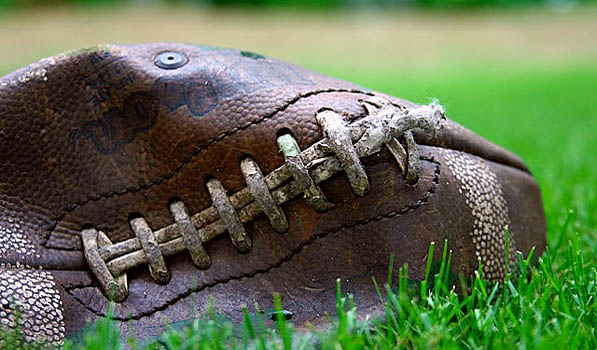 Jon Day is a senior cornerback and long snapper for the Scouts' Varsity Football team. Prior to his freshman year at LFHS, Day moved to Lake Forest from Pottsville, PA.
Dear Jon "Juice" Day (Juice will be somewhat of a nickname for you senior year),
Heed my warning, tough roads lie ahead. I'm sure that is the exact opposite thing that you wanted to hear about your future, but trust me. As I sit here on the week of senior night and prepare to play the last guaranteed football game of my career, it is all worth it.
Take a look in the mirror right now: you're 5' 6" and might weigh in at a whopping 115 lbs. (soaking wet with some ankle weights on). You had just moved to a city unknown to you halfway across the country, Lake Forest. I know exactly what you're thinking (because I lived through it), you're first instinct is going to be hatred. Hatred towards your parents for dragging you here right before one of the most important time periods in your life (or so you think at this point)—high school.
What I will offer you is a piece of advice: trust the process. You may not realize it now, but your experience at Lake Forest High School will be one that kids all over the globe will envy. Believe it or not, you will gain relationships with peers and teachers that will have a lifelong, positive impact on you. I hope you realize that you have a blank slate to work with here. No need to make up anything extreme about your past life to make yourself seem larger than life. Instead, make a new name for yourself.
On the football field, they stuck you on the B team. Athletic? Yes. Discovered? No. You stand there broken as just another kid with unnoticed talent. This is nothing to hang your head about. Your chance will come. As a starting cornerback for the Lake Forest Varsity Football team, I sincerely mean that. Your freshman coaches trust you. You will start in a few of the A/B games and will take on a leadership role while becoming the quarterback at the end of the season to run a wildcat offense due to an injury suffered by the starting quarterback.
Take those moments in as they happen because it's a blur. You will struggle both on and off the field during sophomore year but the chances you receive junior year will make up for it, as long as you keep family and friends close. By the way, stick with long snapping on the football field. Both sophomore year and junior year, when the team heads up to UW-Parkside for the annual overnight camp, you will have your doubts if you want to pursue snapping moving forward. You may want to stay a little bit more comfortable with all the other small(ish), fast kids as returners. However, your chance to see the field during your junior year, on a stacked team, is a byproduct of the art of snapping a ball through your legs. Eventually, you even become ranked in country for it.
I'll let you live the middle two years for yourself, but on the week of senior night, the team stands 5-3 and hopes are high for the playoffs. But the journey it took to get there was full of ups and downs and unforeseen crises that have shaped your character. There will be times when you want to quit, but let me tell you that the blood, sweat, and tears will be worth the 10 seconds of glory that high school football offers. Enjoy the journey this year, and the rest of high school. If you follow your passions on the field and in the classroom, I promise the ominous feeling about just moving to Lake Forest will subside and you will turn into quite the person you want to be.
Eat your veggies and stay in school,
Parker Bolton is senior offensive lineman for the Scouts. During his time at LFHS, Parker has developed into an integral part of the Lake Forest offense.
Dear Parker,
Wow! How far do you think you'll go in a short four years that will go by way too quickly? Freshman year is not going to be where you want to start off. You will make the B team and, for a while, it will seem like you don't have a future in this program as there are multiple people in front of you. It seems like you will never be able to go out and make an impact for your team once Varsity comes around in what seems like lightyears ahead in the future.
Getting put on the B team Freshman year is the best possible for your football career. You became aware that nothing would be handed to you, and you will have to work for everything in Scouts football. When you get put on the B team you will feel a sense of anger and disappointment, but it's not forever.
You will ask yourself, "Am I not good enough to play high school football? Should I just take the easy way out and not play?" As the thought of quitting never seriously crosses your mind, you will have a difficulty accepting the fact that you were not good enough at the time to play with the A team. You will take being placed on the B team as a challenge. You will set out to prove that you are a player that will one day play a role in trying to win the first ever state championship for Lake Forest High School.
You had a good freshman season, but you would set out on a mission to make football one of your first priorities. Throughout the offseason you will work tirelessly to become a better football player and a better teammate. Going to every lift will be a priority as you know to get better you need to get faster and stronger. Much of that is accredited to the amazing coaches at Lake Forest. Coach Lilja, who coached strength and conditioning at Northwestern for over 25 years, will be a huge part of your improvement as a football player and as a teammate. You will come to realize that you don't play football for yourself, or the coaches, but you play for those other ten guys on the field. You have to be accountable and trustworthy to do your job so the team can be successful and not just yourself. Football is an amazing sport because it takes a team to win. You can have a Reggie White, a Randy Moss, or a Tom Brady on your team, but if the other ten guys on the field don't perform, you will get nowhere.
Sophomore year will have its highs and lows. You will start every game on the defensive line and even start a couple games at tight end. You, along with 13 other sophomores, will get moved up to varsity for the playoffs, which will be a great experience. It will feel very rewarding that you worked so hard freshman year and the offseason to get to a point where you could be a player that would have a large impact on the team. The 2014 Lake Forest High School sophomore football team will be the first team since 2004 to have a record of 4-5 with huge losses to Stevenson, Warren, Libertyville, and Lake Zurich. The upperclassman will question you and be concerned with the future of the program as the sophomores don't appear to be varsity ready. 
Junior year will start out with a surprise as you are now placed at offensive line, a new position you had never played. Within two months of first putting your hand on the turf of varsity field and firing out towards the defensive line, you will start your first varsity game. The hardest part of your career will be after the Libertyville game. You had by far your worst game and your team will suffer their biggest lost of the season. You will get benched and not start another game the rest of the year. It will be the worst feeling…letting the team down. Your role will then shift to being a scout team player. You embrace that role and will always be ready to go in if someone goes down. Also, you will work even harder to give the defense the best look possible so they can prepare for the upcoming games. The 2015 Scouts will finish at a record of 7-4 with a loss to Prairie Ridge in the second round, but hat result is unacceptable and again you go back to work.
Senior year will be great, but it is too early to tell how it will end. The end goal is to win state and that's all that matters, but we are now coming up against Waukegan in week 9.  You are starting again and you have to have the best game of your life every time you strap on your helmet. 
Scouts football will be the greatest experience of your high school career. The life lessons that the coaches and teammates will teach you will resonate with you for the rest of your life. Cherish every moment and remember to NEVER block out on Raiders.
Good Luck,
Liam Pooler is a senior running back for the Scouts. Initially, Pooler was positioned strictly as a defensive player with only spot carries at his desired position, running back. He is among the Scouts' leaders in carries, touchdowns, and yards from scrimmage this season. 
Liam,  
These next four years of your life are going to be some of the toughest yet. On and off the field. But we both know what you care about most and it's the stuff on the field that is the most important to you. Well, let me tell you this in advance, it all works out–be yourself and most importantly do not change anything about these four years because you will be happy where you are now, but the ride is long and filled with unpredictability.
We will start with your freshman year, the worst year. Just like always, you are too small, the trust isn't there to start you at running back, and instead you are starting at safety. This isn't lightweight football anymore and I guess they also see you as the "non-returner type". Get over it. Whining and moaning about it won't help, just move on. A few games into the season an injury occurs and you become the full-time running back. Although this is not what you envisioned or wished, you have to seize the moment as best as possible. 5-4 is how the season ends and you have to get bigger, faster, and stronger.
On to sophomore year now, probably the toughest individual season for any team that you've been on. A lot is there to be learned, though, like at UW-Parkside you will learn the true meaning of Scout football and Scout Pride. You're the starting running back. Run hard, don't dance, and seriously you can't make every single play on your own. Stop trying to do that. Please be patient and trust your guys; those are the same guys you will go to war with for the next three years. The team ends up 4-5 but you truly just need to move past it and get better for next year, you'll need a short memory.
Junior year: know your role. All summer you think you are going to be splitting time with Quinn at running back but that's not what happens. You start at corner and please, don't whine about it. You have a huge role within the defense, and you cover the best guys on the other teams. Also, remember to fight through the pain. Your shoulder and knee will be taken care of in the off-season, just keep fighting for those seniors and your team. 7-4, second round playoff loss, torn meniscus, torn rotator cuff, torn labrum. It's all worth it too keep fighting for those seniors, don't forget how much they've taught you.
Senior year, two surgeries and a long offseason of working to get back to playing the game you love the most. It arrives, the last go around with Scout Football. Cherish it. Because it can all end just like that. Starting at corner, splitting time at running back, oh, and you are the starting kick and punt returner.  You're a two way player and it may come as a shock at first but trust me this role is a big time thing.
All until you get a concussion against Stevenson.
After the game you miss against Warren, you move to just offense. You are the starting running back again–not how you envisioned it–but seize every last moment in that uniform and that position. College football is continuously looming in the back of your mind but know that it will all work out. People want you to play at their school so stop stressing.
I sit here writing this to you on a Wednesday night in your bedroom, but I'll be honest, I do not have all the answers. I do not know what happens at the end of your senior season. I'm still enjoying the moment. It's week 9 of my season on a 5-3 team and playing Waukegan this week. A victory and you're in, the team is all that matters. The sooner you learn that, the better. When your team is succeeding, you are succeeding.
Sincerely,
About the Writer
Ghost, Author
Ghost is a section of The Forest Scout that chooses to publish material anonymously in order to increase the depth of their investigative reporting. Ghost...