Democratic Primary Debate Lineup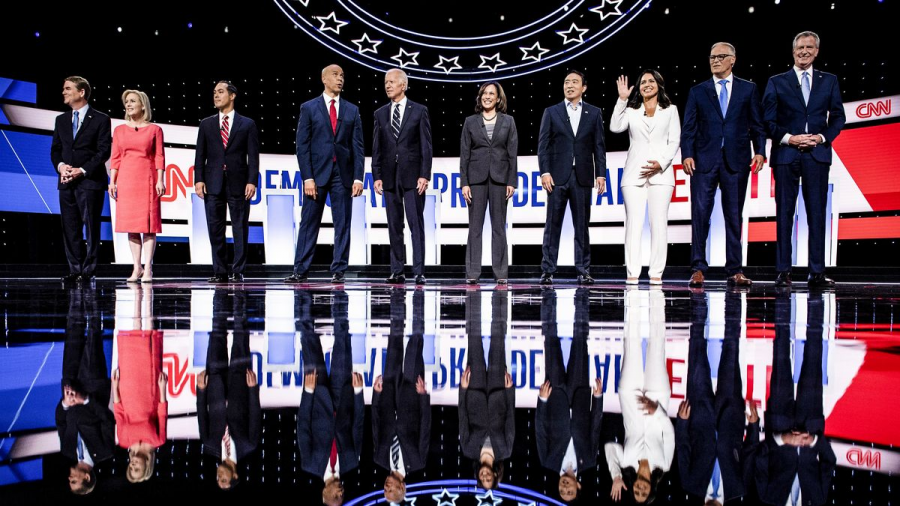 Of the many remaining Democrats in the 2020 Presidential Race, only 10 made the cut for the third Democratic Primary Debate scheduled for tonight. Fundraising and polling statistics were used to decide who would take the stage. Below is a list of the candidates and some information about their platforms and policies. It is important to note that this article does not cover even close to the entire platform for these candidates, but an overview of a few policies. All of these candidates have much more detailed plans and explanations on their websites — websites future voters would do well to visit.
Joe Biden
Who he is: Former Vice-President Joe Biden previously represented Delaware in the U.S. Senate from 1973 to 2008. Biden advocated for fighting climate change and domestic violence, supported gun control, and served on the Senate Foreign Relations Committee. 
What he's running on: One of Biden's main focuses is rebuilding the middle class. He supports keeping and adding on to the Obama-era Affordable Care Act, giving everyone the option to choose a public health care plan (like Medicare). Education is a primary focus of his campaign, and Biden plans to invest in education in paying teachers well, adding resources to schools  (including mental health care), and promising to address the gap of funding for white and minority majority areas and between rich and poor areas. He plans to provide universal pre-k for all 3 and 4 year old children. The Biden campaign prioritizes criminal justice reform by reducing the number of people in jail while also reducing crime. Biden believes that part of this includes addressing the inequalities in race, gender, and income that affect incarcerated individuals and that no individual should be sent to jail solely for drug use. Finally, Biden prioritizes addressing the "underlying factors" related to crime such as mental health, literacy levels, foster care, and experiencing abuse. 
Campaign Website: https://joebiden.com/
Andrew Yang
Who he is: Andrew Yang is unique to the 2020 presidential race because he is not a politician, but an entrepreneur. As a first generation son of Taiwanese immigrants, Yang believes strongly in the American Dream. Yang ran a education company that became first in the nation, and later created an organization that helps entrepreneurs create jobs in cities called Venture for America. Companies created by these entrepreneurs have created over 2500 jobs. Yang received multiple awards from the Obama White House, including being named a Champion of Change and a Presidential Ambassador for Global Entrepreneurship. 
What he's running on: Andrew Yang is focusing his campaign on addressing what he calls the "greatest technological and economic shift in human history." His vision is "Humanity First" and hopes to create a different type of economy. Yang emphasizes three main policies: Freedom Dividend, Medicare For All, and Human Centered Capitalism. The Freedom Dividend  is essentially a Universal Basic Income. This means that every American adult would receive $1,000 a month, regardless of their work situation. Yang's campaign claims this would grow the economy by $2.5 trillion by 2025 and increase the "labor force" by 4.5-4.7 million Americans. Yang claims that Under Medicare For All, prices for medical services will be set, patients will receive more holistic care, and create incentive and investment for new treatments and methods. Yang acknowledges the benefits of capitalism, but believes that moving to a new form of Human Centered Capitalism will benefit the nation. Yang hopes to invest in human welfare, not just to support the wealthiest members of society. 
Campaign Website: https://www.yang2020.com/ 
Pete Buttigieg
Who he is: More commonly known as "Mayor Pete," Pete Buttigieg has been the mayor of South Bend, Indiana for the past 8 years. He is one of the youngest candidates in the race and a Navy Veteran; he served the country as a lieutenant and was deployed in Afghanistan for seven months during his time as mayor on leave and earned a Joint Service Commendation Medal. 
What he's running on: Mayor Pete supports universal healthcare and calls his healthcare policy "Medicare For All Who Want It," an option similar to Medicare for people to buy into. He supports the Green New Deal. His goal is to eliminate greenhouse gas emissions while also creating new jobs; to this end, he plans to reenter the Paris Climate Agreement and invest in building an "100% clean energy society." In addition, Pete supports a "21st Century Voting Rights Act" to eliminate voter suppression. This includes automatic voter registration, making Election day a holiday, voting rights for released prisoners, and protections for voting on tribal lands. 
Campaign Website: https://peteforamerica.com
Cory Booker
Who he is: Cory Booker served as the Mayor of Newark starting in 2006 and gained national attention for his attempts to address crime and poverty in the city. He positively affected the economy and Newark's population grew instead of shrank for the first time in over 50 years. He has served New Jersey as a Senator since a special election in 2013. In the Senate, he sponsored bills addressing criminal justice and economic opportunity. 
What he's running on: One of the Booker campaign's central policies is gun control. Booker hopes to introduce universal background checks, ban assault weapons, and close loopholes in gun sales. He also has plans for prevention of firearm suicide hopes to invest in gun violence reaserch and community violence intervention programs. Booker also emphasizes investing in education and workforce training. He wants to establish debt-free college and reform how students apply for federal financial aid. In addition, Booker plans to invest in HBCUs (Historically Black Colleges and Universities) and hopes to make community colleges and vocational training tuition-free. Finally, Booker prioritizes environmental justice and fighting climate change. He plans to reenter the Paris agreement, implement the Green New Deal, and ban fracking, among other things. 
Campaign Website: https://corybooker.com/
Bernie Sanders
Who he is: Most people know Bernie Sanders from his 2016 run in the presidential race. However, he has been involved in politics much longer — he is the longest serving independent congressperson in U.S. History. He has served as mayor of Burlington, Vermont, a member of the House of Representatives, and most recently in the Senate. 
What he's running on: One of Sanders' core campaign issues is healthcare. He advocates for a "Medicare for all, single payer program" and believes that healthcare is a human right. He hopes to reduce prices of prescription drugs by half and invest in new medical drugs, technologies, and cures. In addition, Sanders plans to invest in education by making public colleges, universities and trade schools free and cancelling student debt. He will invest in HBCUs and other minority-serving institutions. Finally, his campaign emphasizes helping working families. He plans to raise the minimum wage, eliminate the wage gap, and make it easier to join unions. 
Campaign Website: https://berniesanders.com/
Amy Klobuchar
Who she is: Amy Klobuchar is a Senator from Minnesota who has served since 2006. She was the first woman to represent her state in the Senate. She has tackled issues including commerce, the opiod epidemic, human trafficking, and STEM education. 
What she's running on: One of Klobuchar's core principles is tackling climate change. She plans to enter the International Climate Change Agreement, supports the Green New Deal, and plans to put in place environmentally-friendly rules about gas and power. She plans to invest in clean and renewable jobs, energy, and infrastructure. In addition, Klobuchar plans to significantly increase gun control. She supports universal background checks and the assault weapons and bump stock bans. She plans to close loopholes including gun show sales and is a leader in proposing closing the "boyfriend" loophole in which people who have abused their partners will no longer have access to guns. Klobuchar also emphasizes criminal justice reform and believes reforming specifically the cash bail system, expanding funding for public defenders, and eliminating obstacles of those incarcerated re-entering society. She plans to create a Clemency Advisory Board and a new White House advising position for criminal justice. 
Campaign Website: https://amyklobuchar.com/
Beto O'Rourke
Who he is: Beto O'Rourke is from El Paso, Texas. He represented his district in the U.S. House for 6 years and ran for the Senate after the 2016 presidential election. Although he lost by an extremely narrow margin, he gained much support from independents and won more votes than any other Texas Democrat in history. He helped to cause a surge in voter turnout, especially for young people, and these voters flipped two seats in Congress and elected many African-American women locally, both significant changes for the state of Texas. 
What he's running on: One of O'Rourke's most emphasized issues is immigration. He plans to end child detention and reunite the families separated under the Trump administration. He hopes to work with Congress to create a path to citizenship for undocumented immigrants, including a path for dreamers. O'Rourke also wishes to combat hate crimes and domestic terroism. He emphasizes working with agencies like the FBI, Department of Justice, and the Department of Homeland Security to fight white nationalism, far right violence, and online radicalization (social media removing hateful content, stopping white nationlist platforms, etc). Finally, O'Rourke believes in significant criminal justice reforms. He believes in ending the marijuana prohibition federally, ending the cash bail system, and eliminating private prisons. He also plans to restore the right to vote for formerly incarcerated individuals, create transition programs for those leaving prison, make sure incarcerated individuals have access to healthcare. 
Campaign Website: https://betoorourke.com/
Kamala Harris
Who she is: Kamala Harris has represented the state of California in the Senate since 2017. She is the second African-American woman in American history to be elected to the Senate, where she works on the Judicial Committee, Homeland Security and Governmental Affairs committee, and advocates for the middle class, consumer protection, and immigrants. She was also the first woman – and the first African Amercan- to be elected Attorney General of California. 
What she's running on: A primary component to Kamala Harris' campaign is racial justice. As President, she hopes to tackle economic issues that affect minority groups. Her "LIFT Act" tax cut for working Americans would provide relief to many, including 60% of of Black families. She also plans to minorities who expierience discrimination due to housing and educational segregation. Education is a cornerstone of her campaign, with teacher pay as a top policy. Harris will give a significant raise to public school teachers, and believes this to be a worthwhile investment for the economy and student success. Finally, Harris prioritizes gun control. If Congress does not act in 100 days, she promises to take "executive action" to establish more comprehensive background checks, close the "boyfriend" loophole, and ban assault weapons like the AR-15. She also hopes to target gun sellers who broke the law by revoking their licenses, introduce restrictions on domestic abusers purchasing guns, and prohibit those convicted of a hate crime from gun purchases.
Campaign Website: https://kamalaharris.org
Julián Castro
Who he is: Julián Castro is the former mayor of San Antonio, Texas. He served under President Barack Obama's Cabinet as Secretary of Housing and Urban Development. He and his department worked to reduce homelessness among veterans and offered internet access to families in public housing. 
What he's running on: Julián Castro places great importance on climate policy. He hopes to achieve worldwide net-zero carbon by 2050 and plans to start the process by a 50% reduction in the U.S. by 2030. He aims for electrical power to transition to be carbon neutral by 2030 and reduce greenhouse gases by investing in environmentally friendly public transportation. He hopes to address the racial inequality associated with neighborhood pollution. He also emphasizes reducing police brutality. He believes the issue can be targeted by restricting the use of deadly force by police, using the aid of technology and body cameras, and building a police force that looks like and represents the communities it serves. A unique aspect to Castro's campaign is his focus on protecting animals and wildlife. He wants to make animal abuse a federal crime and address animal shelters' use of euthanisia and the often inhumane living conditions of livestock. He also wants to protect endangered species from extinction partially due to climate issues.
Campaign Website: https://www.julianforthefuture.com/
Elizabeth Warren
Who she is: Elizabeth Warren has served Massachusetts in the Senate since 2012. She has served on committees on housing, health and education, aging, and armed services issues. In the 2008 financial crisis, she served as chair of the Congressional Oversight Panel, and was highly involved in the creation of the Consumer Financial Protection Bureau. She was an assistant to President Obama and advised the Secretary of the Treasury. 
What she's running on: Elizabeth Warren's campaign has one of its focuses on education She has committed to appointing a public school teacher as Secretary of Education. She has a plan for Universal Child Care and will provide high quality child care, free for millions of Americans and affordable for the rest. She wants to significantly reduce student debt by cancelling up to $50,000 for many Americans and implement free universal college. Warren also emphasizes rebuilding the middle class. She wants to create antitrust enforcement and an "ultra-millionaire" tax on the 75,000 richest families in the country, and take definable steps to reduce the risk of any future financial crisis. As President, Warren will tighten restrictions on wall street so they do not have such a "stronghold" on the economy. Another core issue to Warren's campaign is ending corruption in Washington so the federal government works for all Americans as opposed to just the rich. She plans to drastic changes in lobbying including closing loopholes and banning foreign governments from hiring lobbyists in Washington. She will cut the corporate defense budget, stop Washington from funding private prisons, and believes Congress should "make it clear" that Presidents are able to be held accountable for crimes. Elizabeth Warren will make sure no President is above the law. 
Campaign Website: https://elizabethwarren.com
About the Writer
Kiera Burns, Staff Writer
Kiera Burns is a senior at LFHS. Her favorite subjects are English and Government. Outside of school, she is involved in theatre, choir, dance, TedX and...