UC' 20: Boys Hockey looks to build off successful season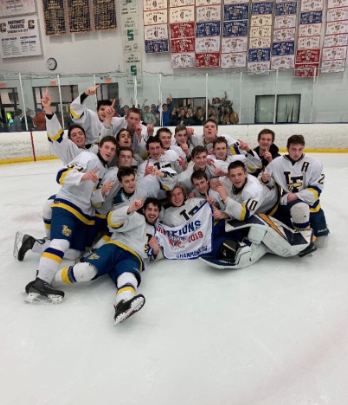 If you've seen some crazy haircuts walking through the halls since this past Friday, it means only one thing: Scout Hockey is back. 
After a crushing defeat to Notre Dame Prep in last year's state playoff, the revamped Varsity squad is hungry and ready to fight their way into the United Center at the end of the 2019-2020 season. 
With 12 returning players, the Scouts are excited to add a veteran presence to the locker room, along with a few new faces. Much of the 2018-2019 production will return to the ice as members on the team as well. 
Senior Charlie Altounian, a third year forward who finished tied for second in team goals last year is hoping to have another impressive season. Seniors Alex Huddlestun, Hunter Dee and Will Dee also return for their senior seasons after finishing as the league-leading line in goals with 24 on the year. 
Talented forward senior Nick Remissong will be joining the team while double rostering for the Chicago Mission AAA along with the LFHS squad. The lone sophomore on the team, Bobby Vedra, will look to bring an impressive skill set to the ice as well.
The Scouts are set to put forth several dominant forward lines this season. 
This past weekend, the team participated in a preseason tournament, kicking off the year with a hot start. After outscoring their opponents 17-5, the Scouts took home second place with key wins over Highland Park High School and District 155.
The tournament definitely served as a momentum boost heading into the regular season. "We all know what lies ahead." said senior forward Drew Jacobs, "Everyone is ready for the challenge."
This program has made huge strides towards success in recent years. 
Just two years ago, the varsity team finished last in their league. After an outstanding season from a team full of young talent, they were able to go from worst to first, clinching a league title heading into the state playoffs. 
They are looking to repeat that this year.
You can catch the Scouts in action this weekend as they open their season versus St. Viator on Saturday, and in their home opener on Sunday versus District 155 at 5:30 at the Lake Forest College Ice Arena.
About the Writer
Matthew Garrigan, Staff Writer
Matthew Garrigan is a senior at Lake Forest High School. He is a member of the varsity football team and a two-time captain of the lacrosse team. Outside...