Four student businesses to compete for $10,000
Shark Tank-style Pitch Night is set for June 3
Hang on for a minute...we're trying to find some more stories you might like.
Four Business Incubator student teams will pitch their ideas June 3 to a group of potential investors, hoping to reach their year-long goal of being invested in and becoming a real, live business. The presentations, which will be held in the Raymond Moore Auditorium, will be similar to those seen on Shark Tank.
Pitch Night, which was made possible by The LFHS Foundation and their countless sponsorships and volunteer support, will feature Dignified Designs, Heaven 'n Heels, PureGear, and Solis UVC Purifications. The teams will compete for $10,000 in prize money, the Foundation Cup and the Best Pitch award.
Last week, Business Incubator groups presented to a team of community members in hopes that they would get their vote and land a spot at the upcoming Pitch Night.
Although only four could make it through to Pitch Night, 13 additional start-ups will display their business ideas "convention style" in the lobby beginning at 6:30 p.m.  Information on all of the business groups from this year can be found here.
Dignified Designs has found a way to preserve the dignity of elderly people with disabilities by altering their clothing so they are capable of dressing themselves. This group has created magnetic button-down shirts and pants with Velcro or elastic waistbands, which can also provide GPS tracking. This unique group is one of four who will be competing for an investment at Pitch Night.
Heaven 'n Heels has attempted to make beauty synonymous with comfort by creating high-heeled shoes that magically transform to flats with simple removable heels. They have created their first prototype of the shoes, and plan to patent the design and work with a shoe-maker over the next three to four months. This group hopes to eliminate the saying "beauty is pain" and earn themse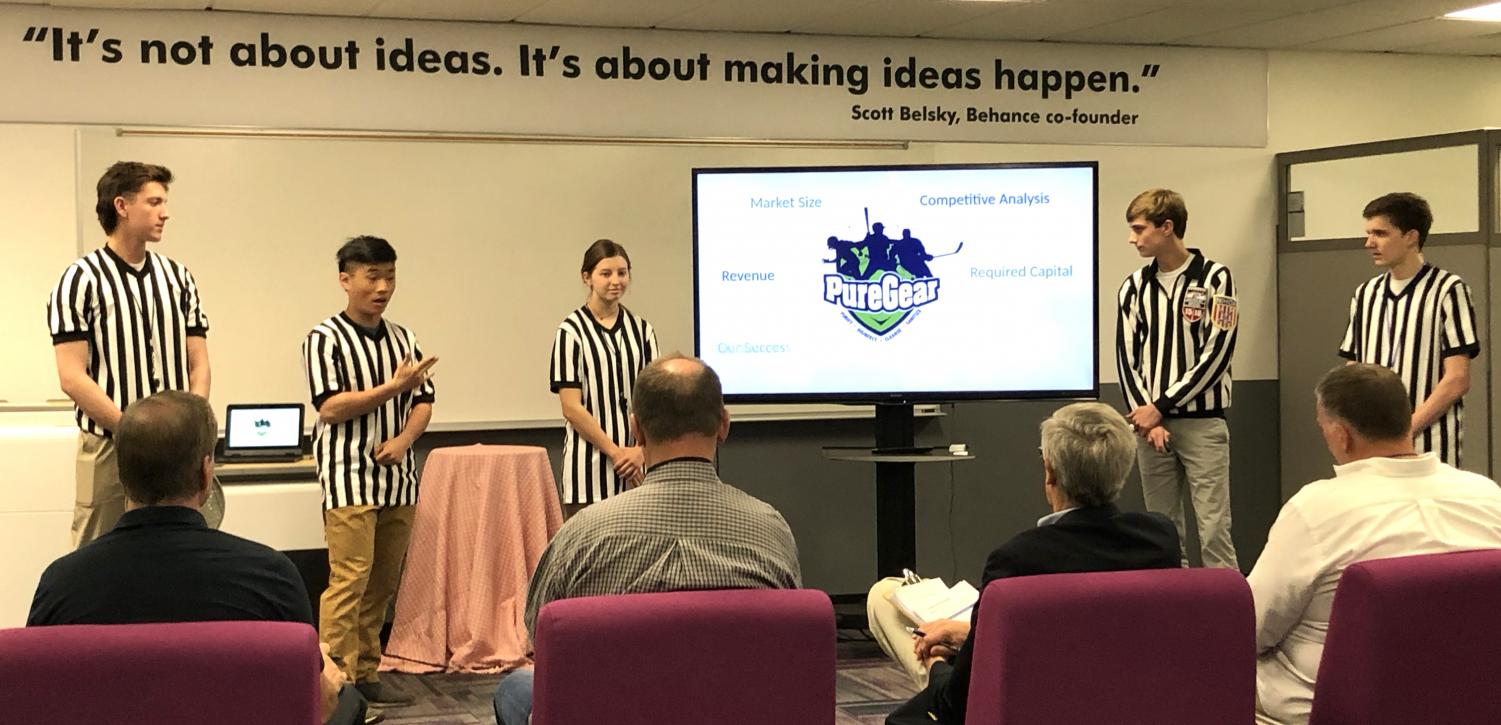 lves an investment this Pitch Night.
PureGear has developed a device that they call "the at-home odor eliminator for sports equipment," which deodorizes and sanitizes sports gear without using any chemicals. Their product uses UL certified infrared film to heat the gear in an insulated container, and is a solution to the wear and tear sports equipment faces when it is repeatedly washed. They have created a successful prototype and have a pre-order for their product, and hope to be invested in this upcoming Pitch Night.
Solis UVC Purifications has designed a simple-to-use water bottle that will purify and filter water from any source for travelers and hikers alike. The Solis water bottle lid contains a UVC LED system that uses light bouncing to eliminate microorganisms and viruses from the water, as well as a filtration membrane to remove any sediments in the water as it is ingested. This group has a fully functioning prototype and relationships with a number of manufacturers. This group hopes to create the most efficient product of its kind available to consumers, and receive an investment this Pitch Night.
About the Writer
Ava Manelis, Editor-in-Chief
Ava Manelis is a senior at LFHS who is on the poms team. She has been taking Journalism for a year now, and is back again as an Editor-in-Chief of the...