Matt Basgall is committed to play Division I hockey at Michigan State. First, he'll travel the country with the USHL's Omaha Lancers.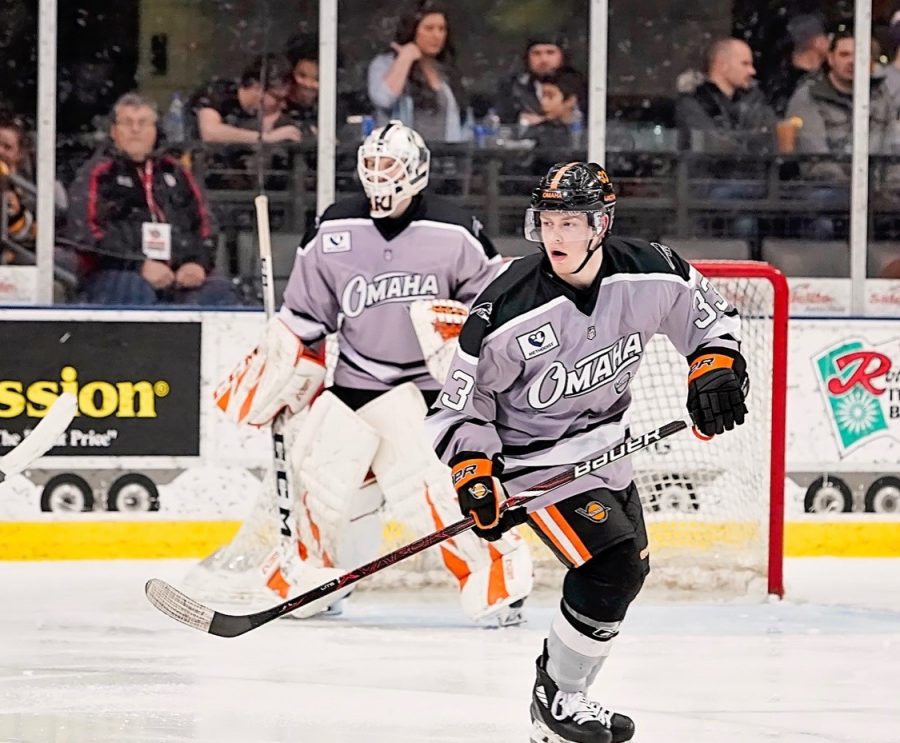 Prior to this year, Matt Basgall wasn't a Michigan State fan.
But by the time March Madness rolled around, he found himself glued to his television, watching every thrilling moment of the Spartans' run to the Final Four.
But Basgall didn't suddenly become infatuated with Tom Izzo's style of coaching, or junior guard Cassius Winston's infectious energy and hustle.
It was his commitment in February to play Division I hockey at the university that spurred his embrace of the Spartans.
Basgall, only a sophomore, accepted an athletic scholarship from Michigan State over the interest of several impressive schools, including the likes of Yale, Cornell, Princeton, and Colorado College.
"The Michigan State hockey program has always been appealing to me," Basgall said. "They won a national title in 2007, and [Chicago Blackhawks defenseman] Duncan Keith was a former Spartan. When I visited the school, I learned about their treatment of student-athletes. What they offer to the athletes is exactly what my family and I had been looking for and nothing short of it."
But with two more years left in his high school career, why did Basgall make his college decision so soon?
"I had to commit this early because the offer they gave me was on the table for five days," Basgall admits. "It was certainly something I didn't want to miss, so I jumped on it."
While most prospective college students are apprehensive about leaving home, Basgall won't have that problem when he decamps for East Lansing; he already splits his time between Lake Forest and Omaha, Nebraska, which he flies out to periodically to play stints with his junior hockey team, the Lancers.
For the best under-twenty junior hockey players in the United States, there is United States Hockey League (USHL), a developmental league with teams across the Midwest. Basgall was called up to play in five games for the Lancers this season. Omaha acquired the sixteen-year-old via a trade with the Tri-City Storm, who selected Basgall in the fifth round of the USHL's Phase I Draft last year.
"[Playing] with Omaha has been some of the most exciting parts of my entire career," said Basgall. "The city of Omaha loves the Lancers. In one game I played in against their rivals, nearly 4,000 fans showed up to the game. It's a great atmosphere and every time you step on the ice you need all your effort. It's a very fun brand of hockey."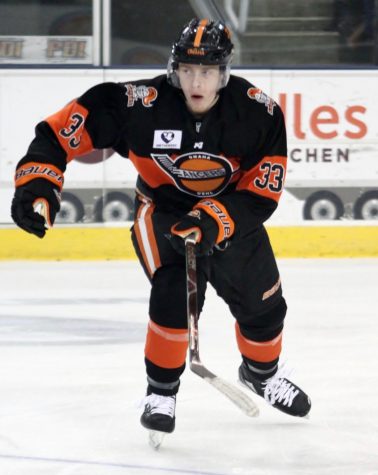 Photo credit: Chris Woodward
The USHL is a bridge from youth to college hockey that preserves the NCAA eligibility of student-athletes by not paying them, but it offers them free hockey, travel, living, and equipment. Ninety-five percent of USHL players are given the opportunity to play Division I college hockey.
Beginning next year, Basgall will play for the Lancers full-time, as he plans to live in Omaha and travel with the team for the duration of its eight-month season. He expects to continue his studies via online courses.
Basgall will embark on a grueling challenge that will see the Lancers play close to 70 games between September and April, all while traveling across the industrial and rural Midwest for hours at a time on cramped, hot buses. The closest he'll get to playing at home is when the Lancers travel to Fox Valley in December to take on the Chicago Steel. It's certainly not chartered jets and five-star hotels, but Basgall is up for the challenge.
Basgall has won two national championships with his travel team, the Chicago Mission. He's been drafted to play in the USHL. He employs a professional agent. He is committed to playing hockey at a Division I program. It's hard to find a more accomplished athlete at his stage in all of Lake Forest High School.
It's just unfortunate for us that he won't be attending Lake Forest High School for much longer.
About the Contributor
Peter Elliott, Editor-in-Chief
Peter Elliott is a senior at Lake Forest High School, and excited to be back this year as an Editor-in-Chief for The Forest Scout. A contributor since...