The Forest Scout Person of The Year 2019: Brooke Stride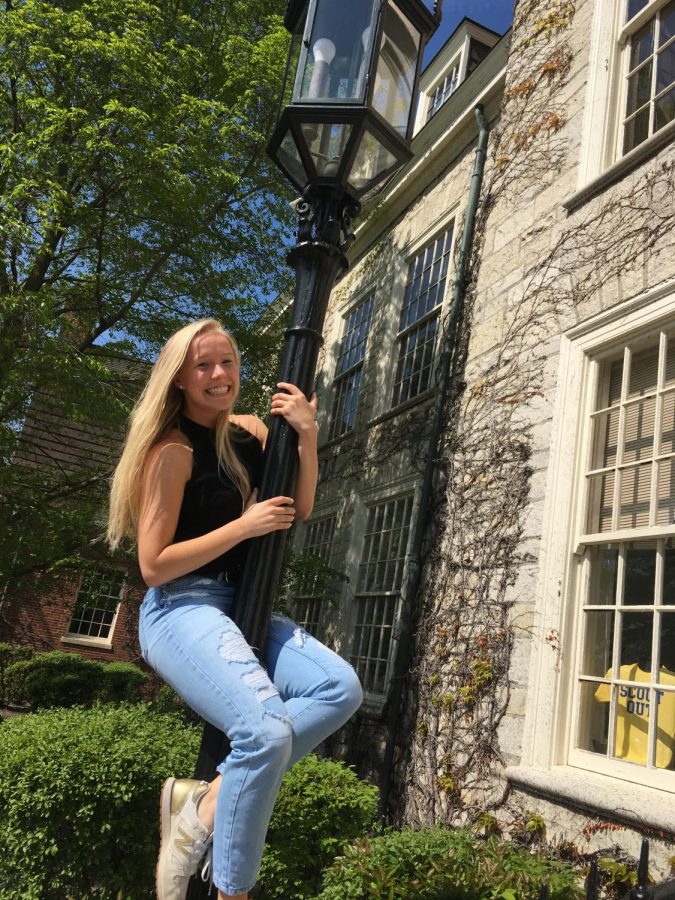 It's no small feat to write about someone who has done something different in their club or sport, something remarkable in the classroom, or something commendable in the community.  It's crazy to think about featuring someone who has done all three. It was even hard for us to choose just one.
That's the tough part about choosing the annual Person of The Year for our editorial board at The Forest Scout.  We look for accomplishment, camaraderie, kindness, and a certain spark that makes a person different. We found those things this year in senior Brooke Stride.
A co-captain of LFHS' Varsity Dance Team, Stride has made a name for herself in the sport, helping lead the team to national competitions and through successful seasons during her time here.  She is also an accomplished student and active CROYA member. Most of all, we picked her for her impeccable personality.
"It's hard to explain Brooke in a few sentences because she has such a big impact on so many different people," said senior and fellow pommer Kellie Jean Camardo.  "She radiates positivity wherever she goes, and she can never fail to put a smile on anyone's face, no matter the circumstance. She is just a pure, down to earth soul, and I think it's really special to come across someone like her in a lifetime."
I felt that radiation as soon as we started talking.
"It's so easy to be kind," Stride told me at Hansa one Monday afternoon.  She describes kindness as something that shouldn't be a chore, and that even the smallest and most insignificant gestures make the biggest difference.
High school coming to an end is definitely something that is daunting, we discussed, and it changes the way we see the rest of our year.  "I'm going out of my way to say things to these people that I haven't said in so long," Stride said. "You never know if that's going to be the last time or not."  
It was also clear to me that Stride has worked through struggles of her own, mostly with academic balance.  
"It's had a lot of ups and downs," Stride says of high school.  "I prioritized my grades over how I was feeling." She cited Croya and her teachers as key parts to her success.
"Simply put, Brooke is a ray of sunshine,"  said Stride's English teacher Jane Eccleston.  "She's somehow outgoing and introspective at the same time."
Over time, Stride learned that "[her] best probably wasn't as good as someone else's best,"
"I couldn't handle that in the moment," she said.  " But now, I'm grateful now for the challenge that it brought. I'm so proud of everything that I've accomplished."
Camardo echoed this sentiment of growth and achievement in Stride.  "She is a natural leader, and watching her involve herself in something she is passionate about was a blessing," she said.
Stride's leadership on the dance team is one of these achievements.  She describes poms as "a team sport where individuals grow," and worked hard throughout her four years to turn around the stigma against members of the dance team.
Keys to her bright attitude stem from home and even the smallest positive moments.
"I have my morning conversation with [my mom] every day before I go to school, and she always makes me giggle," Stride said when asked about how she handles tough days.  "Obviously my day can't be that bad if it's starting off so well."
What I was most interested in learning from Stride was her ability to be a good friend; she's always been the type to be friendly to a myriad of people in a myriad of ways.  Her philosophies are simple. "Just because you don't know them doesn't mean they're any less of a person," she said. "Being a good friend is always being there for them, even if they don't necessarily know they need or want it."
Camardo described Stride as someone who "keeps me in check."  
"She always knows how to level me out whenever I get really heated about something," she said.
Stride repeatedly focused on how important listening is in a friendship.  Even if they don't feel like they need you, she said, doesn't mean they shouldn't feel your presence in their life.
"She makes everyone in the room, including me, better at what we're doing," Eccleston said.  "She's as great a listener as she is a communicator."
Stride emphasized the importance of being present in every friendship, and letting the person feel comfortable and trusted.  "No one likes someone who is a fake," she said. "Being respectful to other people comes with being empathetic, being generous, and being patient."
Like many seniors, Stride's journey to picking Clemson University in South Carolina came about over the year.  "My acceptance packet came in on Christmas Eve," Stride explained. "My parents found in the mail before I did, and they wrapped it with paper and put it under the tree.  Then they were like 'Before we go to church, you really need to open this.'" Stride said she opened the gift first with confusion and then with sheer delight. "My parents are the best, my family is the best," she said.
She described how she received social pressure to attend the University of Wisconsin Madison upon her acceptance, but her heart was truly at Clemson.  "Even though it's a phenomenal school, I would've been around so many people that I would've been used to being around [at Madison] at home, and I feel like college is really a time to go for something new," she said.  "I want to go around and see as much as I can. I don't know what I'm going to want to do the next day, or the next week."
Stride is pursuing nursing at Clemson.  Her attachment to her major stems way back to when she was born–she was born with the umbilical cord wrapped around her neck, and if it weren't for the team of nurses that jumped into action, she "wouldn't be here."  Stride doesn't know if she will pursue neonatal nursing like those who saved her life, but her motivation stands.
One of her escapes from the world lies in the outdoors.  An avid camper, Stride attends an overnight camp every summer, where she is able "to hit pause" on her life.  
"Even though I'm an extrovert, I do enjoy time for myself," she said.  "I find that in both dancing and camping."
She and I discussed how proud we were of our class.  We not only have people going to great schools, but we also have people who have done some pretty amazing things while here at LFHS.  We reminisced about our days at Lake Bluff Middle School, the teachers, the events, and once again the people. I'd never spent so much time with Stride one on one, even though we'd been going to the same school for over eight years.  Yet, it felt just like we'd been doing just that for years.
"It's a bubble but it's a good bubble," Stride said of the Lake Forest and Lake Bluff community.  Nevertheless, she's ready for a change of scenery in her life.
"I'll miss hearing Brooke's awesome, infectious laugh in the hallway, and I'll miss her extra sunshine in my classroom," said Eccleston.  "I can't wait to see how many more lives she's going to brighten."
We can't wait either.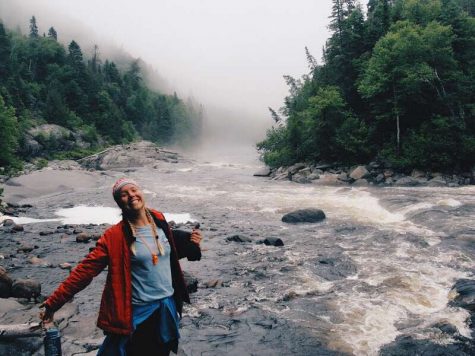 About the Writer
Katie Pierce, Editor in Chief
Katie Pierce is a proud senior at Lake Forest High School. Besides being Editor-in-Chief of TFS, Katie is a drum major of the LFHS band, and spends most...