The Forest Scout's 2019 Male Athlete of The Year: Kevin Lamp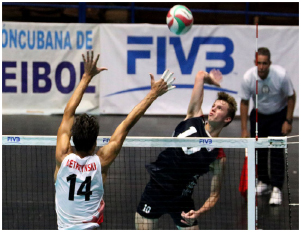 Number five sits at the end of the bench, calmly waiting for his last regular season home game as a Lake Forest Scout. Next Spring he'll be playing Division 1 volleyball, but he'll forever be a legend in the blue and gold. He peers into the crowd, makes eye contact with his mother, and thinks about how far he has come. During warmups, the entire competition gym is focused on him. The opposing players and fans watch in amazement as he rises up to the ceiling for slams that look unstoppable to block.
"I would be scared to play against him," a parent chuckled.
This is Kevin Lamp.
His shoulders have broadened since his freshman year and his spikes reach the floor even faster than they did three years ago. His 6'3" frame has grown to 6'5" and his vertical has boosted to 42," just 3 inches shorter than that of Duke's Zion Williamson.
Walking onto the court for his last regular season game in the competition gym, Kevin Lamp has a lot to look back on. A four-year starter at the Varsity level and countless hours spent in the gym preparing for his next move. Team Captain, Team MVP, Regional Champion, All-Area, All-Conference, USA Men's Junior National Team, the list goes on.
Lamp has played club volleyball since 5th grade and has his brother, Henry, to thank for introducing him to the game.
"My brother played club volleyball which got me into it [from] going to his tournaments. I played just for fun and I didn't really take it seriously until I was in 8th grade. That's when I thought, I could probably do this in college."
Kevin is the definition of a competitor, and it's obvious when you watch him play. On Senior Night, the Scouts went down 11-13 in the third game against Antioch. Lamp put it on himself to bring them back — diving for saves in the back row and leaping for kills from all angles. If he misses two spikes in a row, best believe the third one is coming at your head. Soon enough, the Scouts were up 19-12. They won the final game 25-15.
Lamp previously played basketball and soccer in middle school, but never took them seriously. His club volleyball team, Sports Performance, had him driving to Aurora and back five nights a week, including school nights.
"Club starts early September and runs until the high school season starts (early March). We have a week or two off depending on how far we go, and then we've got June and [then] the first week of July is Nationals."
This spring, Kevin had the opportunity to join the USA Men's Junior National volleyball team after trying out in January. He's been involved in the USA program since he was 11, but making the National team has been his greatest achievement. Lamp, the youngest player on the team, competed with and against freshman and sophomore collegiate volleyball players. The teams are compiled of the world's greatest volleyball players under 21. Lamp is only 18.
He missed a week of games during the high school season while he traveled down to Peru with team USA. They placed 5th after losing to Chile in the quarter-finals of the Pan-Am Cup.
As for the Scouts, they sit at 22-11 after a huge conference win against Stevenson to claim the North Suburban Conference title. Lamp went down during the second game with a knee injury and his status for Tuesday's regional semi-final still remains unknown.
The Lake Forest Volleyball program has Kevin to thank for all he has done, and his time as a volleyball player is no where close to being over. Lamp has chosen to continue his athletic and academic career at Stanford University. He held offers from numerous volleyball powerhouses but chose to go with his gut.
"For me it's always been Stanford. I talked to a bunch of schools and visited them to see if I wanted to change my mind…but once I visited Stanford and got accepted, I knew that's the place I wanted to go."