Tyler the Creator – IGOR album review
Tyler, the Creator is back with and as IGOR.  I will not be comparing it to his previous albums per Tyler's request.  But his evolution of artistry is admirable to the highest standard.
2011 gave us the aggressive, edgy, and brazen Goblin.  2013 introduced us to sonic beauty of Tyler with Wolf.  2015 gave us Cherry Bomb, a musical riot with more brash bars but the implementation of more higher production. In 2017, Tyler narrowed his vision to lavish instrumentation and rapping only where it is absolutely necessary with the Grammy-nominated Flower Boy.
Then IGOR was born on May 17th, 2019.  IGOR is not definable by a genre that already exists but has found itself in a category of its own.  Tyler made the point to inform listeners that IGOR was not a rap album and to adjust their expectations.  This left some surface level rap fans disappointed, but all lovers of music should at least be able to appreciate the exceptional instrumentation off of IGOR.
IGOR's masterful production leaves little room for Tyler or other vocalists to command all the attention, but that is a necessary sacrifice.  Rather, the voices on the album accent the extravagant mixes behind them. Tyler's normal voice is also rarely heard in its raw form, as a good portion of his vocal appearances is coated in a helium-sounding mix, similar to Frank Ocean's voice on his 2016 track, Nikes.
The production thematically consists of rumbling 808's, aggressive sub basses, 80's synthesizers, and intricate drum patterns.  Each song is also structurally unpredictable through clever track arrangement and the seemingly never-ending supply of new samples and synths. Soaring vocals transcend from track to track as the album flows together seamlessly.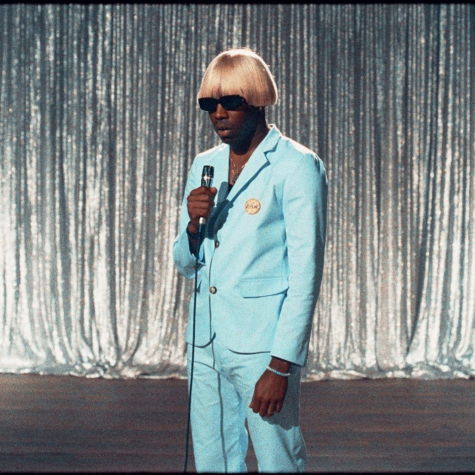 Upon first listen, it is very difficult to differentiate each song from the next through as a result of these constant beat switches and gliding transitions. This makes listening to the album as a whole, just as Tyler intended, a truly extrasensory experience.  
Even though the lush sounds of IGOR might steal the show, they coincide with a lyrical theme.  The album track by track shows the evolution of the romantic relationship between Tyler/IGOR and another person.  The album shows the progression of falling in love(#2 EARFQUAKE, #3 I THINK, and #5 RUNNING OUT OF TIME), struggling with love(#6 NEW MAGIC WAND, #7 A BOY IS A GUN,#8  PUPPET),  and experiencing love fade away(#10 GONE, GONE/THANK YOU, #11 I DON'T LOVE YOU ANYMORE, #12 ARE WE STILL FRIENDS).  
Memorable moments:
Playboi Carti on EARFQUAKE – Carti delivers the first "verse" on the entire album with a quick appearance on EARFQUAKE.  One may think that Playboi Carti would be completely out of his element on a track like this, but his baby-voiced vocals, though nearly completely indistinguishable, highpass graciously over the gap in dense production to create a weird but iconic moment. Twitter also loves this feature quite a bit.
Jerrod Carmichael's Narration- Sound bites of a post-Flowerboy interview between Tyler and actor Jerrod Carmichael appear periodically throughout the album.  In fact, the 14-second track EXACTLY WHAT YOU RUN FROM YOU END UP CHASING is purely an audio recording of Carmichael saying just that. Besides helping divide the tracklist, Carmichael plays the voice of reason on the album giving the listener, and maybe IGOR, tidbits of honest advice.  His contributions, though small, are memorable.
Hidden features – Although there are no features on the tracklist for IGOR, the album has a collection of diverse artists contributing.  Many of the features are subtle background vocals, but that didn't stop Tyler from recruiting big-name talent. Tyler methodically pushed these artists out of their comfort zone creating a few, "Is that who I think it is?" moments.  For example, rapper Lil Uzi Vert sang the chorus on IGOR'S THEME and nobody even noticed until Tyler confirmed the feature on Twitter.  Total features include Cee Lo Green, Charlie Wilson, Jerrod Carmichael, Jessy Wilson, Kanye West, Lil Uzi Vert, Pharrell Williams, Playboi Carti, Santigold, slowthai & Solange.
Favorite Songs:
EARFQUAKE – "You make my earth quake, ya you make my earth quaaaakeee!" The combination of a catchy hook, poppy synthesizers, and a surprisingly fitting Playboi Carti verse will make this song the well deserved hit off the album.
RUNNING OUT OF TIME – A mesmerizing track composed by Tyler detailing his fleeting relationship with a significant other and warn them that a split is imminent.
A BOY IS A GUN – One of the softer cuts on the album,  A BOY IS A GUN's chorus features prominent use of a soul sample and glittery synths and keys littered throughout the background.  Tyler drops some heavy bars, alluding possibly to his bisexuality, by comparing his love to a gun capable of shooting him down.
My high expectations for IGOR were thoroughly satisfied.  Tyler pioneered a new sound, pushed artists out of their comfort zone, and paid a pinpoint amount of detail to each track.  Although some fans are disappointed that IGOR is far from a traditional rap album, I value Tyler's attempts and successes in creating personal art, not art to satisfy the masses.
Tyler, the Creator – IGOR – 8.6/10