The Dish: Rand Red Hots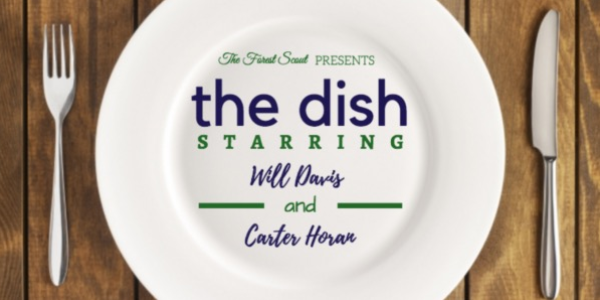 Welcome to the season finale for Season Two of "The Dish" co-produced by senior duo Will Davis and Carter Horan. This multimedia food review segment features an in-depth analysis of North Shore restaurants.
Located southwest of the high school in Des Plaines, Rand Red Hots has long been known as "the spot" for hot dogs in the Chicagoland area. Prided on serving Chicago style dogs and fresh cut fries, the small drive-in type spot has received consistent rave reviews from food connoisseurs on almost every popular food review network. When recommended by former journalism teacher Mr. Scott, we knew that Rand Red Hots had to be the real deal. Since this was our last Dish episode ever, we were determined to find a spot that would exceed all our expectations.
Affordability: 9.5/10
A simple menu with simple prices, Rand's Red Hots makes it easy to choose your meal. All hot dogs are $3.29 including toppings and fries, a deal that you can't pass up in 2019. Locally, it's hard to find a hot dog meal for less than $7 and Rand's gives it all to you for less than $4. We ordered four hot dogs and two drinks for the two of us, and our total came out to be just under $20, a complete steal for the high quality food we got in return. There isn't one item on the menu that costs more than $5, and that earned Rand's Red Hots a 9.5/10. Some special deals like a 'tamale Tuesday' or a hot dog special could've put them over the edge to earn the first 10/10.
Service: 8.5/10
While we didn't have a ton of back and forth with the employees at Rand's Red Hots, all of the encounters that we did have were pleasant ones. Our orders were taken in a quick and friendly manner and the staff's communication was very effective in letting us know when our meals were ready to be picked up at the end of the counter. Like many other drive-in type hot dog spots, Rand's allowed the customer to do most of the legwork when it came to cleaning up, using condiments, and finding a seat. However, efficiency and accountability are always important when high schoolers visit a restaurant and the employees at Rand's checked both of those boxes. Quick and eager to help, the staff at Rand's didn't have to do much but they got our food out quick with no mistakes and had us eating in no time.
Food Quality: 8.5/10
Personally, we were extremely pleased with the quality of food we received from Rand's. We covered almost the entire menu ordering two hot dogs, two char dogs, a Maxwell St. Polish, a tamale and a shake. All dogs were served wrapped up with fries which was a very nice touch. Both the dogs and chardogs were served in sesame seed buns and topped with your choice of condiments. The consensus was that both were above average and exceeded expectations. The polish and tamale, however, were deemed even better than the dogs and Mr. Scott even coined the tamale the "best $1.79 item in Cook County." With that type of praise, we knew that the tamale and polish were the real deal and that we would have to be back soon to give a more thorough examination of the entire menu.
Environment: 9/10
Impossible to miss off Rand Road, the environment of Rand's Red Hots is most similar to another North Shore classic— Superdawg. Since the small restaurant offered minimal seating, it made our filming a bit more difficult than usual. But, we did like their classic style bar area where we easily stood and ate our meal. Rand's Red Hots had plenty of outdoor seating available, but we steered away from eating outside in 50o weather. This place could very easily get busy on the weekends but we didn't run into that issue. It also seemed like it most definitely had the potential to be a summer staple for teenagers across the area.
Spear Rating: 3.5 SPEARS (out of 4)