Q&A with Brooke Theis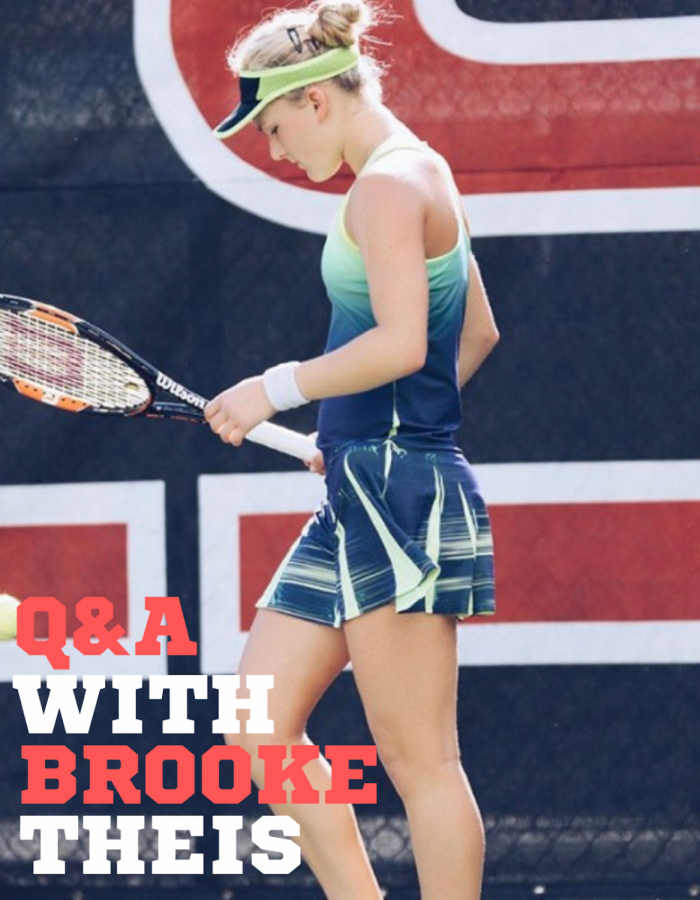 Whenever I meet an adult who knows my parents, I often am asked, "Are you the tennis player?" Whether it is adults or peers, the topic of my superstar little sister comes up a fair amount. So, I sat down with her to ask her a few questions about her life as an LFHS student-athlete.
When did you start playing tennis?
I picked up a racket for the first time when I was five years old. My mom had put my sisters and me into a tennis lesson at our country club and I think I immediately fell in love. I took lessons for a few years and when I was seven, started playing competitively.
What made you interested in tennis?
Like most girls, I tried dance classes when I was younger. In first grade I took a ballet class and I absolutely hated it. I have two older sisters and growing up they were always dancing. I remember the would always practice their cartwheels and splits in the backyard, but I was never very good at that kind of thing. Instead, I wanted my dad to teach me how to throw a football or to hit a wiffle ball off a tee. I was never very flexible and I knew wanted to do something where I could run around. One day, my parents decided that I should try tennis.
What kind of places to you travel to?
Most of the tournaments I play in are with the United States Tennis Association, and they've taken me to quite a few places. I've traveled all around the country and been in a tournament on every coast of the United States. I have actually played a tournament in almost every state; however, I have yet to visit Alaska, Hawaii, Kansas, Nebraska, Wyoming and some of the small Eastern states. I've been invited to compete in a couple International Tennis Federation tournaments but my mom thinks that that is too far to travel.
Where is your least favorite place to travel to? Where is your favorite?
My least favorite place to travel is are anywhere in Ohio. I hate Ohio! Their facilities are always absolutely awful, no matter where you go in the state. Also, there is never anything to do. When you're in a tournament, you are usually spending most of the day at the club/facilities. However, once the matches are over, it gets really boring if there aren't any fun restaurants to eat at or even any scenery to see. If I have a tournament in Ohio, we consider ourselves lucky if we can find an Olive Garden. My favorite place to travel to is really anywhere in the south. I love playing outdoor tennis, and because the weather is so warm there, tournaments are held outdoors most of the year. Also the people are in general super friendly and the food is amazing.
What large tournament is your favorite to play in?
I think a lot of people would expect me to say one of the three super nationals; however, those tend to create even higher pressure environments that are not fun to be in. My favorite tournament would probably be the Orange Bowl held in Miami Beach, Florida. The Orange Bowl is an International Tennis Federation tournament, so the top 128 juniors per age bracket in the world are invited to play. I think it's really cool to meet new people and see the different customs that different players practice on and off the court. The best part about the Orange Bowl is that is is known for being the tournament that many junior players have risen to the top of the professional world from. Roger Federer, Andre Agassi, Arthur Ashe, Jimmy Connors, Andy Roddick, Boris Becker, Chris Evert, Steffi Graf, and many more first class players have competed in the Orange Bowl as a junior player. I feel incredibly honored to be one of the 128 juniors around the globe who has the opportunity to play on the same courts that they did.
Who are you sponsored by?
I previously had a full sponsorship with Wilson Sporting Goods, but just recently switched to Yonex. A full sponsorship means that as a player, I am able to represent their brand in practice, tournaments, and off the court too. The company sends me a bunch of cool equipment such as rackets, string, grips, luggage, footwear, apparel, etc. Besides the free things, I think that it was a really cool experience to be featured in a Wilson Sporting Goods commercial which aired in the winter of 2017.
What does your tennis schedule look like?
I usually train four to five hours a day, six days a week. On a usual day, I spend most of my time on the court in a private, semi-private, or group lesson. After that, I usually have some sort of fitness, strength training, or conditioning.
How much school do you miss? Are your teachers accommodating?
I do miss a fair amount of school due to tournaments. Tournaments are typically held over weekends, so I miss most Fridays and Mondays. I have most definitely missed entire weeks of school, though, which can be difficult to make up. I'm really lucky that my teachers are so helpful and understanding to my situation. Most of them allow me to take my work on the road with me and make up tests late.
What is your weirdest ritual/ superstition?
Oh gosh… our family has a ton of weird rituals. My dad doesn't shave his face when I'm in a tournament until I lose. When tournaments last weeks, it can look pretty weird. I will only wear one specific brand of socks. No matter what, I only wear Features which my mom hates because they can be difficult to find. I also always have to wear wristbands on both wrists whenever I play. In the summer, I get the weirdest sun tans from them, but I can't play without them! I also have to do at least 300 jump ropes and do my resistance band routine for my shoulders before I warm up.
Who is your biggest fan?
My Granddaddy is for sure my biggest fan. He is always so enthusiastic and I am so grateful for all he does for me. He loves to watch me practice and is such a help on and off the court. He usually can't travel with me, but he always makes sure to text or call me after every match. Also, before I walk on the court, he always texts to remind me to "KA!" It's kind of our special thing.
Do you want to play in college?
I am definitely going to play in college. However, In the tennis world, D1 coaches are not allowed to contact any prospective players until their junior year of high school. I would love to play somewhere in the south so I could play outdoors most of the year, and southern schools typically have great teams. I know that my sister Kenleigh really wants me to take a look at Clemson so we could go together. There are also a number of great schools that I am interested in that are in the Midwest and on the East Coast.
About the Writer
Kenleigh Theis, Staff Writer
Kenleigh Theis is a senior at Lake Forest High School. She is on the Varsity Cheerleading team and loves attending football games. Kenleigh loves the sun,...