The Dish: Lazy Dog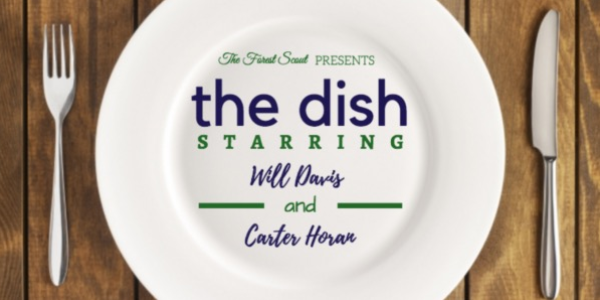 Welcome to the season finale for Season Two of "The Dish" co-produced by senior duo Will Davis and Carter Horan. This multimedia food review segment features an in-depth analysis of North Shore restaurants.
Affordability: 5/10
More expensive than most of the restaurants we've visited, our final check at Lazy Dog came out to about $55 for only two people. That price is extrapolated due to the fact that we both ordered drinks and nachos as an appetizer. However, $55 is still fairly expensive for two drinks, nachos, a burger, and a chicken sandwich. To make things worse, we then received what we thought were incredibly disappointing portion sizes. The chicken sandwich and burger were both served with no more than 15 fries on the side. That sort of mediocrity left us very unsatisfied with how much we had to pay. To clarify, Lazy Dog is definitely more of a sit-down restaurant but we still were expecting more than what we receive in the affordability category.
Environment: 9/10
Some things that immediately stood out to us when we walked in were the high ceilings, fireplaces and large flat screen TV's. Lazy Dog is built like an American restaurant. There's something for everyone: a bar for adults, basic seating for families, and outdoor seating for the summertime. It's the perfect place for a family outing or a night out to watch a big game. And as shown in the video, there's tons of seating throughout the entire restaurant. Lazy Dog is less than a year old, and it shows on the inside with all their new tables and booths. It's a toned-down version of Buffalo Wild Wings and a restaurant that will no doubt have a lot of success in the future. This is the first Lazy Dog in the Midwest, and we have the feeling it won't be the last.
Food Quality: 8/10
By and large, we were impressed with the quality of food that we received at Lazy Dog. With four different people ordering, we were able to cover a lot of the menu and try a lot of different things. Our first order was the crispy chicken sandwich with fries which was topped with homemade honey mustard as well as homemade slaw. Both toppings beautifully complemented the sandwich and our only disappointment was that there weren't more fries to go along with the sandwich. When it comes to burgers, both the BBQ Ranch Bacon and Bison burgers were full of juicy, savory flavors and produced a taste unique to the restaurant. The only complaint that accompanied the burgers was that the Bison Burger was a touch drier than we would have liked. Besides that, both of the burgers blew the doors off of our expectations. Lastly, we also ordered the fried chicken dinner which came with mashed potatoes and green beans. A southern staple, the dinner was glazed over with maple syrup in order to give it it's own Lazy Dog touch. All in all, we were pleased with everything when it came to taste and quality of the food we received. Our only complaint were the portion sizes and that's something that easily can be fixed.
Service: 8/10
As for service, we had very little complaints for Lazy Dog. Our group of four was seated right away in a booth— just as we requested. Their staff was constantly checking on our table, bringing us extra glasses of water whenever we asked. The restaurant was fairly busy, yet it felt like our waitress never left us for more than 15 minutes. And, it's always nice not having any problems filming. After addressing the server about the purpose of the camera there were no questions asked during the rest of our visit. For one, we wished the workers at Lazy Dog served all our entrees at the same time. It would've made our filming process a lot easier, but it wasn't the end of the world. All 20+ employees were diligent workers, and it showed after our experience at Lazy Dog.
Rating: 3 Spears (out of 4)