Badminton Wins Sectionals!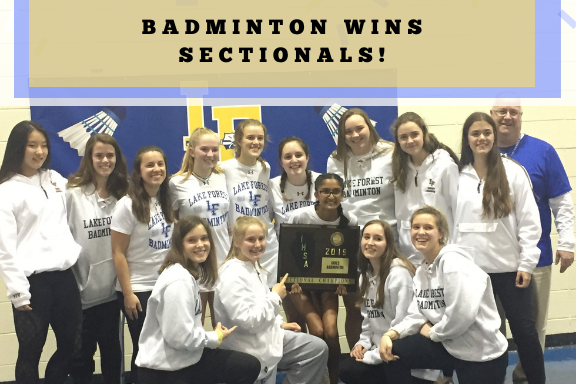 Starting their season this February, the Girls' Badminton Team at LFHS has not stopped practicing since. After a long season of training for competitive matches, the girls have finally done it. Yesterday in the field house, the Girls' Varsity Badminton Team made LFHS history.
Yesterday, Lake Forest High School hosted badminton sectionals. After morning and afternoon practices and extreme dedication, the team's hard work paid off. LFHS won sectionals! While this news is exciting in and of itself, this win is particularly significant because it is the first time the badminton team has won sectionals since 1982.
Placing first in doubles were junior Nika Belova and junior Grace Gescheidle. Senior captain Anisha Parachuru and senior captain Paige Dillow placed third. LFHS also scored critical points in singles with senior Lauren Haldane qualifying with a third place finish. The team qualified three out of four of these positions; #1 and #2 in doubles and #2 in singles.
Qualifying team members from left to right: Grace Gescheidle, Bridget Mcgreevy, Lauren Haldane, Paige Dillow, Anisha Paruchuru, and Nika Belova.
Only the top sixty-four doubles teams and sixty-four singles players qualify for state. This year is the second year that LFHS has qualified for #1 and #2 doubles and the first year that #2 singles has ever qualified. Though the team doesn't have a long history of competing in state competition, with their hardwork and dedication, the girls have a better chance than ever before to place highly.
Excitedly, senior captain Anisha Paruchuru tells The Forest Scout, "I am so honored to be one of the three amazing captains of this amazing team. As a captain, it was extremely exciting to hear that not only were we a top seeded team but that we had the honor of hosting sectionals. I am extremely proud of our five qualifiers and we are so excited to go to state and make the best of it! I am so proud of our entire team for the hard work and dedication they put into this season and I look forward to seeing how the team does in the next few years!"
State this year, it will be held next weekend, May 10-11, at Eastern Illinois University. For more information and team updates, follow @lfhsvarsitybadminton on Instagram! Best of luck to the LFHS Girls Varsity Badminton team, and Go Scouts!