Scouts Raise over $6000 for Matthias Academy
This Saturday, the Lake Forest High School Baseball team participated in a hit-a-thon fundraiser after their game against Clemente to raise money for a newly established day program for those with developmental disabilities in Southeast Wisconsin.
Matthias Academy is the name of the program and the academy's goal is to provide a place where young adults with disabilities can come to take classes, work, socialize and participate in many different types of activities. The academy will be comparable to other programs like Misericordia or Lambs Farm.
The hit-a-thon was structured so that parents, friends, peers and supporters each pledged a certain amount per swing or a flat rate independent from the number of swings taken. Then, each Scouts player rotated through the batting cages taking roughly 200 swings each after the conclusion of the game.
While the players were swinging, varsity parents had generously organized a bake sale and cookout in order to provide food for all who were in attendance while also raising more money for Matthias itself. The day could not have gone much better as the weather was perfect, burgers were on the grill, the Scouts brought home a victory, and a substantial amount of money was raised for Matthias Academy.
The team had set a hefty goal of raising over $5000 for Matthias Academy and at the end of the day it was determined that the team had blown their goal out of the water raising over $6000 for Matthias Academy. Two young men, Andrew and Beckham, who will be attending Matthias Academy were able to make it out to the game with their families.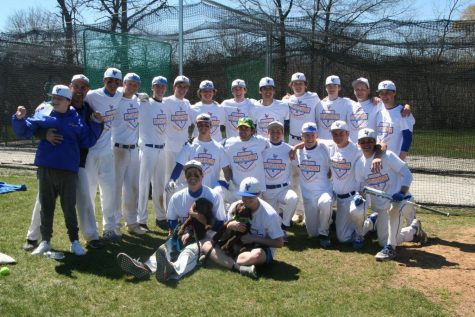 "It was really nice to get to see and meet the people that are going to benefit directly from the fundraising efforts. It really brought it full circle and made for a great Saturday for all who were involved," senior captain Peter Turelli said.
Organized and planned by Coach Del Fava, this event went along perfectly with the Scouts 2019 motto. That motto is, "If we've only won on the field, we've lost."  The Scouts have been putting a large emphasis on serving others and doing what they can to benefit the community up to this point in the season.
"We are blessed to live and work in a community where we have the opportunity to help others. It would be a shame if we didn't take advantage of any opportunity to help those in need," Head Coach Ray Del Fava said.  
All in all, the Scouts hit-a-thon was extremely successful and will provide much needed support for the still developing Matthias Academy. Players, coaches, fans, and beneficiaries alike were more than pleased with the day as a whole and the awareness that it brought to both Matthias Academy and the LFHS baseball program.