College Corner: Week Eleven
Hang on for a minute...we're trying to find some more stories you might like.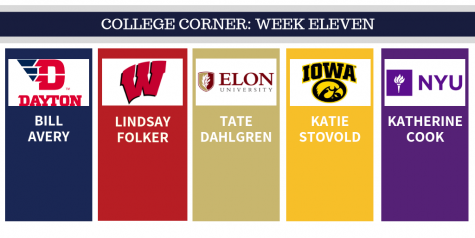 In Logan Hanekamp's column, College Corner, she interviews five seniors who have decided on their colleges and learns about why they chose their school.
Name: Bill Avery
College: University of Dayton
Location: Dayton, Ohio
Mascot: Flyers
Why Dayton?
"I originally had no intention of applying to Dayton, but I ended up applying last minute. I had heard great things about the school and immediately right when I got on campus, I got this feeling and I knew it was where I wanted to go. The people there were great and I just loved it."
What are you most excited for?
"'I am most excited to have the opportunity to be on my own for the first time. Dayton is far away enough to be away and feel on my own, but close enough to home that I can still make it home for holidays to see my family and friends."
Name: Lindsay Folker
College: University of Wisconsin-Madison
Location: Madison, Wisconsin
Mascot: Badgers
Why Wisconsin?
"Wisconsin just seemed to have everything I was asking for. It has wonderful academics, great opportunities to study abroad, awesome school spirit, and a solid alumni network, and they have the most number of Peace Corp participants right out of college which is what I want to do."
What are you most excited for?
"I am most excited to be a part of a community that truly loves its school. The immense school spirit is what truly sold me to the school! I'm so excited to be a Badger!"
Name: Tate Dahlgren
College: Elon University
Location: Elon, North Carolina
Mascot: Phoenix
Why Elon?
"I chose Elon because I really liked the way the campus felt. Elon has a pretty decent club hockey team which I want to join and overall it's a very well run school. I also really liked the size and how it's not too big."
What are you most excited for?
"I am most excited to have new experiences, to experience college life, and to meet people."
Name: Katie Stovold
College: University of Iowa
Location: Iowa City, Iowa
Mascot: Hawkeyes
Why Iowa?
"I chose Iowa because I really wanted to go to a Big 10 school and when I first I visited, I fell in love with it and everyone was so nice and welcoming. The campus is beautiful and they have all the programs I want."
What are you most excited for?
"I am most excited for a change and being a part of the college life. I am also excited to gain new experiences and meet new people."
Name: Katherine Cook
College: New York University
Location: New York City, New York
Mascot: Bobcats
Why NYU?
"I chose NYU because New York City is my favorite place in the world and I love the diversity the city brings. I really loved NYU because I wanted a global perspective and I wasn't attracted to the traditional college experience so being in NYC was the perfect decision."
What are you most excited for?
"I am most excited to meet new people and to experience the city as a resident and not just a visitor."
About the Writer
Logan Hanekamp, Editor
Logan Hanekamp is a senior at Lake Forest High School who is a dedicated field hockey and lacrosse player. She loves good weather, her dog (Cody), and...