College Corner: Week Ten
Hang on for a minute...we're trying to find some more stories you might like.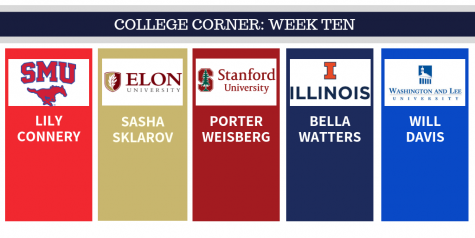 In Logan Hanekamp's column, College Corner, she interviews five seniors who have decided on their colleges and learns about why they chose their school.
Name: Lily Connery
College: Southern Methodist University
Location: Dallas, TX
Mascot: Mustangs
Why SMU?
"I chose SMU because I really loved the campus when I toured and it had an amazing atmosphere. Everyone I met there was so nice and once I got to know other people going there I couldn't imagine myself anywhere else."
What are you most excited for?
"'I am so excited to be in Dallas and meet a bunch of new people. I am especially excited for Boulevards in the fall!"
Name: Sasha Sklarov
College: Elon University
Location: Elon, NC
Mascot: Phoenix
Why Elon?
"I chose Elon because when I visited during my junior year, I fell in love with the gorgeous green campus, size of the school, and the student body. Elon has really great travel abroad opportunities and I have always wanted to travel the world and see new places. All the students raved about their time at Elon, and I knew I wanted to be a part of that experience."
What are you most excited for?
"I am most excited to rush, meet amazing friends, and explore what I want to study. Of course, I'm so excited to hang out with my roommate Ashlee and decorate our dorm together! Overall I am just thrilled for the whole college experience."
Name: Porter Weisberg
College: Stanford University
Location: Stanford, California
Mascot: Trees
Why Stanford?
"First of all I had no expectation to get into Stanford, but somehow I did get in and it was at first a difficult choice between Cal and Stanford. Ultimately, I choose Stanford because the school makes it clear that they want you because you're you and not because of your test scores."
What are you most excited for?
"I am excited about the weather, the crew team, and the incredible opportunity Stanford gives me to further my education and study all kinds of cool, new things."
Name: Bella Watters
College: University of Illinois at Urbana-Champaign
Location: Champaign, Illinois
Mascot: Fighting Illini
Why Illinois?
"I chose Illinois because it is a perfect mix of everything! With so many opportunities to get involved in, I am excited to have the options to do really exciting things academically as well as fun things that come with going to a Big Ten school. There really isn't much more you could want in a school"
What are you most excited for?
"I am most excited to be surrounded by such a diverse group of people! Oh, and barn dances of course."
Name: Will Davis
College: Washington and Lee University
Location: Lexington, Virginia
Mascot: Generals
Why Washington and Lee?
"I chose Washington and Lee because of how personalized the school is. It has a really engaged student body and also does a great job of offering their students lots of opportunities. The campus is also really pretty and I liked the southern feel of the school."
What are you most excited for?
"I'm really excited to be able to meet new people and create my own college experience. Washington and Lee is also located in an area with a lot of cool outdoorsy activities like fishing, hiking, and rafting so that should be fun. Go Generals!"
About the Writer
Logan Hanekamp, Editor
Logan Hanekamp is a senior at Lake Forest High School who is a dedicated field hockey and lacrosse player. She loves good weather, her dog (Cody), and...