2019 Record Store Day Preview
What To Be Excited About In This Year's Musical Celebration
If you are a fan of any music, one of the biggest events of the year that should be on your calendar is Record Store Day; A day-long celebration of local music stores, vinyl, and the music community, all during a single Saturday in April in which hundreds of new limited-edition records are released from all of your favorite artists directly to local businesses near you. Live music is played, new people are met, and new music is discovered.
This year, RSD is taking place this coming Saturday (April 13th), with a wider variety of items to choose from than ever (400+).
In this all-encompassing preview, myself and a handful of other writers handpicked some releases off of this year's official list that caught our eye, and gave a short preview on what to expect from those highlighted items on Saturday.
BUT FIRST, THE STORES
In the end, this day celebrates the beautiful personalities that independent music stores have. You can always get your records at Target or Best Buy, but this holiday highlights the special benefits that independent stores can give to your experience.
So before we get into the music, here are a couple of my favorite nearby stores that have pledged to celebrate the holiday this year. Each half of the pair provides their own section of the perfect Record Store Day experiences.
To do some more searching for participating stores on your own (and there are certainly a ton more awesome ones across Chicagoland and elsewhere) check out the Record Store Day Website.
Vintage Vinyl – 925 Davis St, Evanston, IL 60201
(Click here for an awesome video about this store)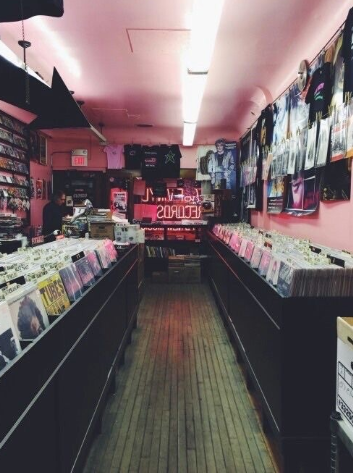 If you are a collector, or even just a music fan, you may have seen the 2000 film High Fidelity, starring renowned actors John Cusack and Jack Black. The movie tells the story of a Chicago record store owner and everyman (Cusack) who is on a quest to understand women and his past relationships.
While the building used to create "Championship Vinyl" in the movie is now an infamous attraction in the city's Wicker Park neighborhood, the actual records used to fill that set came from this charmingly pink musical paradise in Evanston that happened to be Cusack's childhood store. Had spacing not been an issue, it would have been filmed here. It even gets a name drop in the first store scene!
Operated in the same location since 1979, Vintage Vinyl is one of Chicagoland's longest running record stores.
This store is the most convenient location on this list, as it is literally steps away from the Evanston (Davis St) Metra stop, making the store only a short convenient train ride away from all Lake Forest record collectors.
They have a crazy wide variety. The main room has your alphabetical mainstream stuff, mainly 60s 70s rock, new wave, as well as prog rock and psychedelic, and then the typical new releases bin. There is an awesome basement filled with your jazz, soul, blues, classical, reggae, country, soundtracks, electronic, vocal, and comedy vinyl selection.
If you don't collect records, however, never fear, as they have an awesome selection of concert posters, cassettes, CDs, books, magazines, t-shirts, and more.
One of the most fun parts of the store is the entire separate room for used records, all of which for $5 (and they are not your typical bargain records as they are also pretty high quality). You could spend a very long time digging for treasure in there.
Steve Kay is the owner (interviewed in the video linked above), and he is always right behind his cash register. This personal touch and personal music exploration is part of the charm of these stores, and with Vintage Vinyl it is magnified by Steve's suggestions. It's Spotify Recommendations the old fashioned way. It's never a bad idea to talk to your local record store owners about the good new music you didn't know existed.
Additionally, quality is their trademark, and every record that isn't in the bargain room is in individually plastic-wrapped pristine condition, and paired with a handwritten description sticker to help you make the best buying decisions and even link your music tastes to new discoveries.
If this wasn't enough to get you to come down to the store, you can purchase any of their stock on their mail order website. They ship worldwide so they have larger fame than just here in the Chicago area. However, Chicago native artists like Smashing Pumpkins lead vocalist Billy Corgan always end up walking in every once in a while.
This store is a personal favorite of mine, and should be near the top of your list of spots to check out on Saturday.
Vintage Vinyl typically has only a limited selection of the Record Store Day exclusive releases. However, they celebrate with a live performance by local band White Wolf Sonic Princess out front starting at 10:45 AM, and the doors open at 7 AM for a crowded day of record-flipping.
If you are just looking for a simply awesome record store experience, go here.
Squeezebox Books and Music – 743 Main St, Evanston, IL 60202
(Click here for an awesome video about this store)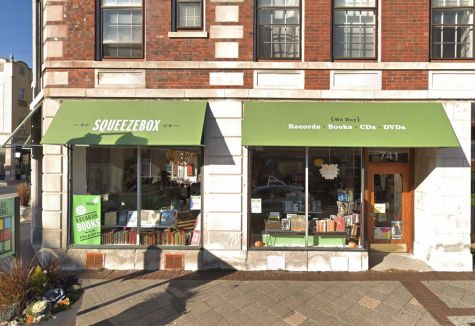 Opened in 2011, Squeezebox is a quality book store that also has a decent and fun record selection. It is basically half and half between books and music.
They recently switched to a larger location on Evanston's main street, so the buying experience has gotten a lot better and there are a lot more records on display to flip through. There is also a main street Metra stop, which helps if you ae too lazy to make the walk between here and Vintage.
The unique thing about buying from Squeezebox is that they do not have the typical ascetic of a book store, as they stress quality over quantity.
Logically since records are only half of the establishment, the selection isn't insanely large (quality over quantity) but it is substantial. They typically carry your usual rock, pop, hip hop, alternative, jazz kind of package.
Most of their stock comes through their door from shoppers like you, so the variety of stuff available always makes your trip interesting.
In addition to books and records, the store does have some turntables and quite stylish shop swag. They will also have all of the free record store day collectibles that are typically given out at participating stores (free compilation CDs, original poster, ambassador buttons, etc).
Tim is the owner, and is always a great help in the store, and will help find anything you are looking for. For online options, Squeezebox typically put things up on Discogs every once in a while.
Check their socials to make sure they have what you want as they are very awesome about being informative. If you are preparing to shop there on future Record Store Days, check out their social medias about a month early so you can send him your requests off the list so he can order exactly what you are looking for on the big day.
Squeezebox has a very wide selection of Record Store Day exclusives, and typically covers the majority of the list. They also have an extremely large event for Saturday, with 20% off on all non-RSD store items, and live performances by local artists Tommi Zender playing Donovan songs at 1:30 PM, White Wolf Sonic Princess at 3 PM, and Ex Machina at 4:30 PM. Doors open at 10 AM and per tradition, the staff will be in costume.
If you are looking for RSD-specific fun, go here (my personal suggestion is to go here in the morning to get your RSD exclusives, and then go to Vintage for general shopping, maybe only coming back for the live music).
AND NOW, THE MUSIC
Anderson .Paak – Ventura (RSD Eve Album Release)
& Anderson .Paak – Bubblin' (RSD Exclusive 7")
by Graham Pierson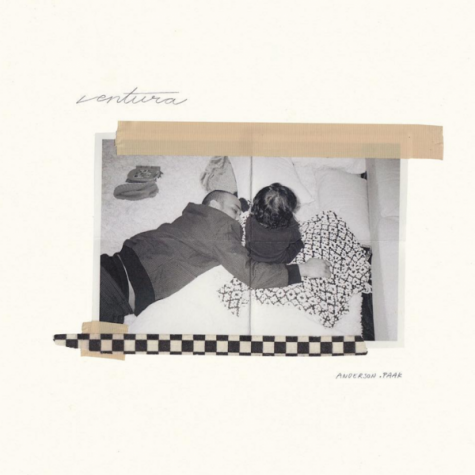 Less than five months after his previous album Oxnard, Anderson .Paak is set to release his fourth studio album, Ventura, on Friday, April 12.
Despite the album being recorded at the same time as Oxnard, the hip hop/R&B mogul stated that Ventura would show a different personality than that of his prior project.
.Paak has released 2 singles from the album: "King James" and "Make it Better," with the latter featuring Motown legend Smokey Robinson. Based on these two songs, Ventura seems to be focusing on .Paak's R&B side.
The 11 track album includes seven credited features, the most noteworthy being hip hop legend and former half of OutKast Andre 3000, as well as a posthumous credit to the late Nate Dogg. The other features are Lalah Hathaway, Jasmine Sullivan, Sonyae Elise, and Brandy. It's worthy to note that these are all R&B artists.
Although the album is not specifically a Record Store Day release as it comes out a day early, .Paak is releasing a limited edition record for his 2018 single, "Bubblin". The cream colored 45 with a Busta Rhymes remix of the track as the b-side will only be available for a limited run of 3000 copies.
Be sure to listen to Anderson .Paak's, Ventura, out Friday. Also, try to get your hands on a limited edition "Bubblin" 7" single on vinyl celebrating Record Store Day, April 13.
Pearl Jam – Live At Easy Street
by Joey Goodsir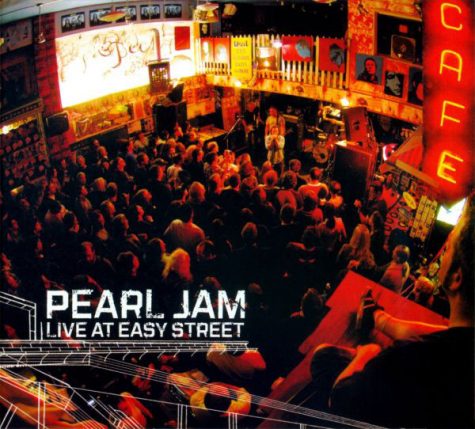 One of the reasons why this year's Record Store Day is especially special to me is because Pearl Jam (my all time favorite band) are this year's Record Store Day Ambassadors! While the rumors had a variety of suggestions on what their release would be, I'm very excited about what they chose.
In 2005, the Rock-n-Roll Hall of Famers performed a small surprise show at the iconic Easy Street Records in their hometown of Seattle (it is one of the most famous record stores in the country considering Seattle's music scene). The band has been a longtime supporter of keeping records alive, and at the time, this was their way of displaying that.
It connects to now, as this year's official record store day button pins that typically display the ambassadors (and will be handed out by stores Saturday) have a logo that imitates Easy Street's storefront and reads "Pearl Jam". Band members such as Eddie Vedder and Mike McCready also frequently shop at Easy Street, and have developed a friendship with owner Adam Tutty (seen seated on the bottom right of the cover).
While the band performed a 16 song set (along with ten soundcheck songs earlier in the day), only eight were released on the EP in 2006, as is with this vinyl re-release for RSD 2019. While disappointed, from past listens I can assure that it is a smart mix of tracks (Songs worthy of being highlighted: "½ Full", "American In Me (Cover)", "Save You", and "Porch").
Pearl Jam is one of the greatest live bands of all time, and their short set at Easy Street has no lack of typical PJ live style, with spontaneous and very unique covers mixed into a variable setlist of originals, creating another great addition to their massive live discography.
While some die-hard fans are disappointed by a simple re-release, the band has teased a special edition for members of their famous fan club "The Ten Club". As a member, I will likely wait to find out what the special edition will be before buying, but non-members should definitely seek out the RSD release on Saturday.
6000 copies of the 2019 Record Store Day Ambassadors Pearl Jam's Live At Easy Street (LP) will be released. Make sure to check it out for some great live sound, and it shouldn't be hard to pick up as an added bonus for your convenience!
The Struts – YOUNG&DANGEROUS
by Isabel Weisner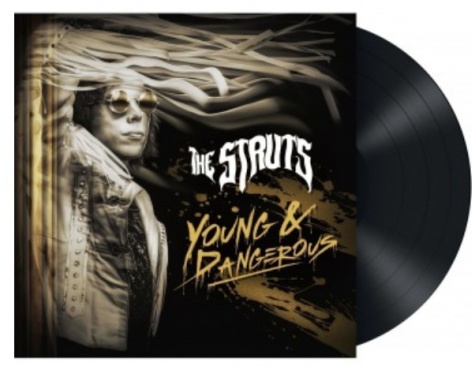 The English rock band The Struts released 13 songs on their most recent album YOUNG&DANGEROUS in 2018.
The album features a number of rock anthems with a strong percussion backing of drums and bass guitar. The iconic beat of many of the album's songs makes them immediately catchy and fun to listen to.
The energy that comes through each of the songs on YOUNG&DANGEROUS is really engaging as well, and always makes me want to hit replay! Lead singer Luke Spiller's unique and raspy voice carries the album wonderfully and his range is pretty incredible.
The band itself is reminiscent of classic rock band Queen due to their flamboyance and over-the-top stage presence during live performances.
After listening to the album, I'm excited to see how these songs translate to a live stage, and how watching the band perform makes their music even better.
The Struts' YOUNG&DANGEROUS (LP) will be available on a limited exclusive run of only 905 copies on Saturday, so be sure to get to the stores early to grab your copy. They will go fast!
White Stripes – Candy Cane Child (and RSD 3")
by Mr. Leyden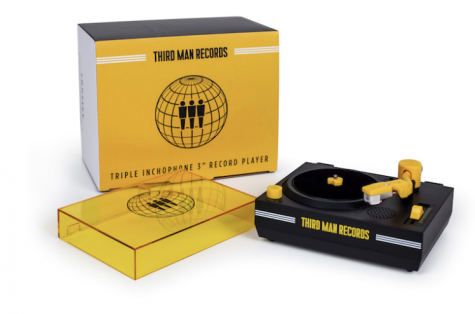 The turn of the new century was a notoriously brutal time for rock n roll. Emerging from the ashes of the grunge era, rap metal bands like Limp Bizkit and Linkin Park brought a warped combination of heavy riffs, lame rapping and record scratching that had me asking not if rock was dying but whether it deserved to die.
Luckily, underneath that mess of noise and phony masculinity was a husband and wife (or was it brother and sister?) duo dressed in black and red that channeled a bygone era of blues and rock. When I heard The Whites Stripes debut album -with Jack White making his guitar sound like a charging elephant, and Meg White playing a stripped down primal drum – I knew rock would survive. For the time being, at least.
On Saturday, Third Man Records will release a 3-inch album version of "Candy Cane Child" that you can play on a tiny record player, if that's your thing. Sure, it's a gimmick but it's also fun, and that's what Record Store Day is about.
But if you don't want to splurge on the tiny record, pick up a copy of Elephant, an album that belongs in any music lover's collection. Happy hunting.
The White Stripes' "Candy Cane Child" will be available in a set of mini 3" singles with other artists on Jack White's Detroit label and record press Third Man Records (Jack White (solo), The Rancoteurs, The Dead Weather). There is also a Epitaph blindbox set to be played on Record Store Day's own mini turntable (RSD3"), along with the Foo Fighters "Big Me" and KYU SAKAMOTO's "Sukiyaki" available on 3".
Make sure to look out for one of the most talked about set of releases of Record Store Day 2019.
Kip Moore – Room To Spare
by Catherine Greub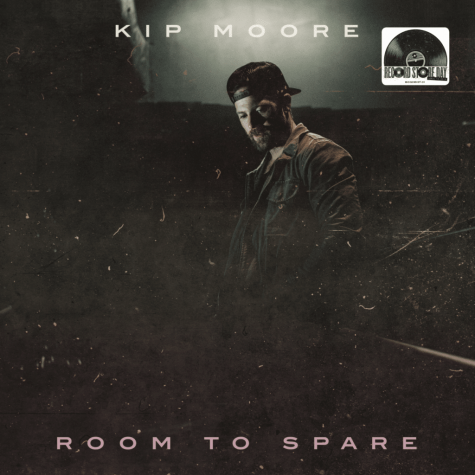 Kip Moore's Room to Spare album is filled with guitar solos, calming lyrics, and powerful moments all beautifully represented by Moore's acoustic session album.
Moore's music usually consists of a mix of rock and country and is always able to get the crowd up on their feet and dancing. Now, it is very different for listeners to see Moore in a calm and stripped down version of himself, yet still touching thousands of fans' hearts. In his song "It Ain't California", Moore does an amazing job with guitar solos and playing with ones feelings.
When I sat down and listened to the whole album with no interruptions, I found myself lost in my thoughts and talking in all the words Kip Moore sang about.
When he said he sang "Tennessee boy gonna sip a little shine" the sun was just peeking through my windows and the sunshine was increasing happiness with mellow guitar picking in the background. The guitar strummed a little harder and Moore went on to sing "spread a little joy around the world" and "who needs money, got a few good friends and a real good honey." His album clearly has the goal of positivity and happiness.
Overall, this album is definitely one for the books and will encourage more fans to listen to Kip Moore.
An exclusive version of Kip Moore's Room To Spare (LP, 1500 copies) will be available on Saturday with acoustic sessions versions of songs on Side A, and studio "essentials" on Side B. Be sure to check it out!
Courtney Barnett – Everybody Here Hates You
by Katie Pierce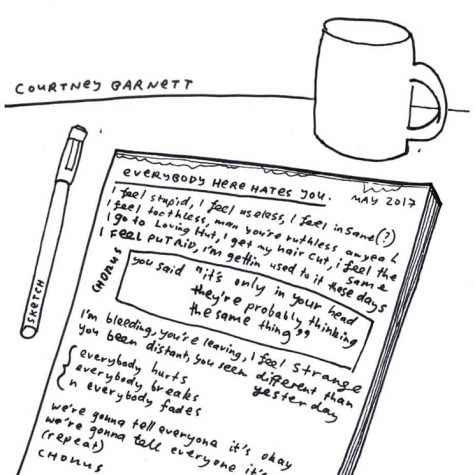 While Courtney Barnett isn't your typical alternative artist, she has proven herself to be one of indie's biggest stars through her own solo albums, as well as her hit duet record with Kurt Vile released in 2017.  
The writer of songs like "Pedestrian at Best" and "Avant Gardner" is back with her newest track since her 2018 album Tell Me How You Really Feel. Barnett's "Everybody Here Hates You" is slated to be yet another quirky hit, with the record including an old track from 2018 entitled "Small Talk."  
For new fans of Courtney's, be sure to expect stream-of-consciousness lyrics presented with deadpan speak singing, and random yet fitting guitar chords.  
Most of her songs are great for listening, but hard to sing along to, making her a unique artist; catchy music, but impossible to imitate.  
I'm excited to see what she presents in her next song – it's hard to predict what predefined lines Barnett will cross next.
2000 copies of Courtney Barnett's "Everybody Here Hates You" will be available on Saturday, a 12-inch single with "Small Talk" as the b-side. The artwork for the cover was done by Barnett herself! Grab your copy of this new music before anyone else can say they did, as it is sure to be an interesting listen.
Monty Python – Monty Python's Life Of Brian (Soundtrack)
by Casey Murray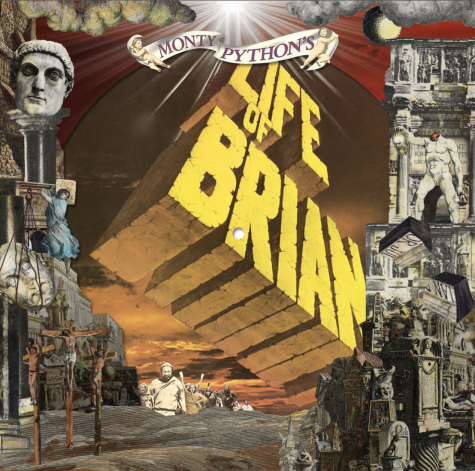 Forty years ago, the venerable mainstay of British comedy, Monty Python, inflicted countless laughter-related casualties upon the world in their flick "Monty Python's Life of Brian."
Now, the Pythons are releasing a limited-edition vinyl picture disc featuring new artwork and some unheard material from their archive – and of course, all of the music from the film – to celebrate the anniversary.
"Life of Brian" is an irreverent comedy, a commentary on the idiosyncrasies of activists and resistance movements, perfectly encapsulating the turbulence of the 1970s.
The film introduced the world to the mantra of optimistic stoicism in the face of adversity — "Always Look on the Bright Side of Life" — and its creators will surely introduce the world to new wonders with their record this Saturday.
2500 copies of the Life of Brian (2xLP) soundtrack on two limited edition picture discs will be "weleased" on Saturday. Make sure you give them a look, as they are definite highlights on the soundtrack side of Record Store Day 2019!
Brian May – New Horizons
by Isabel Weisner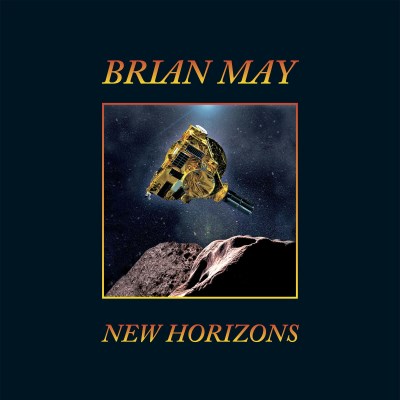 After the untimely passing of legendary vocalist and performer Freddie Mercury in 1991, Queen fans wondered whether they could expect any new music from the remaining members of the band: Brian May, Roger Taylor, and John Deacon.
Gradually, the band began to split apart but today May and Taylor continue to perform Queen's music with singer Adam Lambert.
On top of this, both May and Taylor have also released new music this year.
May's new single "New Horizons" describes the wonders of space and the journey of the NASA space probe of the same name that was launched in 2006. This may seem like an odd subject for a rock song, but coming from May it is no surprise! As well as being a celebrated guitarist, May is also an astrophysicist and often posts on social media about the newest findings in space.
I found it really fun to listen to his new song, knowing how much it meant to write it both from a musical background but also a scientific one. It was really unique to see his two passions combine to create this amazing piece of music. And despite taking on a solo venture, May's musical gifts are as evident as ever in "New Horizons," and the complex guitar riffs in the song are proof of that.
Following the release of Bohemian Rhapsody in theaters, and after witnessing its huge success during awards season, I was also grateful to also have some new music to listen to from the members of Queen!
Brian May's "New Horizons" (his first single in 20 years) will be available on 2500  numbered copies of 12" vinyl. Get out there on Saturday for a chance to be one of the lucky owners!
Those are all of the previews we have. Thanks to all the guests for participating on this project!
If you want to catch a look at more releases, I highly recommend this big video (which is uploaded every year) breaking down each and every thing that is coming out on Saturday – all the way down to the free items that will be handed out. It is a valuable watch for all RSD shoppers:
We hope you enjoy celebrating the beauty of music in it's purest form this Saturday, and see you out at all the independent record stores. Support your local businesses and keep on – as our 2019 ambassadors would say – spinning the black circle!
As a bonus – here are some other big releases to look out for on Saturday that were not mentioned above:
Friday Night Special Online Release
Nirvana – Live At The Paramount (2xLP Colored Vinyl)
RSD Exclusives
Louis Armstrong – Disney Songs The Satchmo Way (LP, 4200 copies)
Bob Dylan – Blood On The Tracks (Original New York Test Pressing Edition) (LP, 7500 copies)
Fleetwood Mac – The Alternative Fleetwood Mac (LP)
Aretha Franklin – The Atlantic Singles 1967  (7" Box Set)
Modest Mouse – Poison The Well (7″ Vinyl, 1500 copies)
Two Grateful Dead Releases
RSD Limited Run/Regional Releases
Billy Joel – Live At Carnegie Hall 1977 (2xLP, 3000 copies)
Notorious B.I.G. and Craig Mack – B.I.G. MACK (Original Sampler) (LP + Cassette)
Two Madonna LPs
Mumford & Sons – Delta Acoustic Sessions (10" Picture Disc, 3500 copies)
My Chemical Romance – The Black Parade Is Dead (2xLP)
Pink Floyd – A Saucerful of Secrets (Mono, LP, 6500 copies)
Two Iggy Pop Releases
Two Prince Releases (one on cassette)
Two Queen Releases (one of which Bohemian Rhapsody Soundtrack Picture Discs)
Ramones – Live at the Palladium (2xLP)
Three Rolling Stones Releases
Breaking Bad Soundtrack (2xLP, 3500 copies)
Spider-Man: Into The Spiderverse Soundtrack (LP, 3000 copies)
Two Weezer Releases (Including the Teal Album on Teal Vinyl)
Baby Shark (Yes, actually) (7″ Picture Disc, 1000 copies)
RSD First Releases
Allman Brothers Band – Bear's Sonic Journals: Fillmore East (LP, 1500 copies)
David Bowie – The World of David Bowie (LP, 3500 copies)
Two James Brown Releases
Eric Clapton – One More Car One More Rider (3xLP, 3000 copies)
Def Leppard – The Story So Far Vol 2/B-Sides (2xLP, 2000 copies)
Dr. Dre – Nuthin' But A "G" Thang (12" Vinyl Single, 2400 copies)
Gorillaz – The Fall (LP, 4500 copies)
Al Green – The Hi Records Singles (7" Vinyl Box Set, 1500 copies)
Green Day – Woodstock 1994 (LP, 6800 copies)
Greta Van Fleet – From The Fires (LP, 7000 copies)
Herbie Hancock – Dedication (LP, 2000 copies)
Elton John – Live From Moscow (2xLP, 4000 copies)
DJ Khaled – Victory (2xLP, 2100 copies)
John Lennon – Imagine (Raw Studio Mixes) (2xLP, 5500 copies)
The Police – Message in a Bottle (2 x 7" Vinyl, 1000 copies)
Rush – Hemispheres (12" Picture Disc, 5000 copies)
U2 – The Europa EP (12" Vinyl Single, 5000 copies)
Mickey Mouse Disco (LP, 3500 copies)
XXXTENTACION – XXXTentacion Presents: Members Only Vol 3 (2xLP, 2000 copies)