The Dish: Big Ed's
Located just a couple of minutes north in Waukegan, Big Ed's has been recommended to us by multiple people in the past year. Known for their incredible burnt ends and brisket, this barbecue joint has long been considered a staple for barbecue lovers up and down the North Shore. The spot has also received acknowledgment for their wide array of sides ranging from mac n cheese to coleslaw to mashed potatoes. The spot has received an average rating of 4.5 stars on Yelp and almost every review praises the restaurant for its homey feel and always quality food. It's hard to find two teenage boys who don't love some good barbecue so we headed north to satiate our taste buds.   
Affordability 7/10
Paying together, the total for our meals came out to be right around $57. And for the quality of food that we received, we have no complaints for the pricing of our meals. Big Ed's came out to be around $19 per person, a little on the steeper side. But, our meals included drinks, entrees, and sides for all three of us. The portions we received were pretty large, and the BBQ filled us up more than the average meal. Pricing improvements could be made to make their restaurant friendlier for high school students, but we were satisfied from what we received.
Environment: 9/10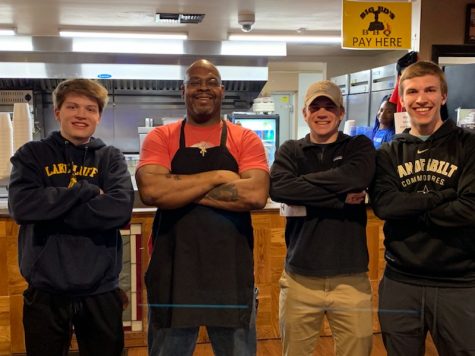 A bar, a game room, a seating area… you name it, Big Ed's had it. From the outside it was hard to tell what lied inside, but upon entry we could tell this place was legit. One detail we loved was the clear glass window in the front of the restaurant. Here you could watch your meat get cut up before it was brought out to you. The bar was fairly busy for a Tuesday night with a couple of folks hanging out. All the open tables were clean and well kept throughout our entire experience. Although we didn't get the chance to use them, there were an array of arcade games in the back of Big Ed's to keep the kids entertained during a family meal. The layout of the restaurant was second to none. The spot is tucked behind Walmart which could be a bit confusing, but wasn't a problem for us. We feel like Big Ed's would attract even more customers if they were located in a better area, but they are certainly successful with what they're doing.
Food Quality: 10/10
In my personal opinion, Big Ed's gave us the best quality food out of all the restaurants we have visited up to this point on The Dish. Our orders included a wide array of meats and sides: brisket, rib tips, pulled pork, mac and cheese, mashed potatoes, fries and cornbread. Each meat was cooked perfectly and the rub that they used on both the brisket and rib tips gave both meats a distinct, smoky taste. That smoky taste was coupled beautifully with the SIX different homemade barbecue sauces that they had stationed at each table. All three of us decided to use their original tomato based sauce and we were more than pleased. Big portions paired with extremely high quality and meat and sides made our mouths water for the entire time that we were at Big Ed's. On top of that, Big Ed's even brews their own sweet tea (making Will very happy) and adding a little southern flair to the joint. The mac and cheese was creamy and very cheesy and the mashed potatoes had great flavor. It was hard to find a single flaw in the food we received from Big Ed's and that is exactly why Big Ed's received a perfect ranking when it comes to food quality.
Service: 9.5/10
From the first second we walked into Big Ed's, we felt at home and it was apparent that the entire staff was determined to make each and every customer feel at home. Whether it be recommending a certain meat or insisting we take a picture with Big Ed himself, everyone working there wanted to make sure that our visit was nothing short of perfect. Big Ed even came out of the back of the restaurant for a photo op and to talk to us about how our meals were and if we'd come back. Big Ed's is one of few places we have been to where the staff has been beyond hospitable and also extremely efficient at the same time. We didn't have to wait for anything and we also could tell that our satisfaction was their goal.
Spear Rating: 4 SPEARS (out of 4)