Has LeBron James Negatively Impacted His Legacy?
LeBron James is a three-time NBA champion, four-time NBA MVP, three-time NBA Finals MVP, 14 time NBA All-Star, 14 time All-NBA selection, Rookie of The Year–the list goes on. He is also a two time Olympic gold medalist and high school national champion. James has won almost every basketball award imaginable and along with an extensive list of awards, has an overwhelming resume of accolades. LeBron is the fourth of all-time in scoring, passing Michael Jordan earlier this year, 10th all-time in assists, first all-time in scoring in the NBA Playoffs, fifth all time in career triple-doubles, and that's only scratching the surface.
With his success, LeBron is regarded as one of the greatest basketball players of all time, and has even started to challenge Michael Jordan as the very best. His ability to put a team on his back is perhaps unrivaled. This was most apparent when we willed the Cleveland Cavaliers to a victory in the NBA Finals against the 73-9 Golden State Warriors, after going down 3-1 in the series. At 34 years old and his 16th season coming to a close, James has been in his prime since he entered the league as an 18 year old kid straight out of high school. The effect he has on his team as well as the longevity in his ability to produce is a big factor in his potential GOAT arguments.
James has made the NBA Playoffs for 14 straight seasons. Not only that, but he has gotten to the NBA Finals in eight straight seasons. This season however, we will not see LeBron in the Finals. In fact, we won't even see him in the playoffs.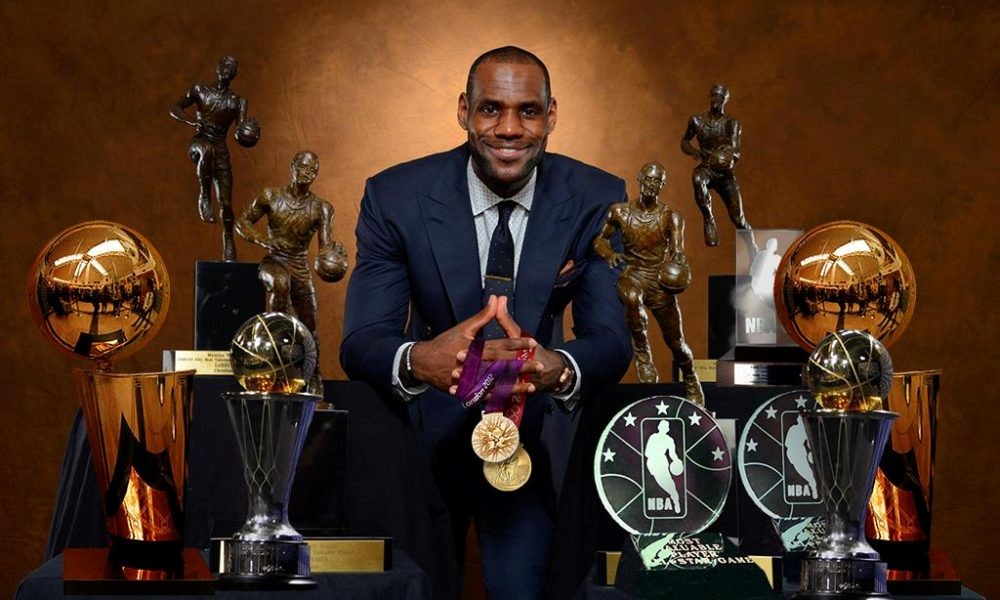 Prior to the 2018-19 NBA season, James announced he would leave his hometown Cleveland Cavaliers to join the most influential franchise in the NBA: the Los Angeles Lakers. The Lakers had had a rough few years, having not made the playoffs since the 2012-13 season as well as having their worst season ever in the 2015-16 season, posting a dreadful record of 17-65. Being such a historic and successful franchise, naturally, they were sick of losing. With the addition of the best player in the world, a man who instantly made any team a championship contender, the expectations were through the roof.
The team paired young star prospects, such as sophomores Lonzo Ball and Kyle Kuzma, as well as third year small-forward Brandon Ingram, with seasoned veterans, such as Rajon Rondo, Tyson Chandler, and, of course, Lebron James. The plan was to have the more experienced players mentor the young Lakers and help them develop their own game.
It seemed to be going well. By Christmas, the Lakers were 19-14, sitting at the fourth spot in the Western Conference and only 3.5 games behind the first place Golden State Warriors. On Christmas Day, the Lakers had a highly anticipated game against said Warriors. This game, despite it falling under the win column, would prove to be a catastrophic shift in the Lakers season.
LeBron James suffered a groin injury four minutes into the third quarter of the Christmas day game. LeBron would miss 17 games and the Lakers would go 6-11 in that stretch. When LeBron returned, it seemed all of the chemistry that had been developed prior to the injury was gone and the Lakers completely fell apart. On March 23, the Lakers were officially eliminated from playoff contention and LeBron elected to sit out the rest of the season to avoid any other injuries. The Lakers finished their season last night with a loss to the Portland Trailblazers, ending with a record of 37-45 and currently sit at 10th in the Western Conference, 10.5 games out of the playoffs.
The disappointing ending to a season with very high hopes has some people questioning Lebron's legacy. The inability to live up to expectations doesn't sit well with many basketball fans. So the question is, does LeBron missing out on the NBA Playoffs this year negatively impact his legacy?
I say no.
There are so many reasons why one bad season shouldn't damper LeBron's legacy. Without his injury, the Lakers could very well have kept their seemingly successful season going. It was an obvious turning point in the Lakers season and prior to the setback, the Lakers were thriving. James also didn't return from injury at his full strength. After sitting out for 17 games, James returned for one game, but was sore and had to sit out another game.
"
LeBron's mission to impact the lives of others speaks more loudly than basketball."
In reality, this season should do nothing but strengthen LeBron's legacy. He passed Michael Jordan in career points and now sits at fourth all time. Jordan, who is widely considered to be the greatest player of all time, is also considered the greatest scorer of all time. He also broke into the top 10 in career assists. He is the only non-guard in the top 10. The next highest forward is Scottie Pippen, who has the 33rd most assists.
People seem to forget about all the awards and achievements that James has acquired over his illustrious career. Missing the playoffs for the first time in 14 years doesn't take any of them away. His MVPs aren't disappearing, his point total isn't decreasing, his championship rings aren't being taken away.
Most importantly, LeBron's legacy is so much more that basketball. His work off the court has impacted so many lives. LeBron has used his platform in a way that positively influences the entire world. James has possibly had the biggest off-court influence in the history of the NBA.
James's charity foundation, The LeBron James Family Foundation, contributes to countless causes, mainly for the less fortunate youth of America. LeBron recently opened up a school in his hometown of Akron, Ohio called the "I Promise School." The school provides free tuition, bikes, helmets, transportation, breakfast, lunch, snack, a food pantry for families, GED or job placement for families, and tuition at University of Akron for all the graduates.
James is also very vocal about pressing political issues, frequently raising awareness about racism and oppression in America. Last year he produced a civil rights documentary called "Rise Up." The film tracks the perseverance of African Americans in their quest for equality. LeBron has faced criticism about his outspokenness toward important political issues in our society and this was put on full display when Fox New anchor, Laura Ingraham, said that NBA players (specifically James and fellow NBA superstar, Kevin Durant) should just "shut up and dribble." This particularly close-minded, offensive remark only fueled LeBron's mission to bring awareness to the state of the US. James created a documentary called "Shut Up and Dribble," in which he discussed racism in America, highlighting the impact that athletes have on society.
LeBron's mission to impact the lives of others speaks more loudly than basketball.  LeBron's athletic achievements speak for themselves. There's no denying his greatness on the court. But a legacy is what is left of something after it is finished. When LeBron decides to hang it up, his presence off the court will be felt for a very long time.