College Corner: Week 8
Hang on for a minute...we're trying to find some more stories you might like.
In Logan Hanekamp's column, College Corner, she interviews five seniors who have decided on their colleges and learns about why they chose their school.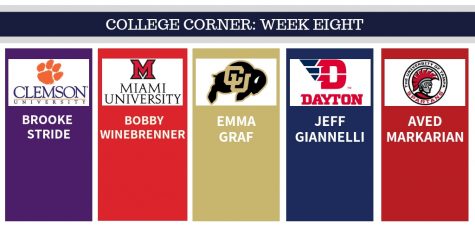 Name: Brooke Stride
College: Clemson University
Location: Clemson, South Carolina
Mascot: Tigers
Why Clemson?
"I chose Clemson because everyone there seemed like the happiest people on Earth. Students were yelling at my tour group, "You have to go here!" "Best decision ever!" and stuff like that which really made me want to be a part of that school pride. They also have an awesome nursing program which I'm so excited to be a part of this coming fall!"
What are you most excited for?
"I'm most excited for the school spirit and community that's present at Clemson. They have so many awesome school traditions. The football games will be amazing and the great southern food is gonna make it hard to not get the Freshman 15!"
Name: Bobby Winebrenner
College: Miami University
Location: Oxford, Ohio
Mascot: Redhawks
Why Miami?
"I never really thought about Miami until last year when my sister was a freshman, and I visited her and loved it. It's a great size and the campus is tight-knit and also fees like an ideal college town."
What are you most excited for?
"I know a lot of kids going either mutually or that I've known for some time and it will be fun to build these relationships and enjoy some independent time away from home."
Name: Emma Graf
College: University of Colorado Boulder
Location: Boulder, Colorado
Mascot: Buffalos
Why Boulder?
"I chose Boulder because it is located in such a cool area with so many different opportunities. Denver is only 45 minutes away and some major ski resorts are about 45 minutes to a few hours away. Boulder's Arts and Science Honors College is a highly accredited school and their Business school is nationally ranked. There are so many opportunities for students to get connected."
What are you most excited for?
"I am really excited to meet new people and to experience all of the fun activities Boulder and Colorado in general has to offer!"
Name: Jeff Giannelli
College: University of Dayton
Location: Dayton, Ohio
Mascot: Flyers
Why Dayton?
"I chose Dayton because it felt like home; there is a elementary school right next to campus I loved seeing the little kids outside during their recess. I have friends there so the transition will be nice and easy. I loved the layout of the campus too!"
What are you most excited for?
"I am super excited for this new chapter of my life and to see all of the fun clubs and activities Dayton has to offer."
Name: Aved Markarian
College: The University of Tampa
Location: Tampa, Florida
Mascot: Spartans
Why Tampa?
"I chose Tampa because it is a good sized school which I was really looking for and it is also near a city so I have somewhat of an urban feel. I also chose Tampa because I really liked the warm weather."
What are you most excited for?
"I am most excited to make new friends and experience all the different things that college has to offer."
About the Writer
Logan Hanekamp, Editor
Logan Hanekamp is a senior at Lake Forest High School who is a dedicated field hockey and lacrosse player. She loves good weather, her dog (Cody), and...