Can you be too old for Disney?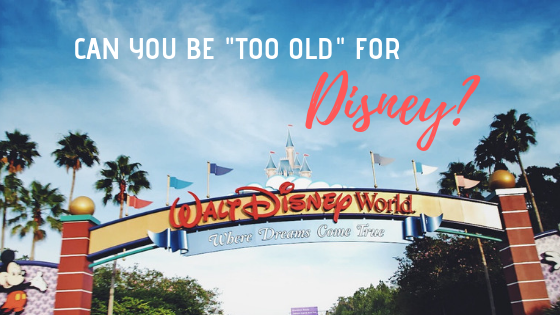 "Aren't you guys a little old for Disney?" my friend's mom asked as we were planning our senior spring break to Orlando, Florida, to visit Walt Disney World.
I was taken back by her question. Too old for Disney?
Can someone be too old to enjoy something as magical as Walt Disney World?
While I believe there is no age limit to going to the Disney Parks or simply watching Disney movies, I realized that there are some people who might raise an eyebrow at a group of high school senior girls obsessing over a trip to Disney World.
Why should they raise an eyebrow though?
According to the 2017 AECOM and TEA Theme and Museum Index Report, Walt Disney World's Magic Kingdom in Lake Buena Vista, Florida, ranks as the most popular theme park in the world, with a total amount of 20.45 million visitors in 2017 alone.
"I love all the parks but I think I agree with the majority when I say that Magic Kingdom is my favorite. It is named perfectly, being magical in every sense of the word," said junior Abby Wickman, who is visiting Disney World this spring break with her family.
And while Magic Kingdom may be the most well-known park, it certainly isn't the only one that Disney has to offer.
"Disney remains king of the industry with the top five parks in North America… There are six Disney parks among the Top 20 theme parks in North America and those six parks account for 55% of total attendance," AECOM and TEA said in their report.
Just by looking at the numbers, one can only begin to grasp the popularity and desire that fuels millions of people to travel to the Disney parks each year.
But what makes Disney so popular? Why exactly do people love Disney so much?
"My favorite part of Disney World is the atmosphere it brings," Wickman said. "Disney goes above and beyond on making sure every detail of the parks are perfect, making it so that even if you've been countless times, there is always more to discover. All of the architecture, landscaping, food, and even smells make Disney World an exciting experience."
Sophomore Anna Randall said that Disney has always inspired her to embrace who she is.
"Disney really inspired me when I was young to do what made me happy. I knew when I was at Disney that I could act like a princess, pirate, or even a mermaid and everyone there would embrace it," she said. "Disney is a place where you can be anyone and feel comfortable acting youthful and free and it really has inspired me to be more genuinely myself when I am around my peers."
But Randall isn't the only one in her family who loves Disney. In fact, her entire family, including her older brother, senior Sam Randall, shares the same passion for Disney and all it has to offer.
"First, I have to say that I grew up in a crazy, Disney-loving family, most of that due to my dad who grew up in Florida going to Disney all the time. In my house you'll find Mickey pencils, paintings, and even our silverware has a cutout of Mickey in them," he said.
The eldest Randall sibling, who's experienced almost everything Disney has to offer, including the Disney parks and a Disney cruise, has one favorite part about each of his experiences: the customer service.
"If you've ever gone to Disney and compared it to Universal [Studios] or any other theme park, or restaurant for that matter, you'll find that every single person at Disney treats you like the center of the entire universe and makes sure you are having the time of your life," he said.
So people love Disney because it inspires them to be themselves and has great employees. What exactly makes that geared only towards little kids?
It isn't only toddlers and teenagers that enjoy the Disney parks, but adults as well.
Social studies teacher Kelly MacBlane traveled to Florida from Chicago for 10 summers in a row to work at Walt Disney World, first while she was a college student at Northwestern University and even while working as a teacher.
"I was friends with the characters," MacBlane said when asked about her experience at Disney World. "I worked very closely with Chip and Dale and Winnie the Pooh, so I got to meet and greet the fans that came to meet the characters. Being there was really fun, but then, I really loved the job also."
Disney World is very connected to her history and family, MacBlane said, so that there is no one favorite memory that stands out.
"From going as a child, working there, my husband even proposed to me at Disney World… When I'm down there it's very nostalgic and it brings all those memories back. I love seeing my own kids now creating memories and enjoying the time there."
To prove that Disney isn't simply for kids, MacBlane is yet another example of how much Disney can have an impact on one person's life, even as an adult.
The truth is that even as a senior in high school, I love rewatching Disney movies or listening to the soundtracks from films like Hercules or The Princess and the Frog.
I believe that Disney has made an impact on all of our lives at some point — whether it be from watching Disney Channel on Saturday mornings as a kid, dressing up as a Disney princess for Halloween, or traveling to Disney World. Disney brings out the child and imagination that exists in everyone.
Tonight, I will be leaving for Florida with four of my best friends for spring break.
Instead of obsessing over tanning on the beach, however, we'll be grabbing our Mickey ears, fanny packs, and cameras to prepare for the event we've been looking forward to for months: exploring Disney World.
It doesn't matter if you're four years old, 18, or 80.
The fact is: Disney has no age limit.
As Walt Disney himself once said, "Laughter is timeless, imagination has no age, dreams are forever."