Scouts Stay Calm in an Aggressive Game Against Highland Park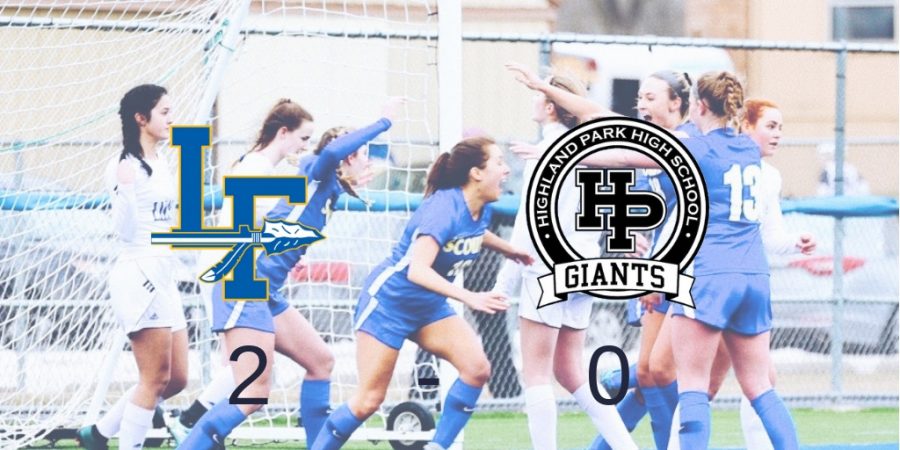 "It was one rowdy game," senior midfielder Ashley Bufe describes last night's match up against Highland Park. The Scouts took down the Giants 2-0 last night in a highly aggressive game. When Lake Forest sees Highland Park on their schedule, they know it will be a tough game to prepare for. The Scouts have a long standing rivalry with the Giants so it was crucial for the Scouts to mentally and physically prepare for this intense game. Highland Park usually comes out with lots of aggression, and last night was no different.
"We went into the game with the mentality that we couldn't get frustrated with calls or with their playing style," senior forward Margaux Miller added.
Highland Park is a good team, but Lake Forest came into the game knowing if they played their game with their style, they could come out on top. As the game began, the Scouts displayed great communication and had beautiful connecting passes which led to many extremely close chances. The Scouts had great movement towards the goal and were bound to get a goal soon. It wasn't until later in the first half when Eilise Stanley capitalized on a beautiful cross by Ainsley Allan and scored the first goal for the Scouts.
Immediately following the goal, Highland Park grew frustrated and turned their frustration into more aggression. Lake Forest stayed calm and played their game holding the score to 1-0 until three minutes left in the game when Callie Birtman scored off another cross by Ainsley Allan.
This was a great end to the Scout's preseason run as they feel well prepared for the upcoming conference season. Ending preseason with a 3-1 record, the Scouts look ahead for a strong regular season to prepare them for a successful postseason run. After Spring Break, the Scouts will come back to an away game against North Shore Country Day on April 4th.
About the Contributor
Logan Hanekamp, Editor
Logan Hanekamp is a senior at Lake Forest High School who is a dedicated field hockey and lacrosse player. She loves good weather, her dog (Cody), and...