TEDx LFHS 2019 is Approaching! Here's What to Expect

LFHS's premier thought-provoking event of the year is on the horizon.  The annual LFHS TEDx event will take place on Wednesday, March 13th, and is sure to leave the audience more inspired and informed than when they walked in.  
This year marks the event's 5th anniversary and has solidified an iconic event within the school, but the event will be slightly different this year than year's past.  Event organizer and creative director, Jimmy Juliano, is adding some flare to the show this year such as several musical performances and a number of other unorthodox performances.
"The music should mix things up a big. It will most definitely help with the flow of the show, and some of the best feedback we get every year is complimentary of the music and variety," said Juliano.
The event will also be hosted by two student MC's for the first time.  Sophomores Cole Joseph and Caleigh Albus will take the reins this year and set an example for the future.
Per usual, the event will be live-streamed on tedxlfhs.com for the public to witness the event.  This live stream is critical because the event hit max capacity very quickly after spots were made available for reservation.  So if you were unfortunately not able to reserve a spot, fear not. Each talk/performance from the event will also be posted on the website after the event.
Juliano and Corey Holmer, the technical director, showed excitement for this year's adult speakers.
"Our adult community speakers are great this year.  We are very excited to have Joel Chmara speak, a world-renowned poet and speech professor. And he's given feedback to our other speakers as well." said Juliano
"Also Derek Hale, a former Navy Seal, and current Navy instructor should present some great ideas and perspectives to the audience," said Holmer.
The event begins at 10:25 and will run until 1:50 in the afternoon so be sure to mark down the date and time and watch the stream.
"I hope that the people sense the energy of the event, I want it to feel energetic and fun.  We want it to be people expressing who they are and having a good time," said Juliano.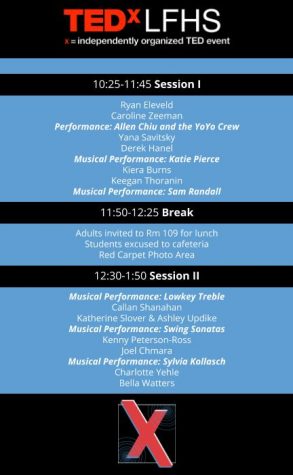 About the Writer
Michael Pasquella, Editor
Michael Pasquella is a thriving senior at LFHS who plays for the boy's varsity basketball team. He is excited to return to school to make his debut as...