Outdoor Adventures Snowshoes: An LFHS Tradition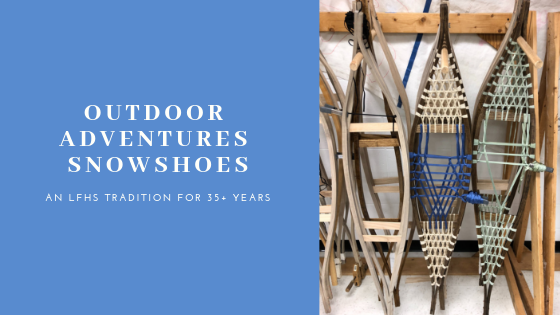 Through the next few weeks, you many notice seniors walking through the halls with odd-shaped wooden structures, freshly stained and dangling with lace. These would be the infamous Outdoor Adventures Snowshoes, the coolest project assigned to the senior-only Outdoor Adventures Class. Every year, the second semester seniors of this class work countless hours on making these shoes, which has been an LFHS tradition for years. I sat down with Mr. Ray Werner, the teacher of this iconic class, and talked to him about the history of these incredible shoes.
How long have you been teaching this class?
"Since 2006."
How long have you been making the shoes?
"Skip Atwell and Mark Samuels started the Outdoor Education and Adventures classes in 1977, and started making the snowshoes in the early 80's."
How did the tradition start?
"The tradition of making the snowshoes in Outdoor Adventures was from the founders Skip Atwell and Mark Samuels, kind of with the idea of 'let's make something useful with our hands that can be used in the outdoors in an adventure type setting.' They enjoyed craftsmanship and building and making things, and they went to a conference that presented the idea and decided to bring it to Lake Forest."
What makes them so special?
"I look at them as a tool to get students to start to think about what's next. When you think about putting on cross country skis or snowshoes, it's all about where you're going. And with second semester seniors, they're all going somewhere else and they're gonna be doing something beyond Lake Forest High School. It's great to have them physically make something that requires using tools that could be used in the future like attention to detail, creativity, and becoming comfortable with making mistakes. The snowshoes are all going to be different and none will be perfect, just like us, and so it's great being able to use this project to help teach those things now. Metaphorically, it really has to do with the journey that our seniors are gonna be heading on come June."
What is the best part about making the shoes?
"Aw, I absolutely completely enjoy the group of students that I work with, and some of them have never played in a wood shop; some haven't made anything artistic from start to finish, and helping them walk through that process and being able to talk it through with them is great. Often times that conversation veers off the shoes and about other things, so the shoes become a great tool to start conversations."The shoes have truly become an LHFS staple over the years and will continue to be iconic here for many years to come. The ODA snowshoes are an incredible and historical project that will continue to challenge the seniors each year.
Although a lot of work, the end product is totally worth it. Mr. Werner left me with this: "It's also wonderful to see the joy and excitement in someones eyes knowing that they made this with their own hands. When they carry it around saying 'I did this,' it's a great feeling that everyone should experience."