College Corner: Week Six
Hang on for a minute...we're trying to find some more stories you might like.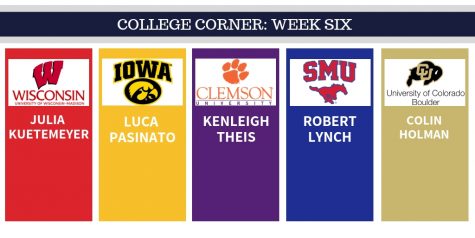 In Logan Hanekamp's column, College Corner, she interviews five seniors who have decided on their colleges and learns about why they chose their school.
Name: Julia Kuetemeyer
College: University of Wisconsin Madison
Location: Madison, Wisconsin
Mascot: Badgers
Why Wisconsin?
"I chose Wisconsin because I love how it's a perfect balance between amazing education and a great social scene. My dad went to UW and my sister goes there now, so I've grown up always loving the school. Whenever I visited a school I would always compare it to Wisconsin, so I just knew that it was the school for me!"
What are you most excited for?
"I'm most excited to be a part of Greek life and join a sorority as well as meet a lot of new people!"
Name: Luca Pasinato
College: University of Iowa
Location: Iowa City, Iowa
Mascot: Hawkeyes
Why Iowa?
"I chose Iowa because when I visited over the summer I really liked it and any time I visited other schools, I continued to compare them to Iowa. When I visited Iowa for admitted students day, I still loved it so that's when I knew it was the place for me."
What are you most excited for?
"I am most excited to be on my own for the first time and leave Lake Forest, but I know I'm gonna miss it. I am also excited for all of the great things Iowa has to offer like sports, school, and new friends just to name a few."
Name: Kenleigh Theis
College: Clemson University
Location: Clemson, South Carolina
Mascot: Tigers
Why Clemson?
"I chose Clemson because it felt so much like home, and I loved the campus. The campus is really walkable and the weather is perfect. Everyone I met there was so friendly and they had such great school spirit I knew I wanted to be a part of it. Overall, I fell in love with the school and every aspect about it. "
What are you most excited for?
"I am most excited to rush in the fall and go to football games and watch them hopefully win another National Championship. The freshman dorms are all brand new so that will be super nice to live in as well!"
Name: Robert Lynch
College: Southern Methodist University
Location: Dallas, Texas
Mascot: Mustangs
Why SMU?
"I chose SMU because because it was one of the best schools I could've gotten into, and I loved it during every visit I had. I also chose it because my my brother Colin goes there and the weather is always so nice and warm."
What are you most excited for?
"I am most excited to meet new people and start school in the undergraduate business program."
Name: Colin Holman
College: University of Colorado Boulder
Location: Boulder, Colorado
Mascot: Buffs
Why Boulder?
"I chose Boulder because my brother went to Boulder and my sister is a junior there right now and I have been visiting for five years now; I just love the campus and all the opportunities they offer. Plus it is a fun school so I'm excited."
What are you most excited for?
"I'm really excited to study sports management and advertising and also to just be in Boulder, Colorado, because it is always super nice there. I'm also excited to meet a lot of new people from all over the country."
About the Writer
Logan Hanekamp, Editor
Logan Hanekamp is a senior at Lake Forest High School who is a dedicated field hockey and lacrosse player. She loves good weather, her dog (Cody), and...