Talent Show Preview In Photos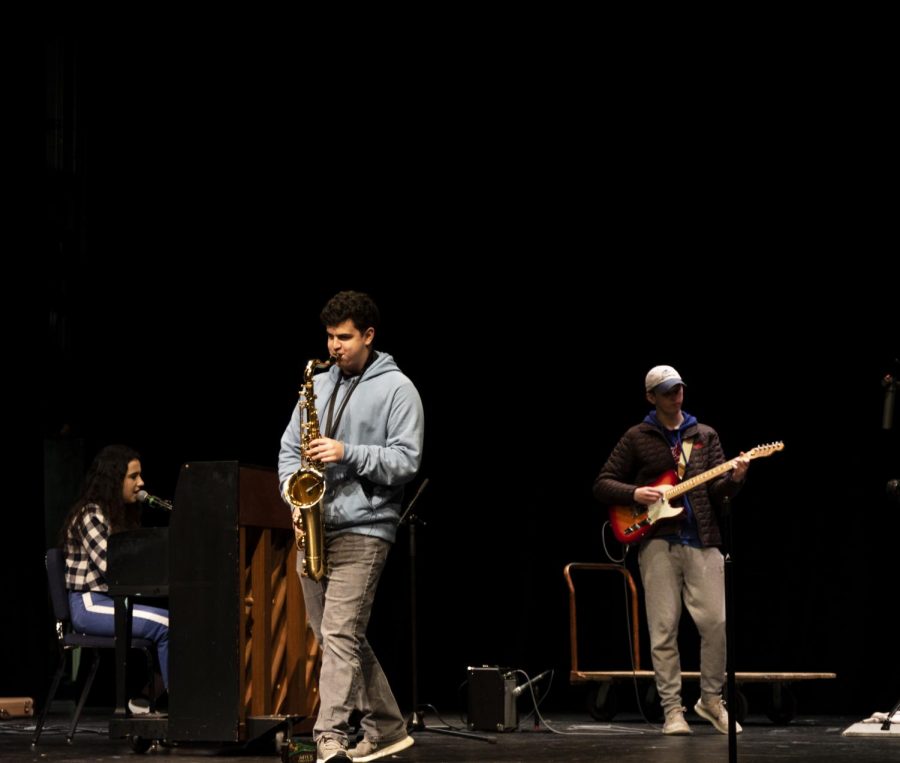 Sam Randall and his band Carpool kick off the show with flashing lights, Sam singing while walking through the audience, and the band's signature sound.
Lucas Redding has the assistance of the emcees in seeking out audience members to feed him random words to inspire spontaneous freestyle rap.
Elizabeth Lyon whisks us away to a concert hall along with Kathryn Li, performing a classical piece that adds perfect contrast to the show's different musical talent.
The LFHS Dance team takes the stage with more flashing lights, running down the aisles smiling and energetically.
Sylvia Kollasch and Kate Stephenson wrote original songs that they perform in front of you, a creation that you may never have heard before.
All of these are snippets of what's to come in the Talent Show, opening tomorrow night at 7 pm in the RMA.
"This is my fourth year working on the show, and I can say without a doubt, it is the best year yet," said Talent Show teacher liaison Mr. Corey Holmer. "I have been fortunate to observe some of the seniors over the past four years growing as musicians and leaders. This year's show was indeed a team effort, with the junior and senior committee stepping up and putting together a fantastic show."
Alongside hard work from the students, parents and adults have been huge supports for the show.
"I want to give a shoutout to the student committee and parent team, especially Ms. Gescheidle, Ms. DeLuca, Ms. Dreiling, Ms. Malec, and Mr. Douglass," Holmer said.  "It has been a blast working alongside such a talented and hardworking bunch."
As for the show itself, Holmer assures that "you will not be disappointed."
"Stop on by the show this weekend and see some of the most talented individuals LFHS has to offer," he said.
Check out these pictures for more highlights of this year's show.
Rafa Swerdlin of J.O.E.
Jaclyn Lonergan and Antoinette Pompe van Meerdervoort of Let Me Be Your Star
Ryan McFadden of Grapefruit.
Kate Stephenson of J.O.E.
Katie Pierce and Robert Hammond of The Swing Sonatas.
Kathryn Li and Elizabeth Lyon.
J.O.E.
All pictures courtesy of Jane Nugent.
About the Writer
Katie Pierce, Editor in Chief
Katie Pierce is a proud senior at Lake Forest High School. Besides being Editor-in-Chief of TFS, Katie is a drum major of the LFHS band, and spends most...