Scouts Look for Momentum to Build on as Season Winds Down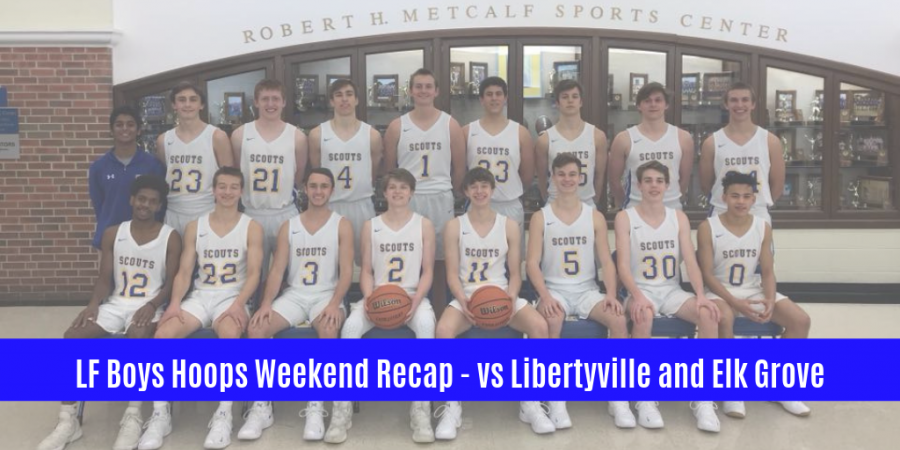 LAKE FOREST, Ill. — With the final stretch of the season amongst us and the IHSA playoffs on the horizon, the Lake Forest Boys' Basketball Team had two matchups this weekend with the hope of building momentum as they approach the end of the season. The game results didn't ultimately go in the best way possible, but the Scouts found some positives to build on as well with a 1-1 record as they fell to Libertyville 55-46 and knocked off Elk Grove in a revenge game on Senior Night 62-48.
Coach Phil LaScala and company found out they earned the #15 seed in the Waukegan Sectional and will be squared up against Highland Park in the first round with the Stevenson Patriots looming. As playoff seeding was already announced and the conference title out of reach, the weekend's games didn't have a whole lot of implications for LaScala's squad.
2/15 vs. Libertyville:
As always in a tense rivalry game like this, both teams came out with serious energy and passion. The Scouts scored on their first three possessions and looked poised to play til the very end. Libertyville used a couple big three-pointers to hang around at first but they ultimately built much more on that.
The Wildcats surprised Lake Forest with a 2-3 zone which made matters difficult all night. The Scouts struggled to keep up with Libertyville's scoring as the visitors took a four point lead into the halftime intermission.
Coming out of the locker room, Libertyville remained hot from distance and set an impressive scoring tone. Lake Forest attempted to match that with deep shots of their own but were unable to do so as the Wildcats created a substantial lead heading into the final period.
That fiery energy that was on display at the start to the game returned for Lake Forest in the fourth. Coach LaScala ordered a full court press which allowed for a minor Scouts comeback until Libertyville's calm free throw shooting sealed the deal.
2/16 vs. Elk Grove:
They watched Libertyville successfully do it the night before, so the Elk Grove Grenadiers came out in a 2-3 zone of their own. However, the Scouts were all too familiar with it at this point. Attempting to build off Friday's late run, Coach LaScala decided to put the press on all night and it worked; his team forced the visiting Grenadiers into 21 turnovers throughout the contest.
Three point shooting is an important trait to possess against that aforementioned zone. Senior forward Tommy Hanson led the Scouts in that regard as his teammates found him open in the corner on numerous occasions. Elk Grove wouldn't back down however, as they hit contested shot after contested shot to trim Lake Forest's halftime lead to only three.
The Scouts continued to perform against the zone and those contested shots weren't falling in bunches anymore for the visitors. Lake Forest opened the lead to eight and Elk Grove coach Nick Graham decided to switch the defense to man-to-man.
The Scouts seemed even more comfortable against the man-to-man defense and ultimately ran the lead to 14 points as they won comfortably. Elk Grove was without senior center Ryne Singsank on Saturday which allowed Lake Forest's Crawford Bolton to score 15 points inside. Senior guard Jake Fisher tallied a team-high 16 points and Hanson added 14. On Senior Night in the Competition Gym, Bolton, Fisher, Hanson, Michael Pasquella, Jack Bender, Carter Horan, and manager Ethan Kurian were all celebrated and rewarded with a victory.
Lake Forest moved to 10-16 (5-8 in conf.) and welcome the North Suburban Conference leader, Stevenson, to the Competition Gym on Wednesday in their final regular season game.
About the Writer
Bobby Winebrenner, Editor
Bobby Winebrenner returns to The Forest Scout as a senior. He spent his summer playing golf with his dad and working as a camp counselor. He plays lacrosse,...