More Than a Tradition: Scouts Swim Team Bleaching
"Can I just ask: Why the hair?"
The lady's stare shifted from one person to the next, carefully noting the bright yellow locks present on each high schooler. As we all dove into our bacon and egg bagels, I couldn't help but notice the overwhelming amount of Scouts Swim Team gear we were all wearing at the time, as well as the distinct spell of chlorine.
"It's for the swim team," said Luke Lanigan, a junior superstar who hopes to compete in the IHSA State Meet for the second time in just a few weeks.
The lady's confused look refused to waver, though, and instead she tilted her head to one side in uncertainty.
"But… why?" she asked.
A select group of sports teams at Lake Forest have age-old traditions passed down from one year's team to the next. The Football Team gathers each year to shave mohawks into one another's heads, and Field Hockey players braid their hair into cornrows before the playoffs.
"Shaving for football is a really cool bonding experience," said senior Ethan Hunt. "You might look like an idiot with a mohawk, but everyone does too so it's fine."
However, mohawks and braids simply aren't quite as jarring and as noticeable as the bleached and sculpted hair swimmers display for up to a month. Multiple applications of bleach leave those with darker hair almost unrecognizable.
The tradition doesn't end when one leaves the halls of Lake Forest, though. In fact, swim teams across the country participate in bleaching during the weeks leading up to state.
"It's really cool to see almost everyone with bleached or shaved hair at a meet," said senior Captain Carlos Minetti. "It definitely reminds me that I'm part of something bigger than myself."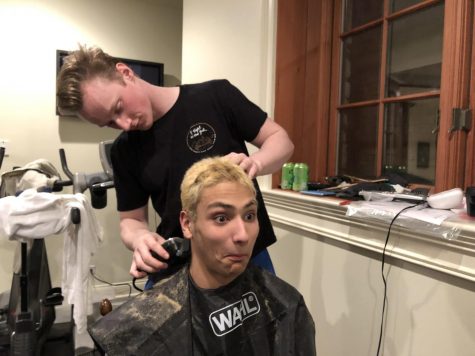 Aside from the team bonding aspect of bleaching, turning one's hair a different color definitely makes it easier to part with later on. After a day with a mohawk, arrow, or just about any design imaginable, most swimmers shave their hair entirely.
"Even with a cap on, extra hair makes you slower," said Head Coach Cindy Dell.
Between dropping time when it counts most and contributing to team chemistry, the tradition of bleaching hair adds quite a bit to an already tight-knit group of swimmers and will undoubtedly continue for years to come.