We Can All Learn Something From the Virginia Governor Scandal
In the midst of seemingly endless accusations against high ranking political officials across the country, Virginia politics have begun to spin out of control.  Like something out of a fictionalized, worst-case scenario, government implosion, the top three ranking Virginia officials are all facing serious accusations.
Governor Ralph Northam is under serious pressure to resign after a medical school yearbook photo surfaced portraying Northam dressed in a blackface costume, with a friend in the background impersonating a KKK member.  Under today's "normal" circumstances regarding such scandals, Northam would probably resign and be replaced by his Lt. Governor, Justin Fairfax. However, Fairfax himself has recently been accused of sexual assault during an encounter with Dr. Vanessa C. Tyson in 2004.  If Fairfax was to resign along with Northam, the next in line would be Attorney General Mark Herring. This is where things get interesting though, as a photo of Herring has been exposed which also portrays blackface during his college days. All three Democrats have received numerous requests to resign, an unprecedented situation that raises further controversy itself.  The Speaker of the Virginia House of Delegates would be next in line, a position currently held by Republican Kirk Cox. Cox, however, did not obtain this position in the traditional manner.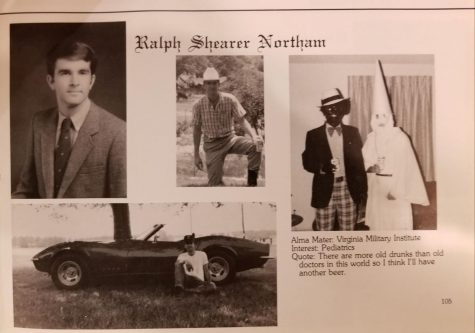 A particular delegate race in the 94th District was so close that the winner, Republican David Yancey, was picked out of a bowl containing the names of himself and his competitor.  This bizarre election helped Republicans maintain a narrow majority in the House and put Cox in the position of Speaker. Therefore, in the unlikely case in which Cox would become governor, Virginia's most powerful office would be held by a man whose name was effectively picked out of a hat.  
While an extreme situation like this is clearly unlikely, the implications can be viewed as a lesson for us all.  Especially now, any choices we make can, and likely will, come back to affect us later on. This exposure of racism on college campuses has sparked new research into dirty secrets within multiple other universities' history.  While it is important to identify these mistakes, there is nothing we can do to change them. Now, however, we have an obligation to prevent further incidents. Simply put, just be aware that everything you do is noticed, and while it might not affect you now, one small, poor choice can certainly come back to haunt you.