College Corner: Week Five
Hang on for a minute...we're trying to find some more stories you might like.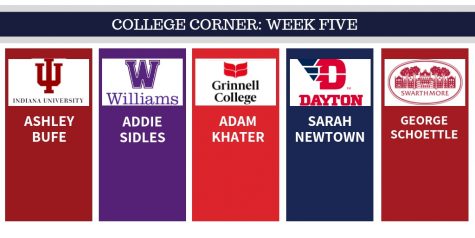 In Logan Hanekamp's column, College Corner, she interviews five seniors who have decided on their colleges and learns about why they chose their school.
Name: Ashley Bufe
College: Indiana University
Location: Bloomington, Indiana
Mascot: Hoosiers
Why Indiana?
"Out of all the 17 schools that I visited, Indiana was the only one that felt like home. I chose Indiana because the people I met there were super nice, the campus was pretty, and have been a fan of the school for so long."
What are you most excited for?
"I am most excited for going to football games and meeting new people. I am excited to start school there and have fun."
Name: Addie Sidles
College: Williams College
Location: Williamstown, Massachusetts
Mascot: Purple Cows
Why?
"I chose Williams because I really liked the size and the fact that it is on the East Coast. I also chose Williams because I have the ability to play both field hockey and lacrosse at the school. Also, my grandfather went there."
What are you most excited for?
"I am most excited for being on my own for the first time and living in a whole new environment. I am excited to be on on the East Coast and do new things. Go Purple Cows!"
Name: Adam Khater
College: Grinnell College
Location: Grinnell, Iowa
Mascot: Pioneers
Why?
"I chose Grinnell because my father went there; when I visited, as soon as I got on the campus I got this feeling . Any other school I visited I would end up comparing it to Grinnell and that's when I knew. I also really wanted to play football so I am excited for that aspect."
What are you most excited for?
"I am most excited to play football and be a part of the team. I am excited to make new friends and bond with all of my teammates."
Name: Sarah Newtown
College: University of Dayton
Location: Dayton, Ohio
Mascot: Flyers
Why?
"I chose Dayton because I grew up loving it due to my brother having gone there. I also felt very comfortable the first few times I've visited and knew that it would be a really good fit for me."
What are you most excited for?
"I am most excited about getting a fresh start, and beginning to be on my own. It will be a completely different experience that I am excited to begin!"
Name: George Schoettle
College: Swarthmore College
Location: Swarthmore, Pennsylvania
Mascot: Phoenix
Why?
"I chose Swarthmore because it is a great school and they have strong philosophy and computer science majors. It is in a great location and there are plentiful internship opportunities."
What are you most excited for?
"I am most excited to meet a lot of new people and see a lot of new perspectives especially because there are a lot of international people who attend Swarthmore."
About the Writer
Logan Hanekamp, Editor
Logan Hanekamp is a senior at Lake Forest High School who is a dedicated field hockey and lacrosse player. She loves good weather, her dog (Cody), and...