Open Letters to Basketball: Senior Class of 2019
In this special edition feature, the boys basketball class of 2019 shares letters to the game of basketball, a game they grew to love as children.
Jake Fisher, #11.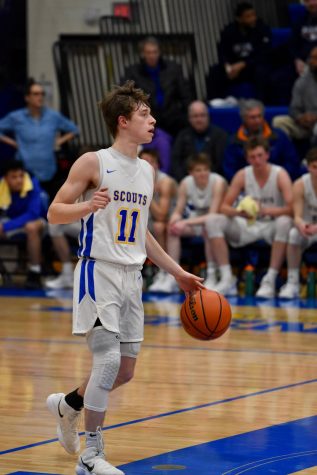 Dear Basketball,
Thank you. It has been one heck of a ride. Thank you for the endless memories, extreme joy, and unbelievable relationships. It's hard to put into words how much you have done for me. Basketball has made me who I am today. From early-morning practices to late-night shooting sessions with my dad, you have guided me. You have guided me to places and people I couldn't imagine having my life without.
I never would have guessed that I would have such an attachment to just a game. To me, the word game never popped into my head when I talked about you. You were my safety net. You were my outlet. Even though I have decided to not continue you, in college, my love for you has never been greater. We have had our ups and our downs, but I never doubted you. Even when I wanted to stop playing, I trusted you with all I had left. And I'm so glad I did.
My coaches. Joe Jackson. I never thought such a last-second decision would be the best one I have made to date. During our short (so far) relationship, we have been through everything together. Blood, sweat, and tears you have been there for me each and every step of the way. You brought out the true competitor in me and for that, I can't thank you enough. Coaches Adam Mocogni, Tom Mocogni, Harmsen, and OCB, you have influenced my basketball and personal years, more than you could imagine. The summer practices where we would run suicide after suicide were the worst. But looking back at it, it made me stronger. I will always cherish the numerous jokes and memories we have shared throughout these four years. Coach LaScala. Thank you for being you. I was always intimidated of you until last year, as a junior. This intimidation came from me not knowing who you really are. The countless conversations and workouts we shared, made me get to know you that much better. I always know I can call you whenever, and you will be there for me. With all this being said, I thank you for improving me as a basketball player, but more importantly as a leader and person. And finally, dad. You always pushed me to new limits. You were always trying to help me become the player you knew I could be. Although sometimes annoying, conversations after games was where I appreciated and loved you more than ever. Thanks for being the best dad and coach I could have ever asked for.
My teammates. Us seven have been inseparable. We have been side-by-side for the past eight years. This past year has been remarkable with you guys. The late-night dinners, FaceTimes, and extra shots have brought us closer and closer. I can always count on you guys for being there for me whenever that may be. Basketball has made us family, and I am so proud to call you guys my brothers. Without you, I wouldn't be playing this sport. You have made my life entertaining, hilarious, and unbelievable. I want to thank you for everything you have done for me in not only a basketball sense, but in life. Thank you.
You have been my constant companion, and I could always count on you to be there for me. My love and passion for you may not be there directly in the years to come, but just know that it has truly been an honor to bleed blue and gold for my coaches and teammates. I never thought this day would come. Although I cannot picture saying goodbye, the time has arrived. I wouldn't want to conclude my relationship with you any other way, but by saying thank you for everything you have done for me.
I'll be back…
Love,
Jake Fisher
________________________________________________________________________
Tommy Hanson, #24.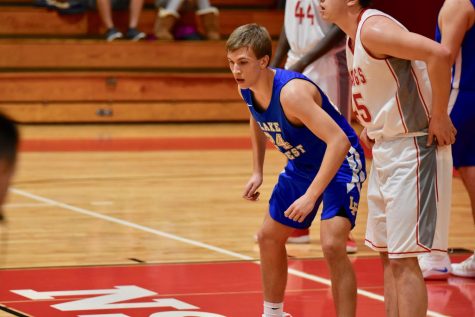 Dear Basketball,
I have a lot to thank you for. For as long as I can remember, I have been playing this great game. You have given and taught me so much that I don't know if I could ever repay you. You were always there for me, whether I had a good or bad day, giving me an outlet to let loose and have fun. You have introduced me to some of the best people I know, leading to some of the greatest friendships and relationships I have.
Basketball has also helped me grow closer to my family, especially my dad and brother. Both having played, they understand the sport and always have some helpful tips after games. It is something that we can all understand and relate to, even with our age differences.
I can't thank basketball enough for giving me the greatest teammates and friends. When you are spending 3 hours a day with the same 15 people for almost half a year, you get to be pretty close with them. There is no one else I would rather have done it with than the guys on our team. It is safe to say that the bonds I have built with these guys over the last 8 years are unbreakable.
I'd also like to thank all the coaches I've had throughout the years. I am extremely fortunate to play for such great people here at LFHS. The amount of time our coaches spend scouting other teams, watching film, and preparing practice and game plans is a true testament to how much they care about us. As a spectator, it is easy to see the passion and basketball knowledge of our coaches, but what isn't always as obvious to outsiders is their passion to help us players grow as men. I'm very grateful for all of their help and guidance in this regard over the past 4 years.
I have learned so many life lessons from this game. Basketball has taught me how to move on from mistakes and focus on improving from them. At times, basketball has brought me great pride, and at other times, it has humbled me. It has taught me that things you you could never imagine happening are possible with hard work and determination. However, above all, I believe it has shown me the importance of the little things. Whether this be touching lines on sprints, always boxing out and chinning the ball, or making sure there are no loose balls around the gym while practicing, I have found that often these small things can be the difference between winning and losing.
You have given me some of the best times and greatest memories of my life. I wouldn't trade this journey for anything, and for that I thank you.
Sincerely,
Tommy Hanson
________________________________________________________________________
Carter Horan, #2.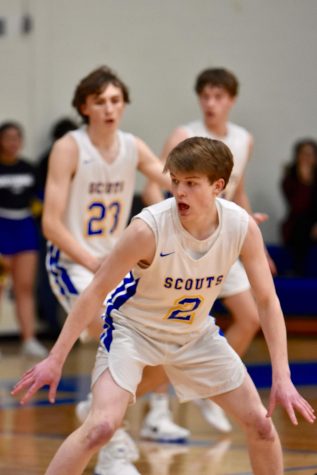 Dear Basketball,
I haven't known you for as long as some of my teammates have, but that doesn't mean you aren't as important to me. My route to finding you was a lot different from most. Growing up as a kid I always enjoyed shooting around in my driveway, but it didn't mean anything. I was a hockey kid growing up and quitting hockey to pursue you is one of the best decisions I have ever made. My first years playing on a team, I loved everything about you and I wanted to have a ball in my hands all the time. Playing at school and in the Rec center league, you quickly became my favorite sport. Back then I had no idea the bonds and friendships I would make from just a silly little game. Making the 8th grade feeder B team was one of the best things that has happened to me. We all had a blast on that team and created memories that we still talk about today (shoutout to Tommy Hanson and Ethan Kurian). From beating the A team during scrimmages to making my first real Lake Forest friends, I will never forget those days.
High school brought a wave of emotions and you've been with me through it all. Playing on the Freshman and Sophomore teams, I wasn't really sure you were something I was going to stick with. I didn't step on the court the first few weeks of my Sophomore season and somehow the scrappy little kid in me found his way into the starting lineup. I have to say thank you to Coach Harmsen and Coach OCB for giving me the opportunity to play that year. It showed me that no matter how big and strong you are, it's the little things that matter the most, especially in basketball. Being apart of the Varsity basketball team is something I'll always wear on my sleeve. I wouldn't be able to go through grueling long practices and endless hours at the school without my teammates going through it with me. Whether we're waking up for 6 a.m. open gym or doing 3-in-the-hole on a Monday night, I know that my teammates are there with me. As coach always says at the first team meeting, "Varsity basketball isn't for everyone. If you want to go do your own thing, go play intramurals." The bonds and friendships I have built through this program go way beyond basketball, and only those who have been through it understand. It's amazing to think that only seven of us made it to the end, but I wouldn't want to spend it with anyone else.
Thank you to my coaches for pushing me to be the best that I can be. Coach LaScala, Coach Scott, Coach Adam Mocogni, and Coach Tom Mocogni. You've taught me the details and demands it takes to be successful at a high level. Thank you to my parents for supporting me with positive encouragement through all my ups and downs. And lastly, thank you to my teammates for having my back and creating friendships that we'll have forever.
Sincerely,
Carter Horan
________________________________________________________________________
Crawford Bolton, #1.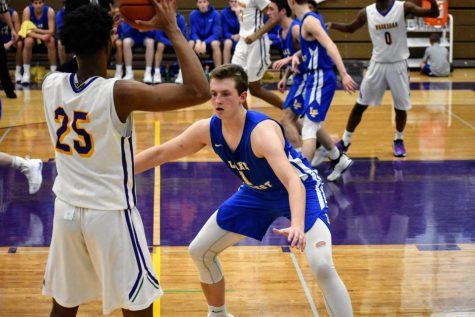 Dear Basketball,
I feel like it was just yesterday when I first met you. I think it was at Little Hoopsters when I was 3 years old, and the ball was way bigger than my head.  From there, we developed our friendship through Rec Center basketball. I will never forget the day during Rec ball where there were what seemed like hundreds of kids playing ball.  My parents told me to look around at all of those kids and think about the fact that only about 6 or 7 of the kids in that gym would be on the varsity basketball team. This really stuck with me, and I knew I wanted to be one of those 6 or 7.
From there, we both moved on to Feeder, and I remember when I got the phone call that I made the Feeder team in 5th grade which was definitely one of my best memories in middle school. You showed me how much I hate to lose during my Feeder years, but you also showed me that you win as a team and you lose as a team. You introduced me to a group of kids that have become some of my best friends and are still on my team today. These relationships that you helped me create cannot be compared. Spending countless hours in the gym and in the film room with the same group of guys has built friendships that I will have forever. The mentoring program that Coach LaScala has built helps create this culture throughout the program. My freshman year it really helped a lot to hear from the older kids. All of the long practices and sprints that we have run together have made us closer as a group. This has all been with your help.
You have taught me countless lessons that will help me throughout my life. You, with the help of my coaches, have instilled a strong work ethic in myself. When I came into the program I relied heavily on my ability and tried to do my own thing. This changed quickly when I started to play in the JV games. I saw how fast the game moved and how much the fundamentals mattered. You definitely taught me a lesson here.
You stuck with me though, and the turning point in my high school career was during my Junior season. I did not play as much as I thought I would and was pretty devastated. I was pretty mad at you during this time of our friendship. You and I had both let each other down. This made me work harder in the off season to get stronger and work at my game. You demanded a lot and while I hated you sometimes for it, it made me a lot better in the end.
So basketball, I thank you for everything you have done for me. You will always be a lifelong friend that I can go to.  See you soon.
Love,
Crawford Bolton
________________________________________________________________________
Jack Bender, #4.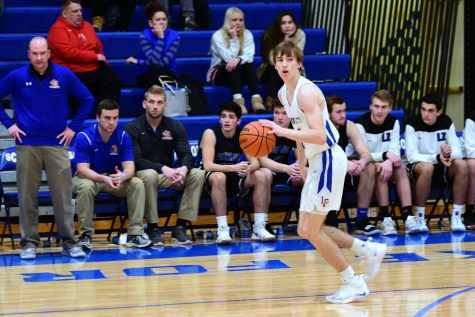 Dear Basketball,
I don't want this to be a goodbye, but more of a thank you. Basketball has meant so much to me throughout my life and always will. The friendships and relationships that it have brought me are unbreakable. My dreams I had of being a varsity basketball player growing up always involved what was happening on the court but, I never knew how amazing the people in this program really are. Going through the feeder program, elementary school, AAU, and High school basketball with these guys really have built more memories than I could imagine and have my dreams as a kid even better than I could have imagined. I'd like to thank my family for all of the work they've put in to help along the way. Driving me all over the Midwest to games and taking time off of work to see me play have really shown me that my dreams mean a ton to you guys and I couldn't be more grateful for all you have given me. No matter what it was they have always found a way to support me and make me the best version of myself that I could possibly be. I'd like to thank all my coaches I've had throughout the years for pushing me to be my very best. Specifically, I'd like to thank coach LaScala for all of his hard work and dedication which he doesn't get nearly enough credit for. He has really made me as not only a better player but a better person. His dedication and work ethic drive this program and is a testament to all of the success it has had. Coach's philosophy of building our character as young men first and making us take responsibilities for our actions have truly built us into great young men and I couldn't thank him enough for what he has done for me. I'd like to thank my teammates who have pushed me to improve every single day for the last 8 years. I couldn't think of a better group of guys to be around every single day. These guys have truly changed me and gotten me through all of the ups and downs. I could trust these guys with anything and I believe they would come through for me every time no matter the circumstances. They have instilled more confidence in me than I could in myself and dragged me into the gym for morning workouts before school more times than I could count. We have formed a bond that will never be broken. I'll never forget the memories thatwe have made and will forever share. Finally I've to thank you basketball, you've been the joy of my life ever since I've been able to walk and I couldn't imagine life without joy of winning and the pain that you bring us in losing. You've brought me more memories in my life than anything else I've ever done and have allowed me to build the best relationships I know. Basketball and this program haven't seen the last of me and I will 100% be back to support the Scouts.
From,  
Jack Bender
________________________________________________________________________
Ethan Kurian, Manager.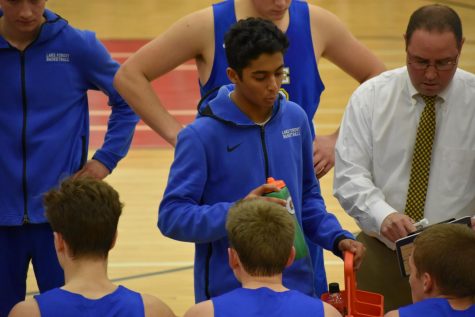 Dear Basketball,
Damn, it's been a ride.
I have known you my whole life and I cannot thank you enough for everything you have done for me. You have truly given me a ride of a lifetime that I will never forget. As Sean Trkla said, like any relationship, we have had our ups and downs. But we never lost faith in each other. Even when I didn't make the team my sophomore year, you were the reason I didn't let that affect me. Becoming a manager has been an experience that I will acknowledge not as failure, but as a new perspective on the game that I love. Being both a player and a manager, I have been able to see two sides of your spectrum: the physical and methodical aspect of the game. You have taught me how to be a leader on and off the court and how to be more social and create new relationships with people I meet. But the most important thing I have learned from you, Basketball, is the idea of having character. Something my dad has always praised to me is that, "Having character is one of the most important things in life. And without it, you lose a part of you that most people cherish." Without you, I would not be the kind of kid that everyone knows, and because of you, I have character.
You have taught me so much yourself, but to all of those who have been with me along the way, I want to personally thank you all. First, I want to thank my family for never losing faith in me and picking me back up when I was down. I want to thank all of my coaches including: Phil LaScala, Adam Mocogni, and Tom Mocogni. I want you guys to know that I wouldn't be the man I am today if it wasn't for your guidance and care throughout my career as a player and a manager for Lake Forest Basketball. The basketball program you guys have orchestrated at the high school, makes anyone become successful as both a basketball player and a man. Knowing that you guys will always be in my life will make me remember all the memories I made here with you at LFHS. Thank you for everything.
But without a doubt, I think the people that I am going to miss the most are the guys that I shared the court and the bench with throughout my 4 years at LFHS. I know I can't name them all, but trust me you guys know who you are. I would like to say it has been an amazing experience as a member of the Lake Forest Basketball program but without you all along the way, nothing would be the same. I am going to miss all the memories we have had. It has truly been a pleasure.
Lastly I want to say thank you to the rest of the Seniors: Crawford Bolton, Michael Pasquella, Jake Fisher, Jack Bender, Tommy Hanson and Carter Horan for an incredible senior year. Like any group of guys we had our ups and downs but, I would not have wanted to do it with anyone else. The amount of work these guys put in this year was something that I had never seen before, and I am so grateful that I was apart of it. I am going to miss all of the post-game talks and food runs but, I hope we can still carry on that tradition past basketball. I remember during the beginning of the year coach said to us Seniors that we were going to form a brotherhood. At first I didn't realize the importance but, now looking back I see how true that statement was. You guys will forever be my brothers and I hope that you will never forget that. I will cherish all of our memories together and cannot wait to see what the future holds for us.
Back to you, basketball, this letter to you does not explain all of the love I have for you. I will always be in debt to you and will never be able to repay you for everything you have done for me. And don't worry it's not a goodbye, it's a see you later.
Teammates Always,
Ethan Kurian
________________________________________________________________________
Michael Pasquella, #5.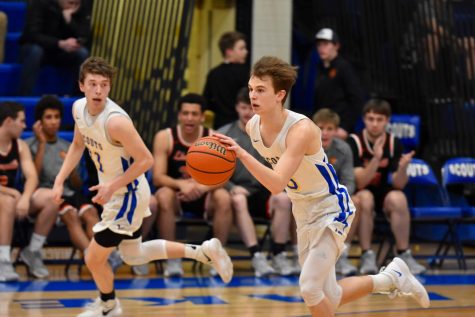 Dear Basketball,
It feels surreal to even write this letter.  Even though I always knew my official career with you would reach an end, you have become such a consistent and patterned aspect of my life that I will be stupefied when our tenure is complete. You have molded my life in ways you will never understand, all starting when I fell in love with you in fourth grade.
I spent endless nights in my basement where my imagination was boundless.  I would visualize myself as the lifesize Derrick Rose that I plastered on my wall, while I made a racket slamming on my SKLZ mini hoop.  The background music to my basement paradise was NBA Gametime, which ran every weeknight on channel 235 NBATV. That was my zone. That is where we became best friends.
But basketball was all just a dream at that point.  Only in 5th grade did I have my first opportunity to really test my dream.  Even though it was my first year of middle-school basketball, I had envisioned the moment so many times through that I felt like a veteran.  During the last period of school every day I would be completely mentally absent, because I knew after school you would let me be myself in a way different than anyone or anything could.  But then something even more surreal happened.
In 6th grade, I thought to myself that I might actually be good at this thing.  And from there you played the most paramount effort in my life, which was injecting me with the self-confidence I had previously lacked for my entire life.  I had been the nearly the shortest and skinniest kid at the School of St. Mary's, and although I was kind of fast, it wasn't anything to boast about. So I was shy.  I stayed within my bounds. But when you gave me the opportunity to finally differentiate myself, and rise above all the people who I had feared in my younger years… I can never thank you enough.  
You single-handedly boosted my confidence, you helped me stand tall even though I wasn't.  I only loved you more from then on.
I became obsessed with that vigorous thrill you gave me of being the best.  That led us to spend as much time as possible together, whether it was an AAU team, summer camp, fall league, or the feeder team.  I craved the competition you gave me. I worked as hard as I could to continue my revenge tour for those people who doubted me. And even if people didn't doubt me I liked to think of myself as an underdog anyway.
However, even though you saved me from myself early on, you began to change on me.  We were past the stage when you were a perfect dream, and now past the stage where we started to take on the world together.  It came to a point where you became truly difficult and I was confused about how to handle you. In recent years, you have been on me.  You have been my shadow. Now that we were married you wouldn't leave me alone, and I had to learn how to deal with you. Hours and hours were spent working with you, and those hours were not necessarily fun anymore.  They say too much of a good thing is a bad thing, but I didn't want to believe that. I loved basketball, I knew that. So I kept going forward.
That choice to stay together, even though it didn't happen in one definitive moment, was undoubtedly the right decision, as my senior year has been a surreal experience.  You, basketball, became more than game my senior year. You became about the people. You became about getting food with my fellow seniors after every game, win or lose. You became about staying late at the high school after practice talking about anything in our lives.  You became about my little mentees and how to become a better leader. You became so many different things, that I often forgot that we were just playing a game.
Now that our time is coming to an end, I promise I'll be fine without you.  You've taught me enough already, far too much for me to repay. So long, for now, basketball, I'll see you soon enough, but I have one last request.  Keep helping kids break out of their tiny, shy turtle shells just like you did for me. It would mean the world.
Thank you to all my coaches and teammates who have been on this journey of mine.  Your contributions have been monumental.