College Corner: Week Four
Hang on for a minute...we're trying to find some more stories you might like.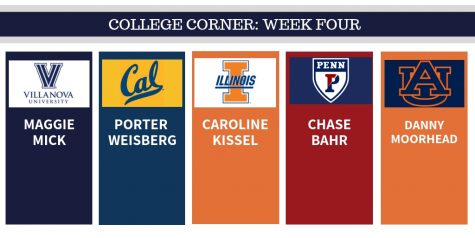 In Logan Hanekamp's column, College Corner, she interviews five seniors who have decided on their colleges and learns about why they chose their school.
Name: Maggie Mick
College: Villanova University
Location: Villanova, PA
Mascot: Wildcats
Why Villanova?
"I chose Villanova because the school has a great balance between academics and student life. I love the close-knit community feel and the love for sports at Nova is something that makes feel like I'm at home. "
What are you most excited for?
"I am most excited to meet new people and to be on my own. I also can't wait to go to basketball games and other fun events."
Name: Porter Weisberg
College: University of California, Berkeley
Location: Berkeley, CA
Mascot: Golden Bears
Why Berkeley?
"I chose Berkeley because they have great academics along with a great rowing team. I also really loved the campus and the California weather. They also have a great computer science program which is what I plan on studying there."
What are you most excited for?
"I am most excited to start classes and be apart of the rowing team. The nice weather is also something I am looking forward to."
Name: Caroline Kissel
College: University of Illinois at Urbana-Champaign
Location: Champaign, IL
Mascot: Fighting Illini
Why Illinois?
"I chose Illinois because my parents and sisters all went to Illinois, so I have grown up liking the school. My oldest sister graduated last spring and watching her have so many cool experiences like being in a sorority, studying abroad, and having a great time really inspired me to want to go there. They also have a great Nursing Program which was really important to me when making my college decision. "
What are you most excited for?
"I am super close with my family so having the option to go home easily whenever I want is going to be really nice. Also, my sister Elizabeth is a current freshman so it will be really fun to have her there with I'm there. I am also excited to be able to study abroad and meet new people."
Name: Chase Bahr
College: University of Pennsylvania
Location: Philadelphia, PA
Mascot: Quakers
Why Penn?
"I chose Penn because I really connected with the football coaching staff. Also, the academics are second to none, but most importantly I thought about my life outside of sports and asked myself if I didn't have football would I feel comfortable going to this school, and Penn was the only school I felt this way about. The second I went on campus I knew it was the place for me."
What are you most excited for?
"I'm very excited about the football season but also learning more about economics and philosophy."
Name: Danny Moorhead
College: Auburn University
Location: Auburn, AL
Mascot: Tigers
Why Auburn?
"I chose Auburn because I have always been a fan of the sports teams and when it came to finding a college, there was no question Auburn was the perfect fit. I also have five cousins who have gone there and my sister is currently there. They have great sports to watch as well as a great business school. All around, it's the perfect school for me."
What are you most excited for?
"I am most excited for game days as well as rushing and being a part of Greek life. I am excited to meet new people and join a fraternity."
About the Writer
Logan Hanekamp, Editor
Logan Hanekamp is a senior at Lake Forest High School who is a dedicated field hockey and lacrosse player. She loves good weather, her dog (Cody), and...