The Forest Scout Friday Five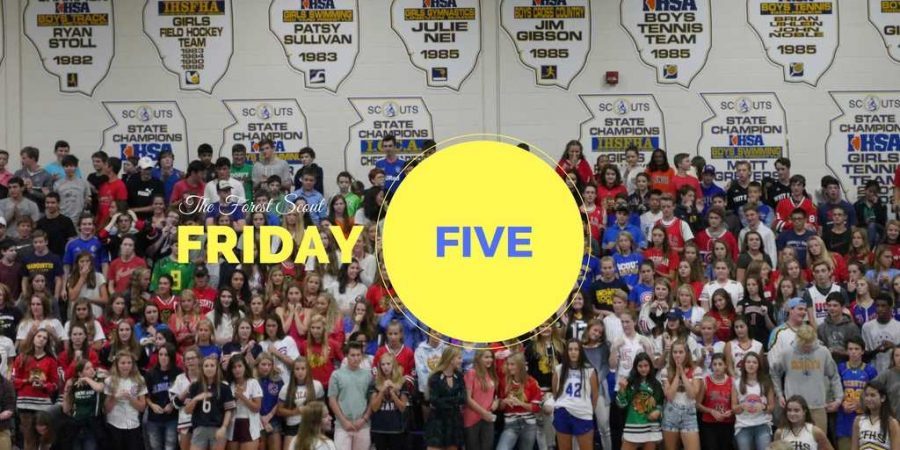 It's the dedication and grit that help us make it through each and every day, and there are few who exemplify that better than sophomore Nina Stepaniants.  You've probably seen her walking confidently down the hallway to class during her tightly scheduled school days, in the Makerspace during Robotics Club, or most often, in the band and orchestra rooms in the music department, wailing away on her shiny alto saxophone.
"I met her the first day of my freshman year, being exposed to her comedic nature and kind personality," said fellow sophomore Margaret Jemian.  "Since then, we have been through everything together. From working on wind ensemble auditions together, to her hilarious one-liners during jazz band, Nina's joy and motivation has touched so many people and will continue to do so for the rest of her life!"
Nina is a member of the Wind Ensemble and the Jazz Band in the LFHS music department, and she often holds her own on the saxophone, being the only girl in Wind Ensemble to play the instrument.  In jazz band, she will often be the only person playing her part, this forcing her to play with strength and immense musicianship. This isn't hard for her.
Despite being busy, Nina somehow finds a way to make others (and herself) laugh on a daily basis. "She's a perfect cross section between intelligence and hilarity," shared friend Julia San Miguel.
"When I spend time with her, we usually end up laughing," added sophomore Margot Pierce.  "Working on math with Nina is great because you're able to puzzle through it together. She's been really supportive in the past when working together, and just in general as a friend."
It is clear that behind her hilarious personality and thoughtful countenance lies determination in her academics, and true passion for her music.  Nina really has it all–but she probably won't brag about it too much to your face. Her determination, while somewhat quiet, is a true example to how we should all carry ourselves: unpresuming and pretty unbelievable.
Anyone who has ventured into the hallways of the LFHS Music department has probably seen, heard of, or even come into contact with the famous Mr. Robert Bassill. Known affectionately to his students by names such as "Lord of the Snakes" or even "Dad", Mr. Bassill is a favorite among music students across the department.
"Mr. Bassill is great," commented junior Mark Smirnov. "He's really hardworking, fun to be around, and really cares about the orchestras and the music that they make."
As the director of the Symphony and Concert orchestras, teacher of AP Music Theory, as well as the leader of the pit orchestra for the yearly spring musical, Bassill's dedication to his art is present through his enthusiasm for teaching.
"Mr. Bassill is truly a legend," said sophomore violinist Margot Pierce. "He has an ability to turn any situation into something fun or even comical, but at the same time teaching the music in a way that is easy to understand and is meaningful."
Similar sentiments were shared by one of Bassill's former students.  "Mr. Bassill is undeniably one of the best teachers I have ever had," shared Megan Szostak, who graduated in 2018.  "He is so passionate about music and works to get every student in his classroom feeling the same way."
One of his students' favorite ways of spreading Bassill's unique spirit is to record many of his hilarious quotes, said in rehearsal and in passing, mostly out of the blue.  "We write them down, and they become inside jokes; it's a way of connecting people who were there and heard them in context," Pierce said. "He spurts off wisdom that is so incredible, and most times doesn't even remember that it happened."
Beyond his hilarity, Bassill is like much of the music that he teaches to his orchestras: warm and kind.  "Bassill is just genuinely the nicest person. He's always so willing to help with anything I'm working on, and he's super funny and patient about it too," said junior Jane Mockus.  "For music theory he teaches the class in a way that we all are able to understand, and makes sure everyone's good with the material."
Many orchestra students refer to Bassill as their favorite teacher, and because of his demeanor and attitude towards his work, it's clear to see why.
 "Mr. Bassill has helped to make orchestra one of the highlights of my high school experience so far," said Pierce. "I think a lot of people are grateful for the role that he plays in making every day a little brighter."
Mrs. Davenport clearly enjoys teaching and loves the kids who she teaches as well. 
She teaches Environmental Geoscience Honors and AP Environmental Geoscience, both pretty hard classes offered here at LFHS. But she definitely makes it a goal to have all students that walk in her door succeed in her class. 
Mrs. Davenport is a lively teacher who is willing to help you with anything you may need, both inside and outside of class. Inside of class, she teaches everything in an enjoyable and fun way, whether that be by doing fun labs or cracking jokes while she teaches. 
"She is always really positive during class and has good energy while she's teaching," junior Ingrid Falls said. 
You can always catch her before school in her room helping people understand anything they may need for class.
"She is always willing to help me before school and get me prepared for tests and it is super helpful," junior Lucy Surkamer said. 
Mrs. Davenport is constantly helping others and teaching valuable information to all of the students in her classes. She is a charismatic teacher who definitely makes LFHS a better place!
Senior Garrett Carden knows how to make you smile. His wit, matched with his one liners, are guaranteed to leave you in hysterics. 
Garrett is also all-things running- he participates in both track and cross country. The discipline needed to be a strong runner helps him work everyday to be the best version of himself he can possibly be.
Outside of the classroom, he is in the band Carpool, the current opening band of the talent show. He loves music and creating it with others. He is also a multi- instrumentalist, playing guitar and bass to name a few. 
Senior Anthony Maranto, and fellow bandmate of Carden, said,"Garrett is a good bandmate because he is determined and passionate about music. He knows what he likes and brings it to the table in terms of music creation. He's good at what he does, and he is there for the band. He's straight to the point and easy to communicate with when it comes to discussing band matters."
Everyone who has the luck of meeting him will find a great person, and an even better friend. 
Standing at 6'4" and weighing somewhere close to 275 pounds, senior Chase Bahr doesn't necessarily fly under the radar. Whether you've seen him flattening his competition under the lights at West Campus during the football season, or witnessed him put up staggering numbers in the weightroom, Chase will undeniably catch the eyes of just about anyone around him. Though despite how some underclassmen may find him rather intimidating, his imposing frame and stature isn't solely what sets him apart.
Having been committed to the University of Pennsylvania since the spring of last year to further his academic and athletic careers, those who haven't yet had the opportunity to meet Chase might believe he's purely a football phenom. But to those who know him best, he is all that and more.
"He's a giant but a gentle one," commented senior Luca Pasinato, a lifelong friend of his, "I've known Chase since kindergarten and ever since then we've been close. He's the kind of guy that no matter what happens, he's there for you through thick and thin."
Fellow teammate senior Eddie Scheidler shared a similar sentiment, saying, "On the field, he's going to try and put you on a stretcher. There's no doubt about it. But off the field, he's about as genuine and considerate as they come. He's the type of friend everyone wants to have."
Just as Luca and Eddie had mentioned, you'd be hard pressed to find someone with as intense a dedication to the sport of football as they have towards being there for the people closest to them. But that's the kind of selfless demeanor that resonates with the UPenn football commit, and the attribute that continually draws others towards him. Junior Charlie Aberle spoke on behalf of the self-effacing presence radiated by Chase day in and day out, adding, "I'm not sure I can say I've met someone as loyal and authentic as him. He puts others first, and instead of talking about himself, he'll ask about you and how things are going. I think that speaks volumes."
Simply put, Chase is about as multifaceted as you'll find. He can bench 225 in his sleep, make you wish you weren't on the defensive side of the ball, and help you get through the roughest of patches all in the same day. At a glance, you would think he's just a pivotal asset to the Scouts' football program in the fall. But the more you try to get to know him more on a personal level, you'll begin to realize that he indeed is one of the most genuine, high-spirited members the senior class has to offer.
About the Writer
Ghost, Author
Ghost is a section of The Forest Scout that chooses to publish material anonymously in order to increase the depth of their investigative reporting. Ghost...